The Big Bang Theory Star You Likely Didn't Know Voiced A Character On The Tom And Jerry Show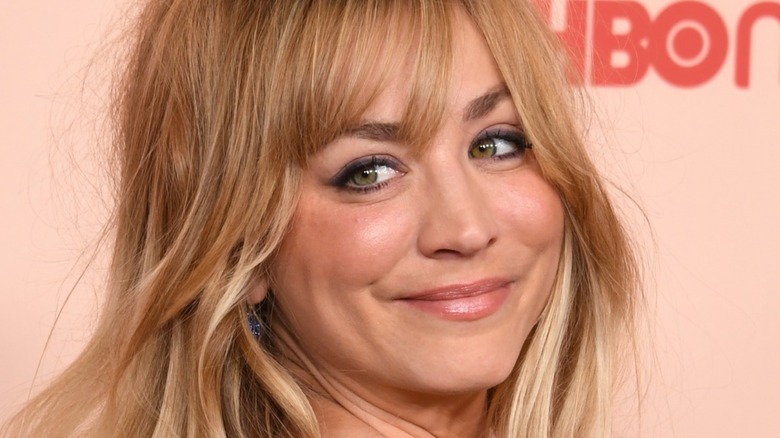 Jon Kopaloff/Getty
CBS's "The Big Bang Theory" is one of the biggest television phenomenons of the 21st century so far. For 12 seasons and 279 episodes, the Chuck Lorre and Bill Prady-created sitcom repeatedly pulled in some of the highest ratings anywhere on TV, amassing a huge fanbase worldwide and making enough of a cultural splash to rack up a positively dizzying number of awards throughout its run. Part of the reason the show managed to stay at the top of its game for so long was that it managed to evolve, moving from its initial, rather broad comedic premise — based primarily on observing the interactions between Sheldon Cooper (Jim Parsons), Leonard Hofstadter (Johnny Galecki) and Penny (Kaley Cuoco) — to a more relaxed, ensemble-based dynamic. By the time "The Big Bang Theory" wrapped up its run in 2019, its core eight-person cast was among the most beloved on TV.
In the years since "TBBT" debuted, this cumulative popularity has allowed the cast to branch out into new high-profile projects. Kaley Cuoco recently became a three-time Emmy nominee (via IMDb) and the recipient of major critical acclaim for her leading role on HBO Max's "The Flight Attendant;" Jim Parsons proved his dramatic mettle as a frequent Ryan Murphy collaborator; Simon Helberg worked with renowned French arthouse director Leos Carax; Melissa Rauch found cinematic success of her own in "The Bronze;" the list goes on. And you may not know that one of the items on said list is a voice role on "The Tom and Jerry Show."
Simon Helberg voiced The Tom and Jerry Show's Napoleon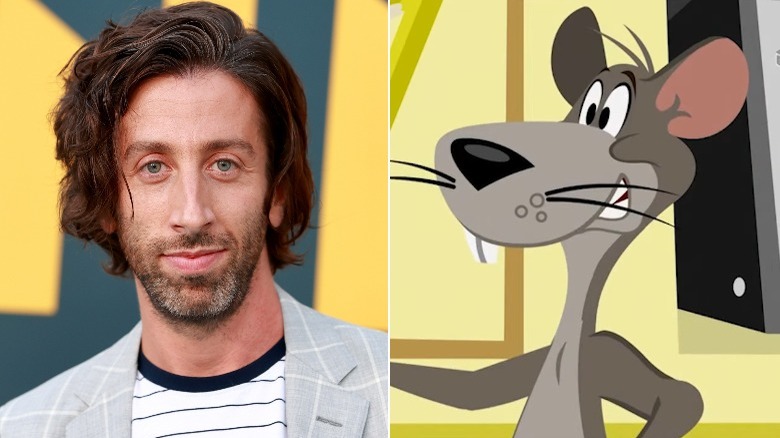 Emma Mcintyre/Getty, Cartoon Network
One of the many TV iterations of everyone's favorite cartoon cat-and-mouse duo aired between 2014 and 2021, with "The Tom and Jerry Show." Produced by Warner Bros. Animation and Turner Entertainment, the flash-animated series brought back the classic Hanna-Barbera characters for old-style adventures in slapstick, with Tom assuming his typical role of hunter in various different scenarios while Jerry continued to elude him repeatedly. "The Tom and Jerry Show" aired on Cartoon Network for two seasons before migrating to Boomerang from Season 3 onward.
"The Tom and Jerry Show" adopted a loose, continuity-free structure with several general set-ups that were sometimes deployed for certain episodes and seasons — Tom and Jerry as a married couple's pets, Tom and Jerry working together as detectives at a private agency, Tom and Jerry starring in classic fairy tales, et cetera. Although the protagonists themselves are wordless as in their original shorts, the characters around them often speak depending on the set-ups being used. Such is sometimes the case of Napoleon, a recurring Season 1 character voiced by Simon Helberg. A fellow rat friend of Jerry who enjoys helping him terrorize Tom, Napoleon appears as part of the show's oft-used laboratory set-up, in which Jerry is a resident of Dr. Bigby's (Tom Kenny) lab. Napoleon is featured on several Season 1 segments, and speaks on three of them: "Franken Kitty," "Bottled Up Emotions," and "Molecular Breakup." Helberg provides his voice on each of those segments.
Simon Helberg has had many other voice roles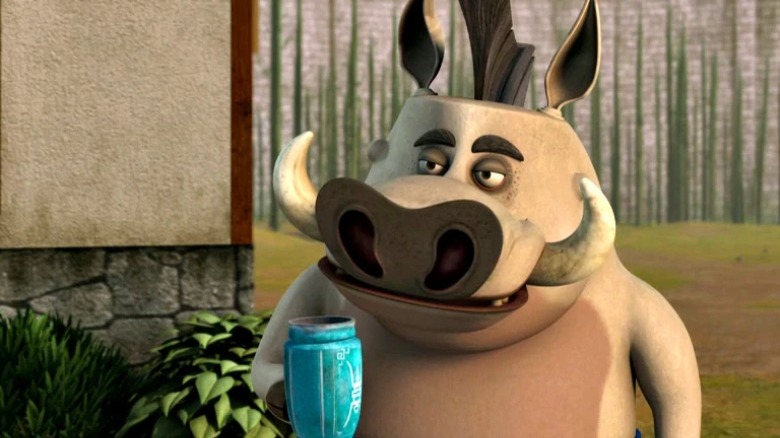 Nickelodeon / Nicktoons
Between his work with directors like the Coen brothers in "A Serious Man" and Stephen Frears in "Florence Foster Jenkins," his years of successful work in both musicals and plays in the Los Angeles theater scene, and his recent acclaimed supporting performance as a conductor in Leos Carax's Cannes-awarded "Annette" — for which he even learned to conduct in real life — there's a strong argument to be made for Simon Helberg as the "Big Bang Theory" alum with the most prolific acting career outside of the show.
That career has, incidentally, included several other voice roles in addition to his recurring turn as Napoleon on "The Tom and Jerry Show" — something that should come as no surprise to "The Big Bang Theory" fans who remember the vocal elasticity he displayed via Howard's proclivity for impressions. He voiced nerdy bully Ronaldo on two episodes of Disney XD's "Kick Buttowski: Suburban Daredevil," with Sandro Corsaro subbing in for him in a later appearance by the character. He also had multiple roles, including the likes of Burt Reynolds and Kenny Rogers, on the short-lived Shut Up! Cartoons YouTube series "Weasel Town." Around the same time as "The Tom and Jerry Show," Helberg also took up the more substantial role of Bian Zao on Nickelodeon's "Kung Fu Panda" spin-off series "Kung Fu Panda: Legends of Awesomeness." A common warthog, Bian Zao was he hapless son and reluctant assistant to machine-obsessed antagonist Taotie (Wallace Shawn).