The Beloved BBC Star Who Made Liam Neeson's Atlanta Cameo Possible
lev radin/Shutterstock
FX's "Atlanta" has become one of the most acclaimed TV productions of our time. There are myriad reasons for that, and a big one is the show's boldness, not the least — especially, in fact — when tackling subject matter considered prickly, taboo, or otherwise difficult to handle.
One recent example of that boldness came with the Season 3 episode "New Jazz," which originally aired on FX on May 5, 2022. Penned by series creator Donald Glover and directed by Hiro Murai, "New Jazz" follows Alfred (Brian Tyree Henry) and Darius (Lakeith Stanfield) as they go on separate adventures in Amsterdam while high on space cakes. Alfred's wayfaring eventually leads him — or does it? — to a bar named "Cancel Club," in which he get the opportunity to commiserate with another entertainer who has been recently taken to task by the media: Liam Neeson.
In a cameo that offers a shockingly frank artistic perspective on the nature of "cancel culture," Neeson's fictionalized self recounts a real-life scandal that nearly destroyed his career, in which he admitted to harboring violent racist thoughts in his youth. Then, after expressing regret once more, he up and confesses to Alfred that the media kerfuffle has rendered him bitter against Black people in general, noting, "The best and worst part of being white is, you never have to learn anything if you don't want to."
As it turns out, there's an interesting story behind Neeson's booking for that much-discussed cameo — and it involves a BBC star who (almost) co-starred with Donald Glover in an upcoming project.
Phoebe Waller-Bridge helped convince Neeson to make his cameo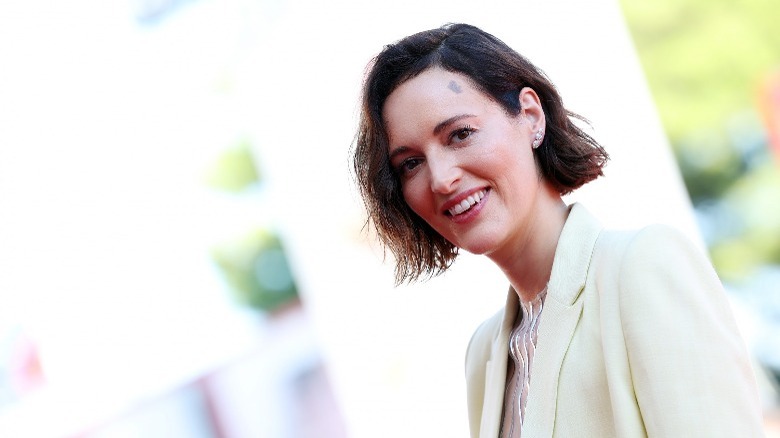 Vittorio Zunino Celotto/Getty
When Liam Neeson was asked by Donald Glover to make his cameo on "Atlanta," he was, as you might imagine, a bit reticent at first. Speaking to Esquire Middle East, the Academy Award-nominated Northern Irish actor admitted to initially being "very against" the idea of doing the episode, "because I was this particular episode that involved me and a bout of racism over 40 years ago."
Neeson did have familiarity with Glover as a "pretty cool" performer from a new generation, so he was sympathetic to him as a creative. But the cameo took some convincing. "When Donald called, and he told me about 'Atlanta,' and I had not seem the show at all. But after two or three calls. And he assured me it was going to be okay," the actor told Esquire. It was then that a British co-star of Glover at the time stepped in, and apparently played a major part in talking Neeson into the role: Phoebe Waller-Bridge.
"I eventually trusted [Glover] because I saw his talent," Neeson said. "He was working with Phoebe Waller-Bridge on something, she thought it was a good idea. And I had just watched 'Fleabag,' which I loved. I thought, well, I'm a different generation here. Here's this wonderful black performer saying to me, please do this show. Yeah, we're gonna talk about race. It's gonna be okay. And I thought, f*** it, do it. Jesus, do it. So we did it!"
Phoebe Waller-Bridge and Donald Glover were working together on Mr. and Mrs. Smith at the time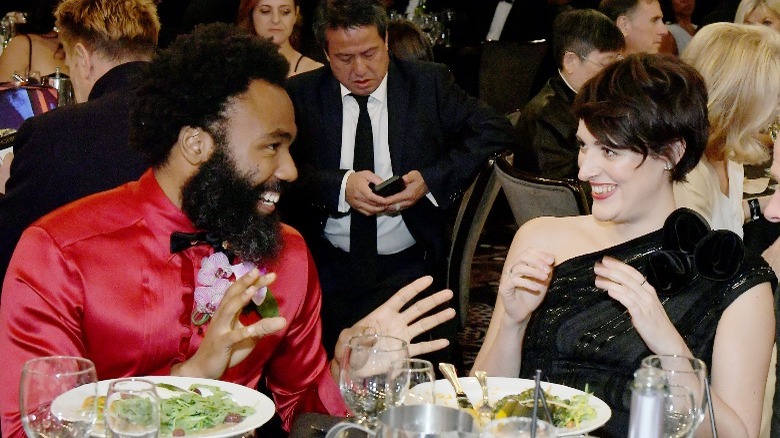 Charley Gallay/Getty
The reason Phoebe Waller-Bridge was able to vouch for Donald Glover was that, as Liam Neeson put it, "he was working with [her] on something" at the time Neeson's booking happened. That "something" was, by all appearances, the "Mr. and Mrs. Smith" TV series reboot being produced for Amazon Prime Video. As it was originally reported, Glover and Waller-Bridge would both be acting as co-creators on the series alongside Francesca Sloane, in addition to starring on it.
News of the casting was inevitably met with widespread excitement — could we possibly do any better for 2020s counterparts to Angelina Jolie and Brad Pitt? In spite of that, however, and of the fact that Neeson's story seems to point towards a high degree of mutual respect and support between Glover and Waller-Bridge, their onscreen partnership didn't ultimately come to fruition. Waller-Bridge eventually left the series due to creative differences with Glover, as both writers-slash-actors apparently had divergent visions for the reboot. Which doesn't mean that any bad blood remained between the two afterwards; they reportedly split amicably and remained friends.
The role of Mrs. Smith was eventually recast with the brilliant Maya Erskine, whose casting was an exciting development in its own right, regardless of the context in which it happened. Still, it's impossible not to hold out some hope that Waller-Bridge and Glover might eventually get back to working together on something.