Law & Order's Odelya Halevi On Sam Waterston, The Epic Crossover Premiere, And Black Adam - Exclusive Interview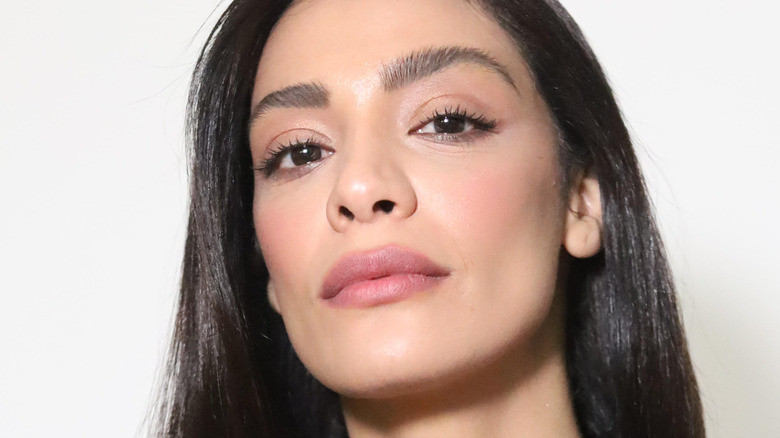 Yaniv Katzav
After a 12-year hiatus, the flagship "Law & Order" returned in 2022 with its 21st season, featuring original cast members Sam Waterston and Anthony Anderson. For the most part, the series featured an all-new cast including Camryn Manheim, Hugh Dancy, and Odelya Halevi, who portrays Assistant District Attorney Samantha Maroun.
Born and raised in Israel, Halevi previously had small roles on the TV series "Good Girls Revolt" and "Good Trouble," and she will appear in the upcoming DC Comics-based movie "Black Adam" starring Dwayne Johnson. As Sam Maroun on "Law & Order," Halevi works closely with Waterston and Dancy as their characters prosecute defendants via the Manhattan District Attorney's Office.
During an exclusive interview with Looper, Halevi opened up about how "nerve-racking" it was to enter the iconic "Law & Order" franchise, what she has learned from working with a living legend like Waterston, and how her first interaction with Dwayne Johnson went on the set of "Black Adam."
Joining the show was both 'exciting and nerve-racking'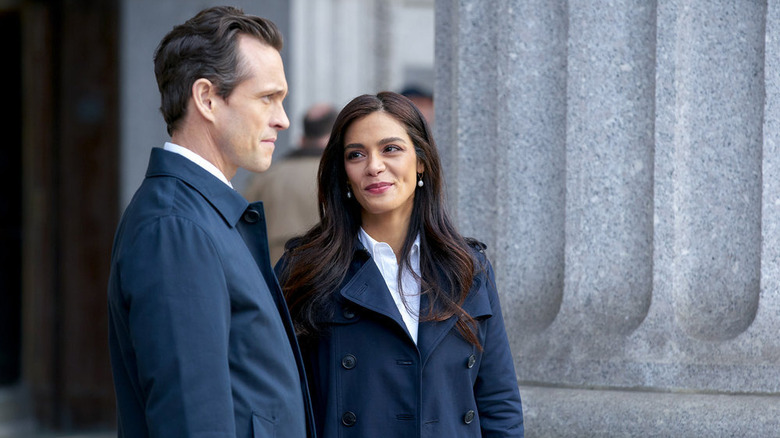 Michael Greenberg/NBC
You have one 10-episode "Law and Order" season under your belt. What was it like joining such an iconic series?
It was very exciting and nerve-racking at the same time. I never, in a million years, thought that I would play a lawyer on American TV. I moved here from Israel, and I had been watching the show since I was a baby with my mom. My mom was obsessed with the show and Sam Waterston — who wouldn't be? I would watch the show and say, "Mom, I want to be a lawyer." I couldn't tell the difference between lawyers performing in court and actors. I was a child, and mom was like, "You don't want to be a lawyer, you want to be a lawyer on TV." Little did I know, she was right.
When I moved here, being a minority and having an accent and all that, I never thought I would get this opportunity. When the opportunity came, I honestly could not believe it, so it was nerve-racking. I felt like I had giant shoes to fill after Carey Lowell and Elisabeth Röhm, all these great actresses that played the ADAs for so many years. I thought I was going to get fired.
When I got to set [for the first time], Sam gave me the biggest hug [and] made me feel so comfortable. He's been my Papa Bear ever since. I've been learning so much and I'm so proud. It felt like I was joining a show that had been there for a long time, even though there was that 12-year break. That's why it was nerve-racking. I'm working with amazing actors who have nominations and Emmys under their belts and I'm so grateful because I learn so much from them.
Could you expand on that a little bit more, why it felt like stepping onto a long-running series instead of a brand-new show, even after a 12-year hiatus?
To me, it felt like I was joining an existing show — and part of it is because I've been a fan for so many years. It felt like I was in a dream and somebody was going to pinch me and wake me up. I was born in a different country, moved to this country, learned how to speak English, all that stuff, and boom. I ended up on a show that was legendary to me. It definitely felt like I was joining an already existing show, especially with Anthony Anderson and Sam Waterston coming back.
Sam Waterston is 'always in a good mood'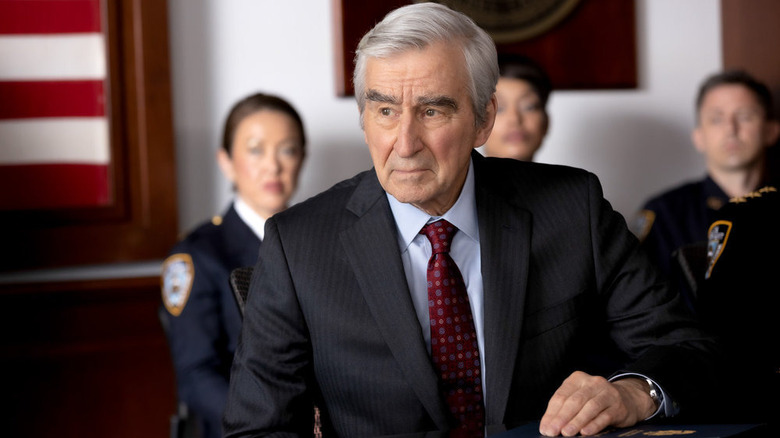 Eric Liebowitz/NBC
On the Season 21 finale, you got the last shot, the last word. You were the very last image and character that the viewers saw. How did that feel?
I felt so honored. I remember telling Hugh, "The first episode ended on us and they're closing on us." I love that the writers made it about the relationship between Sam and Nolan [Dancy's character]. In the first episode, we barely knew each other. We had just started working together maybe three months [earlier], and I felt very conflicted about the case, and he was there for me. 
Then, the 10th episode, the season finale, was when Maroun was comfortable enough with Nolan to say, "Hey, a brilliant man told me this and that," referring to what he had told her in the first episode. To me, it was everything because I really like when the writers throw a personal hint to the audience in terms of our relationship. I loved that and felt so honored. It made me really happy.
Now, as you mentioned, the returning cast includes Sam and Anthony. Did either of them take you under their wing and help guide you or mentor you in any way?
Sam definitely did. We really had good laugh therapy and chemistry since the beginning. He taught me how to laugh and not take everything so seriously, even though I think I'm going to get fired at every episode. He said, "We're here to have fun."
Sometimes, the writers would throw in a dry humor line for Maroun, which I love. [In the beginning] I remember taking it to a whole different place, like a comedy place. Sam was like, "It is comedy and it is funny, but it's dry comedy." That helped me find the balance so that the line would still be funny, but it would be in the realm and tone of the show.
There are so many things I learned from him. He listens and he cares, and he cares about people's stories. He cares for you personally. He hangs out and always shows up with the biggest smile and best attitude. Even if he had a bad day, you would never know it. That's what I took from him. He's always in a good mood and people want to be around him because he makes you smile and laugh. That's why he's such a great actor, because he's so relatable and people want to talk to him because they know he'll listen. Even if it's onscreen, there is something in his personality that shines through and you know you can trust him.
Scenes with Waterston and Hugh Dancy are a 'triangle of fun'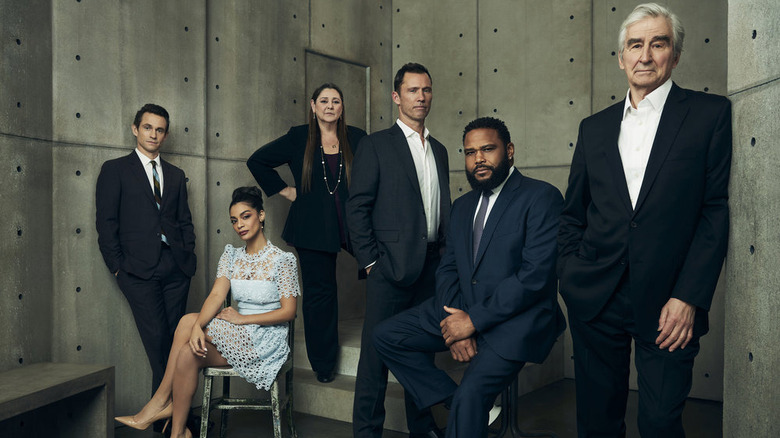 Maarten de Boer/NBC
Aside from the story you just told, are there any funny or memorable behind-the-scenes memories with Sam or Anthony you can share?
One morning, in the first or second episode, I showed up to work after I had the worst nightmare of my life. I dreamt that two young people came into my house, put a gun to my head, and screamed, "Kill Sam Maroun! Shoot Sam Maroun!" It was so real. I had to tell someone. The first person I see on set is Sam. I'm like, "You won't believe the dream that I had. I feel like the audience doesn't like me because I dreamt this."
Then, we're filming an hour later, and I could not get this line right. I kept on messing up this one line and I said, "Why did you even hire me, guys?" Sam goes, "Kill Sam Maroun! Shoot Sam Maroun!" Ever since then, it's been a joke on set. Every time I mess up someone will go, "Kill Sam Maroun! Shoot Sam Maroun!"
You touched on this in a previous answer, but what's the biggest thing you've learned from a legend like Sam?
I learned to not take everything so seriously. Also, he cares so much about the environment. We have so many talks about that. He loves nature and he cares about our country, and he's so passionate about it. I'm learning something every day. There's a big age difference and he knows so much. There's so much I learn from him, regardless of the show, about life in general. He is the kind of person that I would go to for help and advice.
What's it like working so closely with Hugh Dancy?
I love Hugh. We have good chemistry on screen and off screen. He's such an adorable person. He's very professional, but we also joke around. On those days that we work with Sam, we know it's going to be a really fun day. It's a triangle of fun — jokes and stories.
I got to meet Hugh's family and they're adorable. His kids are adorable. We talk about them a lot. His kids are, honestly, legendary. I want to take the quotes that his kids say and put them on a T-shirt. I have learned so much from him. I let him lead the scenes and decide what he wants to do, because he has so much more experience than me. I'm learning every day, taking notes.
Meeting Mariska Hargitay and Christopher Meloni was 'like Christmas'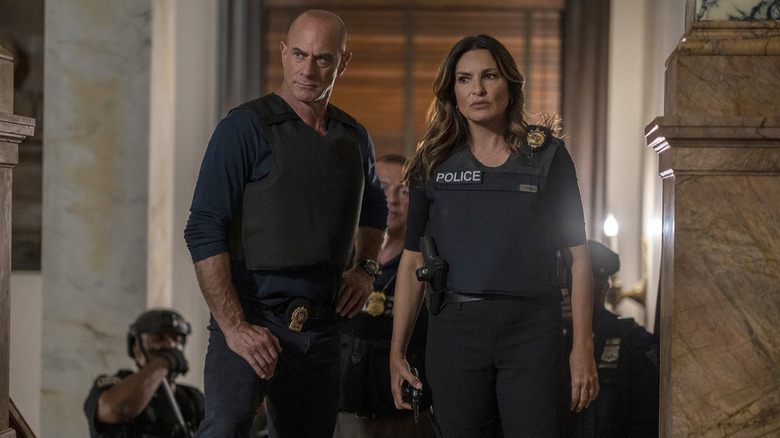 Zach Dilgard/NBC
Now, what can we expect from Season 22, both in terms of overall storylines and your character's story in particular?
In the crossover, the story is about a mysterious girl that gets shot in cold blood, and Shaw and Cosgrove investigate and they have to team up with Benson and Stabler, because the case is way more complicated than they thought. Then, Nolan Price and Sam Maroun deal with an international ring. That is something new to them. You can expect to see stories that explore women's rights and reproduction care — which I'm very passionate about — bail reform, which I don't think enough people talk about or a lot of people don't know about, and Maroun and Price's opinion on the death penalty.
You mentioned the epic crossover premiere event, which sees Mariska Hargitay and Christopher Meloni reuniting, which is huge in the "Law & Order" world. What was it like working with them?
It was like Christmas. You know how you wait all year long for Christmas and you open your gift and that gift is amazing? You're not disappointed. That's what it was like for me. I was not disappointed. I learned so much from Mariska.
First of all, experience-wise, you can tell she's been doing this a long time. She's not afraid to tell actors, "Let's make it better. Let's work together. Let's rehearse before the scene." A lot of actors that I work with have pride and they don't want to go aside and rehearse, but she's all about the connection. She's all about making the guest stars feel comfortable and connected, so the show and the scene come out great and they're not nervous. 
Plus, she's lovely and funny. I really hope she gets a comedy one day on top of "Law & Order" because the world needs to know how funny she is. Both of them, Chris Meloni, too — they have this amazing charisma that can't be ignored.
Everybody's looking forward to that. Do you have a dream storyline that you'd like to tackle?
I would want our amazing writers to explore more of a personal life for Maroun. I would like to know if Maroun is married, or maybe she's too busy. Maybe she devoted her life to this job. Is she straight? Is she gay? Is she non-binary? I would love to explore more of her personal life.
What's the biggest thing you have in common with her in real life?
She's Middle Eastern, raised in America. I'm Middle Eastern, raised in Israel. I moved here at the age of 20, and I felt right away that I was a minority, especially in the industry where they said, "All you can play is Arab, because you have an accent and you have brown skin." It's amazing how the industry has changed and given opportunities to everyone, from all over the world. It changed so much since I moved here.
Another thing we have in common is working hard for what we believe in, even at the risk of losing your job. Working hard, stating your opinion — it doesn't matter what everybody else thinks. That's what I do in real life and that's who I am. I'm really glad that me and the character that I play have that in common — fighting for women's rights, fighting for what you think is right, at all costs.
She blindly took a part in Black Adam because of Dwayne Johnson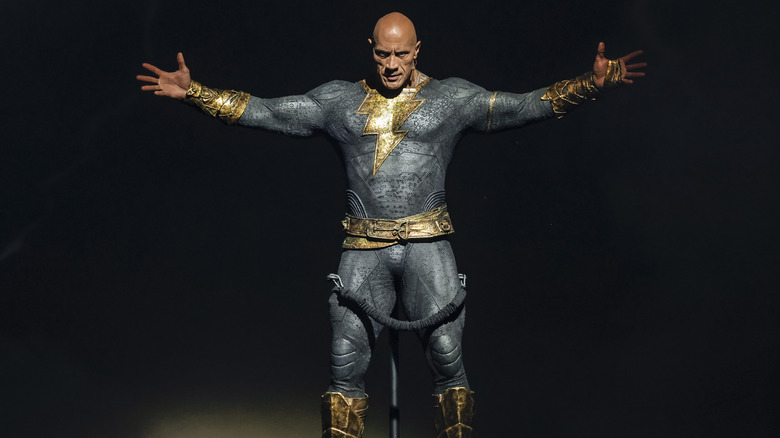 Kevin Winter/Getty Images
Outside of "Law & Order," you are set to appear in "Black Adam." What can we expect from your role in that, and what was that experience like?
It's not a big role, but from what I know, it's significant. I had no idea what I was going to play until I arrived in Atlanta. That's how hush-hush this was. All I knew was that it was "Black Adam," a movie with Dwayne Johnson. You don't say no to that. I flew in and I'm on set and I see Dwayne "The Rock" Johnson, who I'll be working with.
 The director introduced us, "Odelya, Dwayne. Dwayne, Odelya." I was like, "Call me Odelya." And he was like, "Call me Dwayne." Then he said, "I heard you didn't know what you were going to play up until you arrived." I said, "Yeah, I had no idea." He said, "And you still agreed to take that role?" And I said, "Do you know who you are?"
He's so grounded and amazing and adorable. Even though he knows he's a huge star, he doesn't refer to himself in that way. He was surprised that someone would agree to do a part in his film [without knowing what the part was]. I can't talk a lot about the part. I play Shiruta, who, in the comic book, is his previous wife.
It was extraordinary when he said, "You still agreed to do it?" And he was like, "You didn't have time to prep." We talked about how acting is sometimes all about the preparation. When you come to set, you're ready. The prep that you've done has been done a gazillion years before, a gazillion days before. I said, "Sometimes life and acting is all about, here are the circumstances, go." He agreed with me, and we really had a nice conversation about that. I'm so grateful and honored, and I feel very lucky to have talked to that person for a little bit.
"Law & Order" premieres tonight with a special three-hour crossover event starting at 8 p.m. ET/PT on NBC and streaming the next day on Peacock.
This interview has been edited for clarity.