The Creepiest Crime Scene From CSI Season 9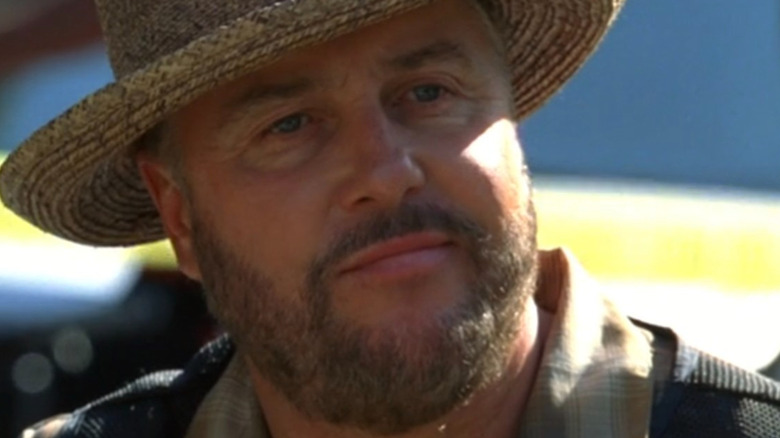 CBS/Hulu
Now a household name, "CSI: Crime Scene Investigation" kicked off in 2000, introducing a cast that viewers immediately took an interest in. "CSI" presents engaging and sometimes hard-to-watch storylines surrounding horrific crimes in Las Vegas.
The crimes are presented in a way that invites the audience along to more or less investigate alongside the team of forensic scientists. The series became so popular that the term "CSI effect," which refers to the impact shows such as "CSI" have on viewers when placed in real-life courtroom situations, was coined (via Cornell Law School).
While each episode has its share of creepy and sometimes hard-to-stomach scenes, there are some types of stories "CSI" writers try to avoid. Each season has an episode that takes the top spot for the creepiest crime scene. Season 9 wastes no time giving viewers a glimpse into the horrendous work of one of the most deranged criminal minds on "CSI."
Art Imitates Life is truly unsettling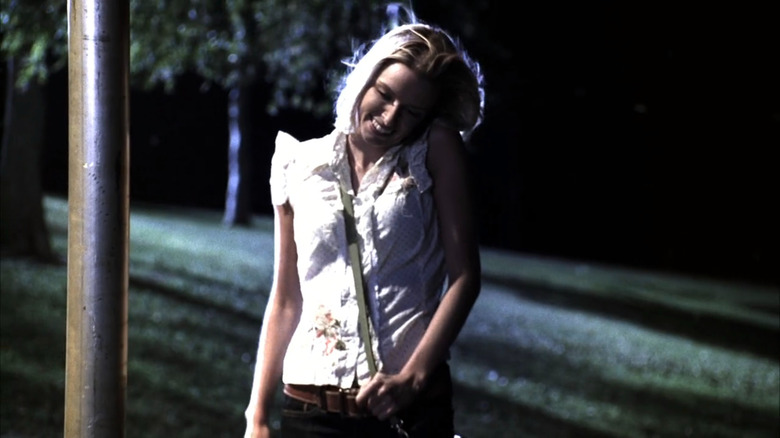 CBS/Hulu
In Season 9, Episode 3, "Art Imitates Life," a jogger discovers a dead body when he asks to use the corpse's cell phone. Mistaking a deceased person for a living one might seem unlikely, but in this case, the dead person was posed near a lamppost to look like anyone else spending time in the park. 
First on the scene are investigators Gil Grissom (William Petersen) and Catherine Willows (Marg Helgenberger), who run a few theories by each other before passing the body off to a stunned medical examiner (David Berman). This crime scene is enough to give anyone the creeps because hundreds of people may have passed by the victim in broad daylight. Hidden in plain sight, this is the creepiest Season 9 crime scene.
This sort of gruesome creative exploration isn't new for "CSI," and it's a part of what makes the show so popular. In an interview with The Futon Critic, "CSI" executive producer Naran Shankar explains why criminal investigation shows are so popular: "There are advantages and disadvantages to procedurals and classic franchises like these. The advantages are they are open-ended. The sad fact of the matter is there is no dearth of people trying to kill each other in inventive ways, so you always have crimes to mill off." "CSI" has perfected its formula over the years, and even though there are things you only notice when rewatching older seasons, creativity has always been present.