SNL's Chloe Fineman Kickstarted Her Improv Journey In The Most Unique Way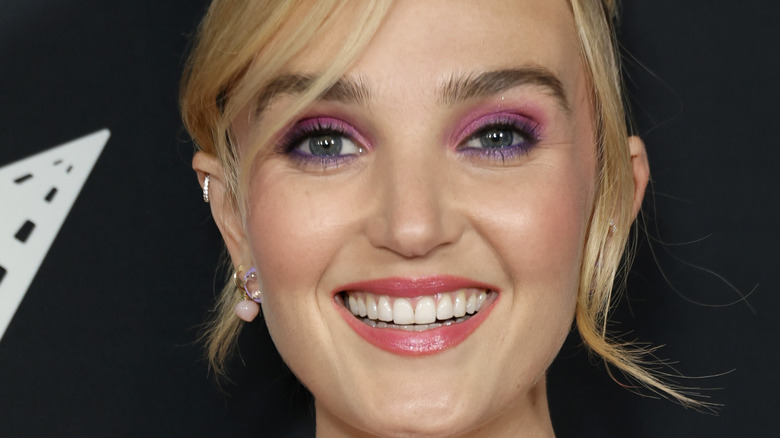 Frazer Harrison/Getty Images
It's been clear for decades now that, for plenty of comedic actors and writers, landing a job at "Saturday Night Live" is a milestone career moment. Being given the opportunity to stand on the shoulders of names like John Belushi, Gilda Radner, and Dan Aykroyd, couldn't be any more vindication that you've immortalized yourself in comedy history. To this day, scores of the comedy elite still find themselves waiting for their chance to scream, "Live from New York it's Saturday night!" 
Since "SNL" features such a large ensemble of cast and writers, the show is famous for having a continuous turnover of talent. Believe it or not, the majority of today's cast weren't even born when the show premiered back in 1975. When it comes to the hiring of new comedic actors, the stakes for some of these young professionals couldn't be any higher. The level of success from being in the cast has the potential to turn comedians into household names, even pop culture icons, so it also opens doors to future endeavors. It's not difficult to rattle off all the beloved movies and achievements that former cast members have landed after leaving "SNL." 
One of the most interesting aspects of new "SNL" cast members is that they each have their own personal comedy journey that led them to this rare opportunity. More recent additions like Heidi Gardner, Bowen Yang, and Chloe Fineman didn't all come from the same pool. What's even more interesting than their moment of discovery, especially in the case of Chloe Fineman, is the life-long, unique process of developing the comedic chops necessary in order to even be considered for the late night sketch comedy series. 
How Chloe Fineman became the queen of impressions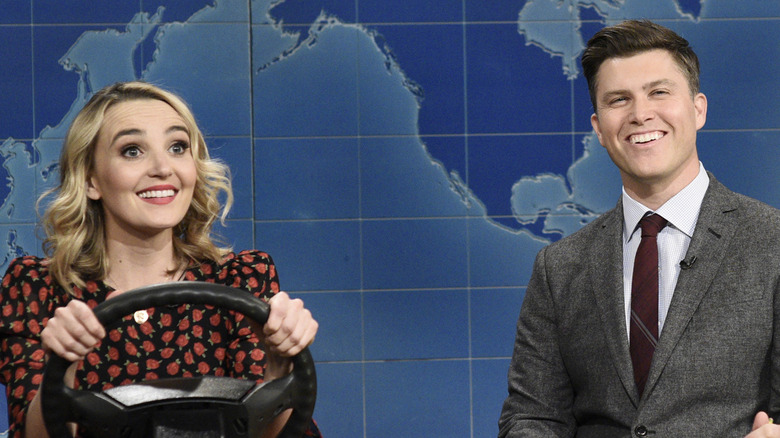 NBC
Bazaar reports that Fineman was drawn to the stage as early as a toddler. Her father, who taught improv classes, would need to carry a kicking and screaming Fineman away from the spotlight. The performer inside her led to NYU's Tisch School of the Arts, where she honed her acting skills. But that didn't satisfy her creative side. "So much of school was [being] given a script, you're just handed stuff," she said. However, it was her younger sister Emma who gave her the advice she needed to push forward. "You just have to find something you're obsessed with," her sister said.
That piece of advice helped lead Fineman towards her new obsession, improv and character work. Using the endless selection of costumes and props at the famous Piedmont Boutique in San Francisco to create new characters, Fineman would drive around the city and experience living in a new character's skin (via Bazaar). These unique solo-improv experiences helped tone her craft, eventually leading her to being cast at Los Angeles' famous Groundlings theater. Shortly after, Entertainment Weekly says Fineman then jumped on the social media bandwagon, showcasing her impressions on Instagram. Before long, Fineman had a shot to audition for "SNL," and she booked herself into television comedy history.
Being cast in the iconic sketch comedy show not only gives the performer an opportunity of a lifetime, but also increases the chance of establishing an even greater career. Past cast members have gone on to the big screen, such as John Belushi in "National Lampoon's Animal House," Bill Murray and Dan Aykroyd in "Ghostbusters," Will Ferrell in "Anchorman: The Legend of Ron Burgundy," Kristen Wiig in "Bridesmaids," and many more. Fineman was recently seen in HBO Max's "Father of the Bride" remake, and she's bound to have many more roles in film and TV soon enough.