Where Is Johnny Rico From Starship Troopers Now?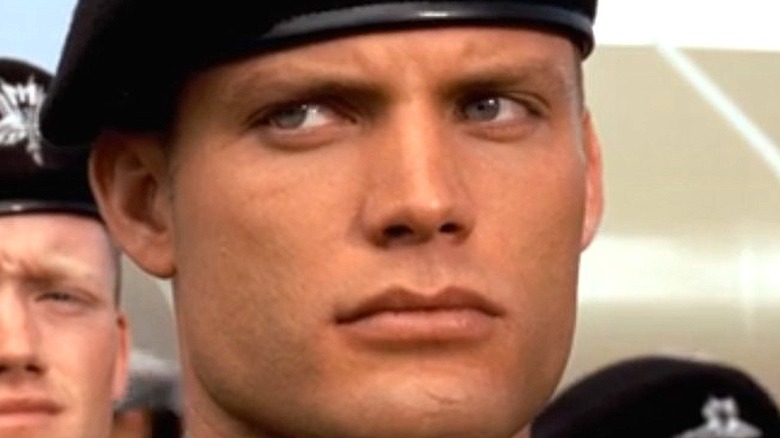 Sony
"Do you wanna live forever?!" Casper Van Dien will surely meet his fate like the rest of us, but he will eternally live on as Johnny Rico of "Starship Troopers." But before focusing on the end, you gotta start at the beginning, and Van Dien began his career when he was cast as a series-regular on the soap opera, "Dangerous Women" (per IMDb). He continued bouncing around TV series, including seven episodes of "Beverly Hills 90210." However, it was on the big screen where Van Dien experienced the breakout role we all associate him with today.
Van Dien scored the lead role of Johnny Rico in 1997's futuristic sci-fi flick, "Starship Troopers." Starring alongside Denise Richards and Neil Patrick Harris, Van Dien nails his role as Johnny, a misguided high school graduate who finds himself suddenly thrusted into an intergalactic war against giant alien bugs. The role of Johnny Rico solidified Van Dien as a chiseled leader, as well as a Hollywood heartthrob.
But believe it or not, "Starship Troopers" was actually a box office flop. Despite being a loved cult-classic today, "Starship Troopers" made only around half its budget back domestically, and critics stomped on it like a pesky cockroach, with many misunderstanding the film's satire of military propaganda. However, that didn't keep Van Dien from pushing forward with his acting career, as well as finding himself in an unfamiliar spot: behind the camera.
Casper Van Dien has taken big steps forward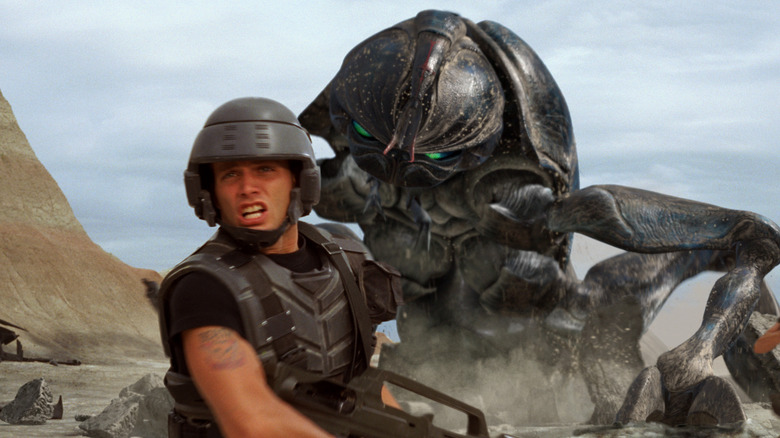 Sony
Despite "Starship Troopers" failing at the box office, Casper Van Dien didn't let the film's lack of success deter him from finding his own. Entertainment Weekly explains that while some actors would try to shake off a defining role, Van Dien is comfortable with being closely associated with the film. That acceptance led him back to television, as he landed more than a handful of roles. He also went on to star opposite Yasmin Bleeth in the series, "Titans." But while Van Dien's acting career forged ahead, fans learned of the personal difficulties he had endured during his childhood.
In an interview on CNN's Larry King Live, Van Dien revealed to the world how he was a victim of child abuse. Van Dien explains, "When you come out and you talk about it, you're no longer a victim. Then it's over, you can deal with it. " Van Dien wanted other victims to know that they could break free of what had happened to them. "You didn't do anything wrong and the only thing that you need to do is talk about it, get it out, get it done with, and then you can move and put it behind you," he said.  
Today, Casper Van Dien continues to push forward, just like Johnny Rico would do. In 2008, he reprised his role as Rico in "Starship Troopers 3: Marauder." He continues to knock out one TV or film role after another and has also given it a go behind the camera, as he has worn the director's hat for several films, though they are lesser known titles such as "Patient Killer" and "The Last Bid." And it doesn't look like Van Dien is gonna stop any time soon, as he takes on a starring role in the TV series "Stripped." Not bad for a guy who started his career killing bugs.