She-Hulk Episode 6 Recap: Take Me To Your Leader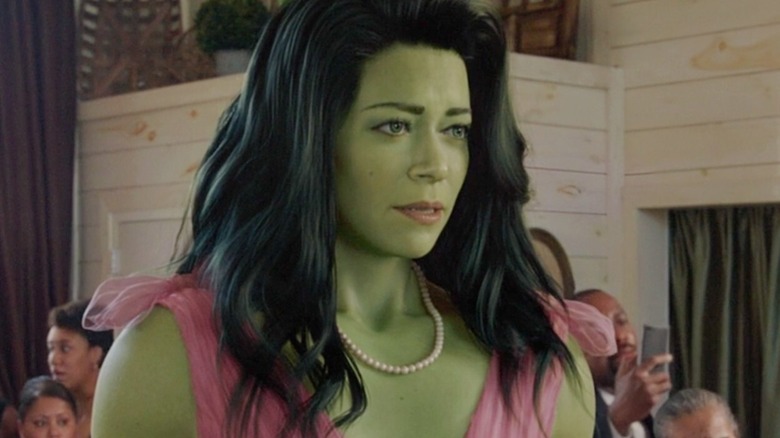 Marvel Studios/Disney+
Warning: This article contains spoilers for "She-Hulk" Episode 6
Episode 6 of "She-Hulk: Attorney at Law" has landed, and as Jen Walters (Tatiana Maslany) lets us know in its opening, it's a self-contained episode. Jen is asked to be a bridesmaid at a high school friend's wedding, and we're really not sure why because Lulu (Patti Harrison) doesn't even seem to like her that much.
Crashing the wedding is Titania (Jameela Jamil), who snuck her way in by latching onto a groomsman as his date. Titania is just here to fight She-Hulk, and the two go toe-to-toe in the middle of the ceremony, with Jen destroying her opponent's veneers. That's really all we get between the twosome, and we're wondering if there's ever going to be anything more significant between them in the final episodes of the series. Based on what we saw in the final scene of Episode 6, it looks like a bigger threat is coming.
Welcome back to the MCU, Dr. Sterns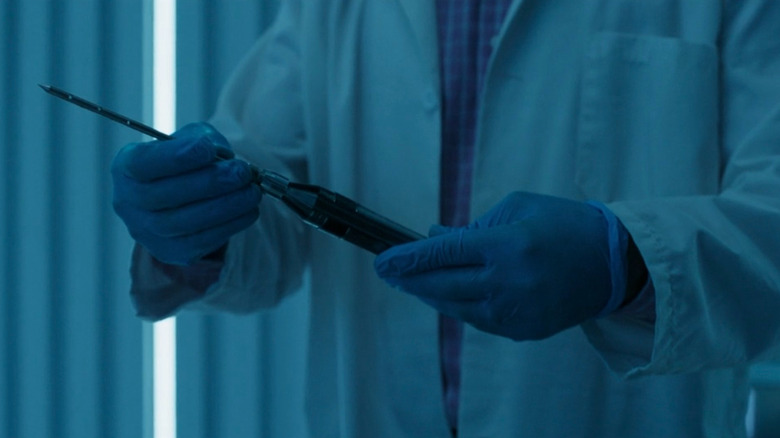 Marvel Studios/Disney+
We met Mr. Immortal in "She-Hulk" Episode 6, but he's just another random case thrown into the mix that really doesn't have anything to do with the story at all. So let's not worry about his conniving you-know-what.
At the end of the episode, we see some lab workers packing a needle that looks like it could make its way to the center of the Earth into a biohazard briefcase. It looks like someone is concocting a device strong enough to pierce She-Hulks skin, which calls back to Episode 3 when Jen was ambushed in an attempt to get her blood. So who is behind this new device? Who is the boss the goons alluded to in Episode 3?
All signs point to Dr. Samuel Sterns, whom we met in "The Incredible Hulk." Bruce Banner's (Edward Norton) secret ally was helping him to develop a cure. Eventually, Bruce's blood gets into a wound on his head, growing it in size. That's the last we saw of Dr. Sterns, but with Leader being confirmed for "Captain America: New World Order," we're thinking he's getting his new origins in "She-Hulk," setting him up for his second MCU feature. Dr. Sterns is also a member of  Intelligencia in the comics, which was played off as a Reddit-esque website in Episode 6. This easter egg could very well confirm Dr. Sterns's reemergence.
When does She-Hulk Epsiode 7 air?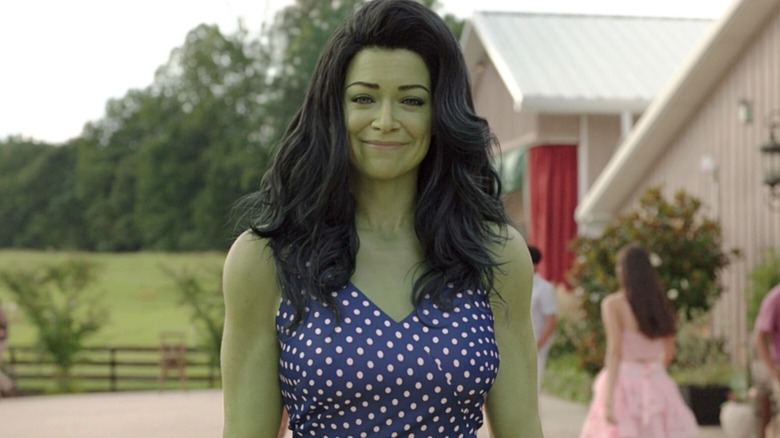 Marvel Studios/Disney+
"She-Hulk: Attorney at Law" will air its seventh episode on September 29 at 3 a.m. EST on Disney+. Luckily, this show will not take any weeks off, so we'll have one new episode every week until the October finale. It's difficult to predict what's coming in Episode 7, as "She-Hulk" is all over the place. This episode was also self-contained, so the next may be as well.
However, with only three episodes of "She-Hulk" left, we have to squeeze in the appearances of Frog Man, Daredevil, and Leader (who we're pretty confident is showing up). Perhaps each subsequent episode will feature one of those characters, and we're also awaiting the return of Emil Blonsky, aka Abomination (Tim Roth). Roth previously told Collider his character would be floating around. "You'll have a couple of moments," he told the outlet. There's not much time to waste, so expect a jam-packed final three episodes of "She-Hulk."