The Rings Of Power Episode 5 Might Have Just Revealed The Stranger's Identity With A Song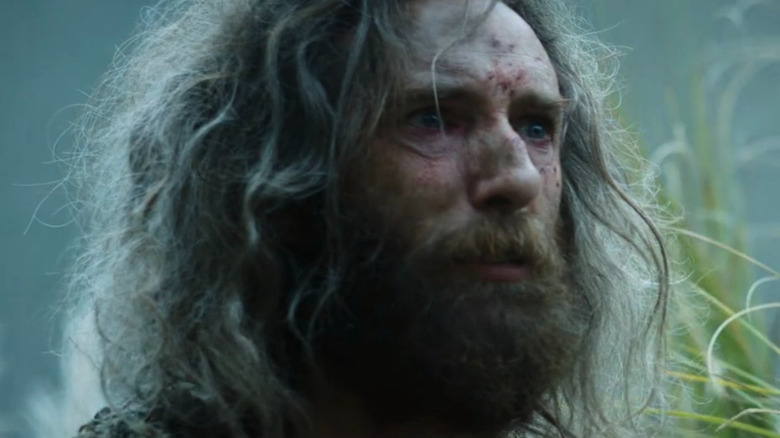 Amazon Studios
Contains spoilers for "The Lord of the Rings: The Rings of Power" Season 1, Episode 5
As a wise old hobbit once said, "It's a dangerous business going out your door," and even more so when it leads to the winding and war-torn roads of Middle-earth. Thankfully, most of our favorite characters have a companion to join them on their journey. Frodo has Sam, Boromir has a target on his chest, and in the case of "The Lord of the Rings: The Rings of Power," Harfoot hero Elanor "Nori" Brandyfoot (Markella Kavenagh) has Poppy Proudfellow (Megan Richards). This week, as the two try to close the gap between themselves and the caravan they've been forced to the back of, they're getting help from the Stranger (Daniel Weyman) from beyond the stars. Initially seen as a threat, this giant is pulling his weight quite literally as a new ally to Nori, but the road goes ever on, and someone needs to lighten the mood. Take it away, Poppy.
To ensure that their journey isn't too soul-destroying, Nori twists her friend's arm to carry a tune or two as they set off down the road. What's particularly interesting about her song choice is that it contains a lyric we've already heard — one that wasn't said by a descendant of Harfoots but by a gray wizard who bares an uncanny resemblance to the Stranger.
Poppy's uplifting song contains an iconic Gandalf line to Frodo
During Poppy's song, a verse homes the line "not all who wonder or wander are lost," which should ring a bell for any fan of J.R.R. Tolkien's "The Fellowship of the Ring." It's a variation on the line "not all those who wander are lost" from "The Riddle of Strider" written by Bilbo Baggins and quoted in a letter Gandalf writes to Frodo in the early phases of his journey.
While the poem holds greater significance in the future events of Middle-earth (Frodo uses it to determine the identity of Strider on their first meeting), the fact that it comes from a letter written by Gandalf, quoting his first Hobbit friend, is intriguing. Could the matching lyric hammer home the bond between the wizard and halflings? Having it uttered here certainly cements its history among the Little People, but the fact that the Stranger is present in hearing this particular rendition could tease that he is the very same hero who will eventually have a big part to play in the future of the Hobbits. It's another little hint that could back up the continuing theory that the wizard has, in fact, arrived precisely when he meant to.