The Seinfeld Character You Might Not Have Known Julia Louis-Dreyfus' Sister Played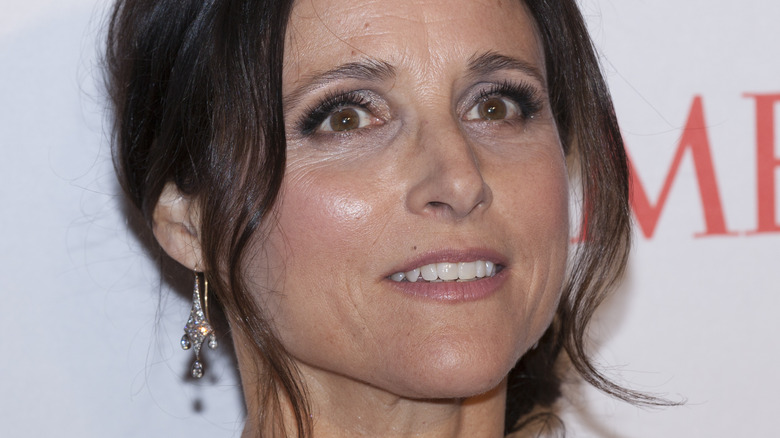 lev radin/Shutterstock
There are many reasons to enjoy "Seinfeld." The unique personalities showcased in every episode help elevate the show to hysterical heights. There is no shortage of unforgettable characters that viewers were introduced to over the years, and some have bigger connections to the show than just serving up a decent performance. While Jerry Seinfeld, George Costanza (Jason Alexander), Elaine Benes (Julia Louis-Dreyfus), and Cosmo Kramer (Michael Richards) kept people coming back for more, the side players definitely added to the hilarious experience. Everybody from the Soup Nazi (Larry Thomas) to Uncle Leo (Len Lessler) and everyone in between helped the Emmy-winning series become such a powerhouse, even decades after the finale.
So many amazing characters came and went, and it's crazy to think how many of them went on to be successful in so many other projects. Bryan Cranston was Tim Whatley in several episodes before becoming Heisenberg in "Breaking Bad." "Hawaii Five-0" star Daniel Dae Kim was diagnosing Kramer before upholding the law. Even an ample amount of characters that only show up once on "Seinfeld" have become fan favorites. Additionally, many may not realize that a real-life relative of Julia Louis-Dreyfus also played a minor part in "Seinfeld."
Lauren Bowles played a waitress at Monk's in several Seinfeld episodes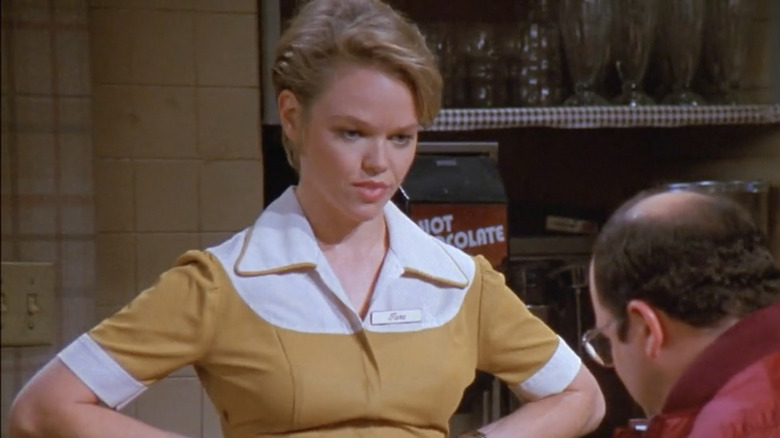 NBC
Lauren Bowles is an actress whose credits include "True Blood" and "The Heartbreak Kid." She is also the half-sister of "Seinfeld" star Julia Louis-Dreyfus and played one of the waitresses at the core four's frequent hang-out spot, Monk's Café. According to IMDb, Bowles appeared in nine episodes, and it wasn't like she was just a glorified prop put in the background for authenticity. The actress has several memorable moments during her brief time on the NBC comedy. Whether she was not so secretly giving George the finger in "The Pledge Drive" or surprising him with a halibut omelet in the opening moments of "The English Patient," Bowles made her presence known whenever she entered the frame.
Bowles has had a solid run since her time on "Seinfeld," and she was grateful for the rewarding experience. "I really got to be on the inside and watch its evolution which was just fantastic and getting to be on the show early on," she said in an interview with CYInterview. "So it really was such an unbelievable learning experience just watching the evolution of that show."
Notably, "Seinfeld" wasn't the only time she had a role on one of her half-siblings' shows. Bowles has been in episodes of "Veep" and "The New Adventures of Old Christine." She has also appeared in "Seinfeld" co-creator Larry David's HBO series "Curb Your Enthusiasm."