Ana De Armas Makes A Disturbing Prediction About Blonde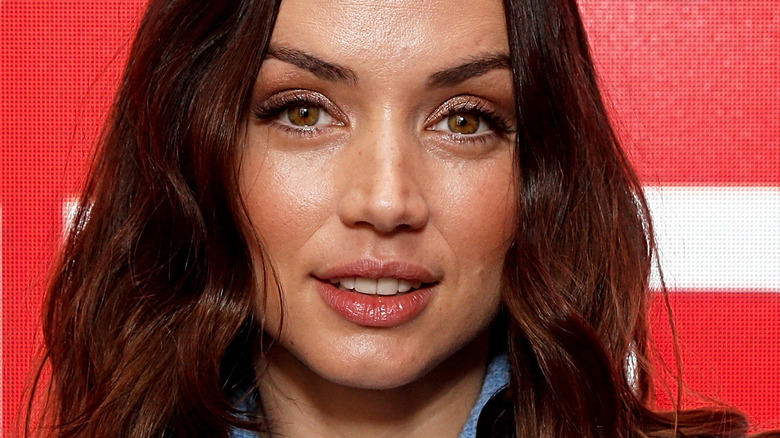 Dominik Bindl/Getty Images
"Blonde" is already causing major waves on the internet after hitting limited release with a splash on September 16. The film — which takes its cue from Joyce Carol Oates' dramatized fictionalization of actress Marilyn Monroe's life — has already caused controversy with its NC-17 rating and reports of explicit scenes depicting rape, abortion, and sexual activity. This has resulted in a mixed audience and critical reception; Rotten Tomatoes shows critics giving it a 53% rating and audiences hitting it with 43% at the time of writing. Critics and audiences seem fascinated with and revolted by the film in equal measure, which makes the movie as hard to categorize as Monroe itself. This might just change when the film hits Netflix on September 28, but at the moment it appears that the film's reputation will be as messy and complicated as the novel which inspired it.
Soon, it will be up to audiences worldwide to judge "Blonde" on its merits and faults. But the actress who dons Monroe's winning smile and platinum blond locks for the film, Ana de Armas – who has won near-universal critical praise for her nuanced take on Monroe — has a surprising prediction about the film's fate, and it concerns the public at large. And when one hears her concerns, one can't help but hearken back to Marilyn Monroe's own real-life worries about her image and film career.
The actress predicts certain scenes will go viral and finds this disgusting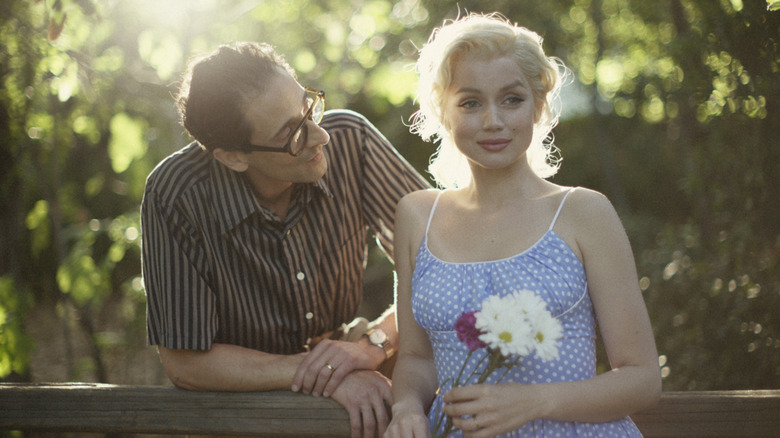 Netflix
In a new interview with Variety, Ana de Armas said that she thinks the film — specifically her nude scenes –  will be taken out of context by the internet so that viewers might pass around certain scenes for reasons that have nothing to do with discussing the film. 
"I know what's going to go viral, and it's disgusting," she said. "It's upsetting just to think about it. I can't control it; you can't really control what they do and how they take things out of context. I don't think it gave me second thoughts; it just gave me a bad taste to think about the future of those clips." Considering the sensitive nature of some of the scenes, which portray the alleged abuse that Monroe allegedly suffered at the hands of others, one cannot help but understand de Armas' feelings.
De Armas then explained the turmoil she went through while trying to bring the book's brutally honest depiction of Monroe's traumas, joys, and tragedies to blazing life, and dedicates her performance to the actress. "I did things in this movie I would have never done for anyone else, ever. I did it for her, and I did it for Andrew," the actress related, referring to "Blonde" director Andrew Dominik.
De Armas had previously explained her strong emotional connection to Monroe. Before "Blonde" began filming, de Armas told AnOther Magazine that she and the film's crew laid a card filled with messages from them at Monroe's grave in Westwood Memorial Park. She explained that she did this to obtain the actress' blessing for the production to come. "Everyone felt a huge responsibility, and we were very aware of the side of the story we were going to tell," de Armas said.
Marilyn Monroe herself spoke out against exploitation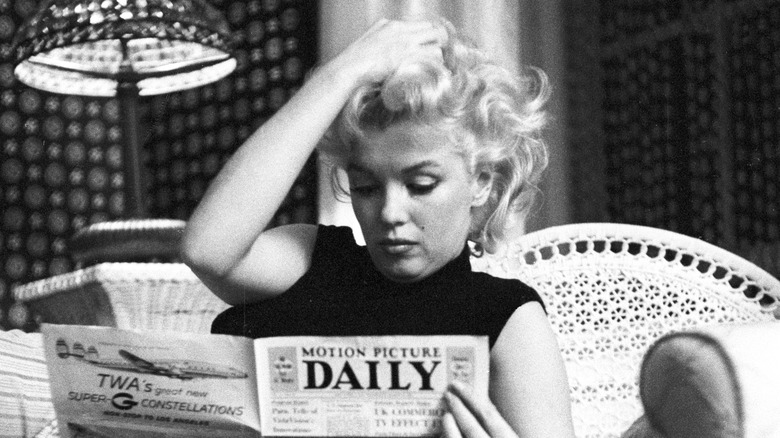 Michael Ochs Archives/Getty Images
Marilyn Monroe herself often spoke out about her feelings when it came to being a cog in Hollywood's machine. "An actress isn't a machine, but they treat you like one," she once said, per Marie Claire. During her time in Hollywood, Monroe often spoke out against attempts at exploiting her image and popularity to make sub-quality films. This did not endear her to Darryl Zanuck, then-head of Fox Studios, who just wanted Monroe to keep on churning out big box office hits for him, and to him, that meant playing dumb blondes galore.  While she stomached being in vehicles like "River of No Return," she balked at enduring roles in further fluff. After being offered one poor script too many, she rebelled by leaving Hollywood entirely for life in New York City and forming her own production company in 1955. She flew out to New York under the name "Zelda Zonk."
Monroe insisted on returning to Hollywood on her own terms if she returned at all; she auditioned for the Actor's Studio, won a berth in the legendary school, and, in spite of a series of threats from Fox, forged a life for herself in New York City. By the end of the year, Fox caved, agreeing to a new contract and helping to mint MMP, the actress' own production company. Even after surviving so much, Monroe herself definitely knew her own worth.