This Is Who Plays Emily On Home Economics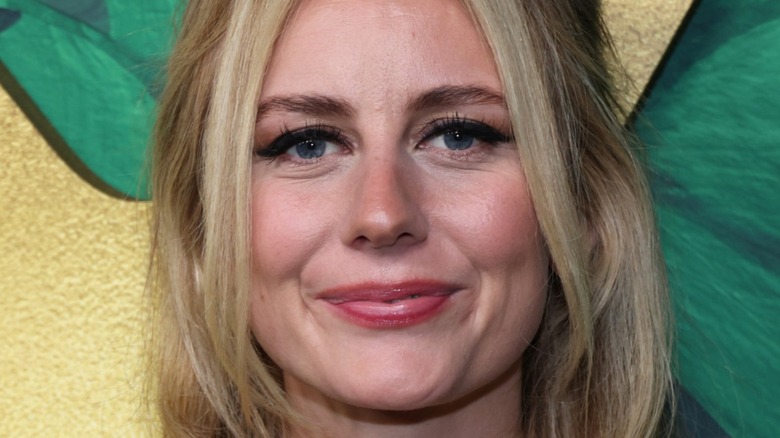 David Livingston/Getty Images
"Best exes ever!" might be the line viewers remember most from Connor's ex-wife, Emily, in her first appearance on "Home Economics." Emily finally arrived in style in the 6th episode of the 1st season, dubbed "The Triangle Shirtwaist Fire: An Oral History (Used), $11."
Charming, beautiful, a little competitive, and everything one would expect out of Connor's mysterious ex-wife, Emily reunites with her former family Tom, Marina, Denise, and Sarah in some of their monetary hijinks for a birthday party (her own) and then in a later episode to trick-or-treat around the neighborhood.
The actress joined an accomplished cast alongside "That '70s Show" alum Topher Grace as Tom, Caitlin McGee of "The Marvelous Mrs. Maisel" as Sarah, and her on-screen ex Connor, played by Jimmy Tatro, a YouTube personality who garnered a following with his show "LifeAccordingToJimmy." Not to mention, the actress who plays Sarah's wife Denise is Sasheer Zamata, a former fixture of the "Saturday Night Live" set from 2014 to 2017. But among all these familiar faces, who plays Emily?
Meet Justine Lupe, a queen of comedy and thriller TV
Emily, Connor's ex-wife, is played by American actress Justine Lupe. Before arriving on "Home Economics" as the enigmatic ex, Lupe had her fair share of time in the spotlight, especially on television. The actress' first small-screen role was in CBS' "Unforgettable," in an episode titled "Friended." Since then, viewers might have come to recognize her as Astrid Weissman from "The Marvelous Mrs. Maisel," a character who became recurring in Seasons 2 and 3. Lupe has also seen multiple episodes of screen time in plenty of other titles, like "Harry's Law" and "Cristela," and since Season 3 of the series, has been appearing in a main role as Willa Ferreyra in "Succession."
Lupe also notably played Holly Gibney on "Mr. Mercedes," a television adaption of Stephen King's Hodges trilogy. During a 2019 interview with Jacque Reid and Sara Gore on New York Live, Lupe got honest about portraying the character, recalling, "I really did pay attention to the character that he wrote. It's such a rich character ... There's a reason why she's a fan favorite. She's so incredibly complex and lovable and interesting." Not only is Holly a fan favorite, but King told The Kingcast (via Entertainment Weekly) that the character from the book "stole his heart" — a lovable character indeed!
Lupe's presence in both "Mr. Mercedes" and "The Marvelous Mrs. Maisel" boasts of a broad acting range; these characters exist in vastly different atmospheres but were both filmed during the same time period, from 2017 to 2019. Lupe's successful portrayal of both the complex inadvertent detective Holly Gibney and the insecure housewife and Jewish convert Astrid Weissman clearly put her versatility on display.
Where else can you see Justine Lupe?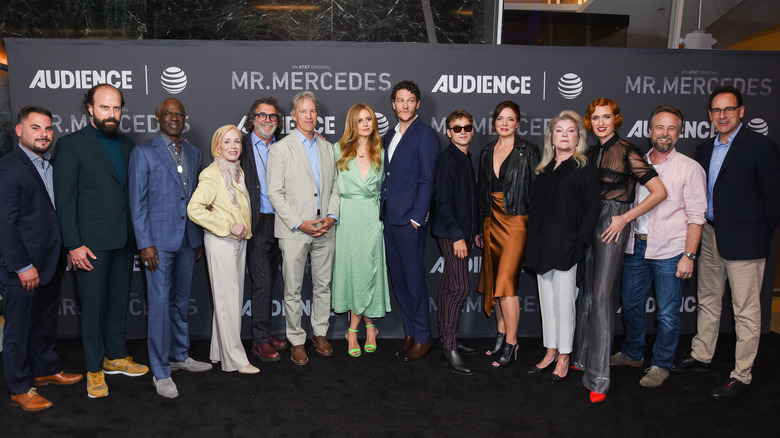 Presley Ann/Getty Images
While Justine Lupe has certainly ruled in plenty of TV shows as a guest or recurring character, she still has a few films on her resume. Lupe starred in Alexander Poe's 2011 debut feature, "Ex-Girlfriends," and has since been seen in David Chase's "Not Fade Away" and Noah Baumbach's "Frances Ha," the latter of which received a 93% critical score on Rotten Tomatoes.
New in 2022 was Lupe's appearance in the mystery thriller "Luckiest Girl Alive," directed by Mike Barker and based on the book by Jessica Knoll. The plot is an emotional one, so viewers get to see Lupe test out a new vulnerability as she stars alongside Mila Kunis, Finn Wittrock, Scoot McNairy, and Jennifer Beals.
One thing is for sure: Justine Lupe has a substantial filmography at her feet, with charm and potential in ample evidence to launch her anywhere. If viewers enjoyed that taste of Emily in "Home Economics," they should see what else Lupe can do in "Succession," "Mr. Mercedes," and more of her enviable acting history.