Young Sheldon Producer Dangles Tantalizing Hints About The Georgie Story We're All Waiting To See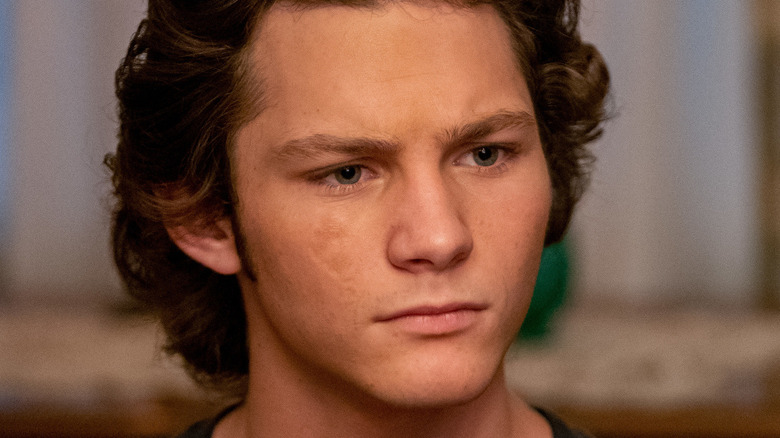 Erik Voake/CBS
This article contains spoilers for "Young Sheldon" Season 5 and Season 6, with some mild spoilers for "The Big Bang Theory."
Hang on, "Young Sheldon" fans: the long summer of your discontent is almost over. There are plenty of threads left dangling from its Season 5 finale and soon a few of those plots will be solved. Chief among those unfinished stories revolves around George Cooper Jr. (Montana Jordan), who's now trapped in jail alongside Meemaw (Annie Potts) after their scheme to provide for the future of Georgie's unborn baby by smuggling cigarettes across the Mexican border. While George Sr. (Lance Barber) heads south with Meemaw's on-again-off-again boyfriend Dale (Craig T. Nelson) to bail their ne'er-do-well loved ones out of prison, the futures of both characters have been left suspended in mid-air.
But with autumn comes renewal in TV land, and Season 6 of "Young Sheldon" is set to take flight on September 29. Those tuning in will quickly find out what happens to Georgie in the wake of his failed scheme, but what's in store for him afterward? One of the show's producers has spoken out about where the character goes from here.
Georgie will dedicate himself to Mandy during Season 6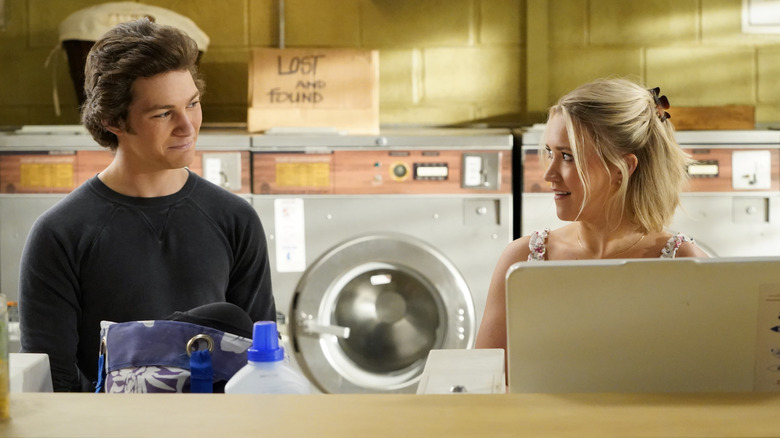 Robert Voets/2021 Warner Bros. Entertainment Inc.
According to comments made by executive producer Steve Holland to TV Insider in September of 2022, it appears that Georgie will continue to focus his attention on Mandy McAllister (Emily Osment) and providing for the birth of their upcoming child. "Georgie tries proving he can be a good guy and a good dad," Holland said. It's not as if Georgie hasn't already been trying to do so already, even though the cigarette scheme blew up in his face. Though his relationship with Mandy starts out on a deceitful foot, as he lies to her that he is over the age of 21 to better mesh with the college student, and she lies to him that she is several years older than her wallet age, Georgie has tried to be there for both her and the baby. To wit, TV Insider says that Georgie will try to romantically woo Mandy into getting back together with him. Could wedding bells be in the future for the twosome?
Of course, fans of "The Big Bang Theory" know that all of this won't work out for Georgie in the end; he's described as being divorced during his appearance in the mothership series and does not appear to have any children. What does that mean for Mandy and Georgie's relationship? Keep tuning in to find out.