What Happened To Sara Ramirez After Leaving Grey's Anatomy?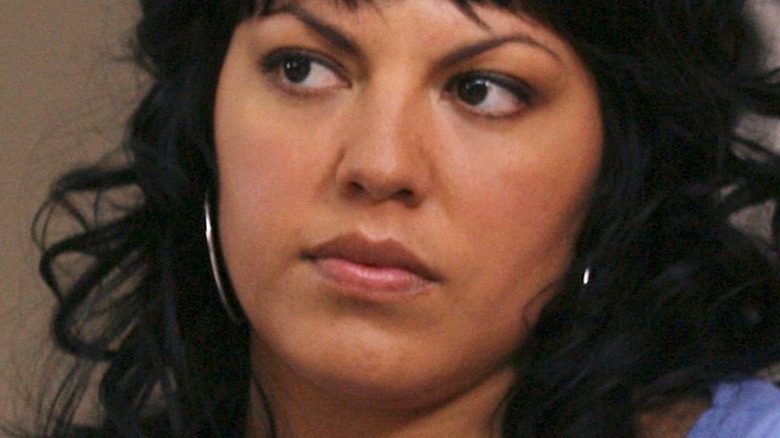 ABC
The ABC medical drama "Grey's Anatomy" is full of over-the-top moments but has been on the air for nearly two decades, having racked up a slew of seasons in the process. The series centers on Meredith Grey (Ellen Pompeo), who begins the series as an intern at a Seattle hospital, eventually making her way up to Chief of General Surgery. While Meredith is the show's protagonist, the series also boasts a large ensemble cast that has evolved over the years, as various cast members have left and been introduced.
One of these other main characters is Calliope "Callie" Torres, played by Sara Ramirez. After first appearing in Season 2 as a recurring cast member, Ramirez was promoted to a main character for Season 3 and remained as such through Season 12. Callie begins as an orthopedic resident before becoming a surgeon. Throughout her run, Callie has her fair share of messy romantic storylines, such as her on-and-off relationship with Arizona Robbins (Jessica Capshaw) and getting pregnant with Mark Sloan's (Eric Dane) baby. In the end, Callie goes through a tense custody battle for her daughter before moving to New York City with her new girlfriend, Penny (Samantha Sloyan).
For those curious, what happened to Ramirez after they left "Grey's Anatomy"?
Ramirez has continued acting — and now stars on a big HBO Max show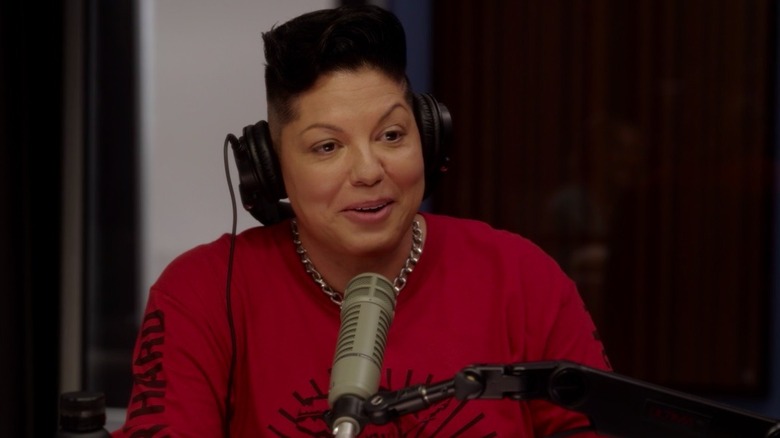 HBO Max
After leaving "Grey's Anatomy" in 2016, Sara Ramirez continued their career as an actor. Their first significant role after "Grey's" was their main role as Kat Sandoval in the political drama "Madam Secretary" for the show's fourth and fifth seasons from 2017 to 2019 (via IMDb). Additionally, from 2012 to 2018, Ramirez voiced the role of Queen Miranda in the animated children's series "Sofia the First."
A couple of years after "Madam Secretary" ended, Ramirez landed another leading role on the highly anticipated HBO Max sequel series to "Sex and the City," titled "And Just Like That ..." In the series, Ramirez plays Che Diaz, a nonbinary queer comedian who hosts a podcast alongside Carrie Bradshaw (Sarah Jessica Parker). After being introduced to Miranda Hobbes (Cynthia Nixon) by Carrie, the two begin a romance — even though Miranda is still married. By the end of the series, Miranda has left her marriage and has decided to move to Los Angeles with Che.
Ramirez loves playing Che — despite the criticism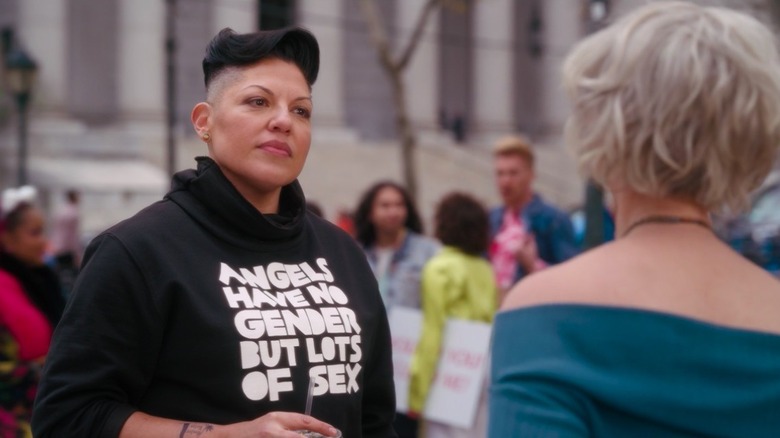 HBO Max
Che Diaz turned out to be one of the most talked-about elements of "And Just Like That ..." — just not for the best reasons. The character received a ton of online criticism from fans and critics alike for not being fully fleshed out and being generally insufferable and not good at her job (being funny). Writing for the LGBTQ+ site Them, critic James Factora stated, "Che seems pretty transparently like a caricature who's been thrown into AJLT to garner Diversity Wins."
However, for their part, Sara Ramirez has brushed off the criticism. Speaking with The New York Times in February 2022, they said they're used to getting criticism and trying to separate their work from the reaction. Ramirez continued, "I'm really proud of the representation that we've created. We have built a character who is a human being, who is imperfect, who's complex, who is not here to be liked, who's not here for anybody's approval. They're here to be themselves."
Meanwhile, in a different interview with Variety, Ramirez revealed what they love most about the character: Che's complexity and imperfection. Referencing the fact that Che is found annoying by some viewers, the actor continued, "Che is a great reminder that even when we don't like someone in our community, they still deserve love, safety, and joy, like everyone else ... This fight, this party of pride, isn't just for the people who make us feel cozy and cute — it's for everyone."