Chicago Med Season 8 Episode 1 Recap: Goodbye, Hello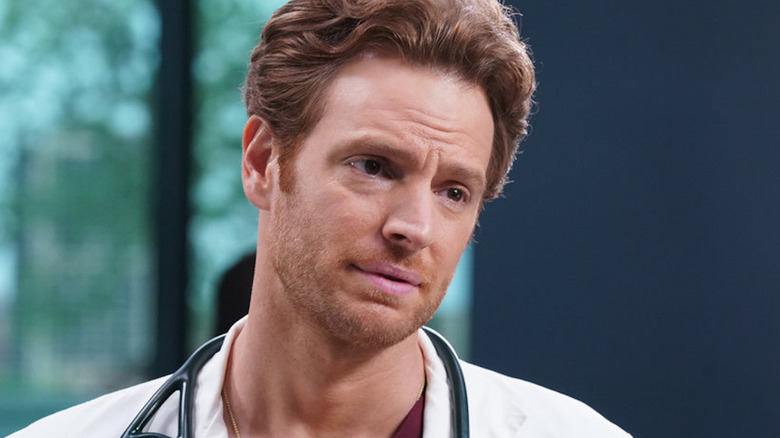 NBC
Warning: This article contains spoilers for "Chicago Med" Season 8 Episode 1
The Season 7 finale of "Chicago Med" was definitely the most dramatic out of all three shows in the "One Chicago" universe. While "Chicago Fire" left on a pretty normal cliffhanger, it was nothing compared to the drama Dr. Halstead (Nick Gehlfuss) and Dr. Scott (Guy Lockard) were going through. The Season 8 opener picks up right where we left off, with Will and Dylan stuck in the burning apartment building with seemingly no way out. Thankfully, some of the "Chicago Fire" crew shows up with Christopher Herrmann (David Eigenberg) helping the doctors escape through the window — although it almost costs him his life.
Sylvie Brett (Kara Killmer) is also there to aid Dr. Asher (Jessy Schram), who had some smoke inhalation after going back into the building to find Will — aww. Dylan later finds Jo (Riley Voelkel), who is suffering badly from a gunshot wound. Everyone makes their way to the hospital, and the fallout is nothing we could have expected.
The apartment fire fallout is tremendous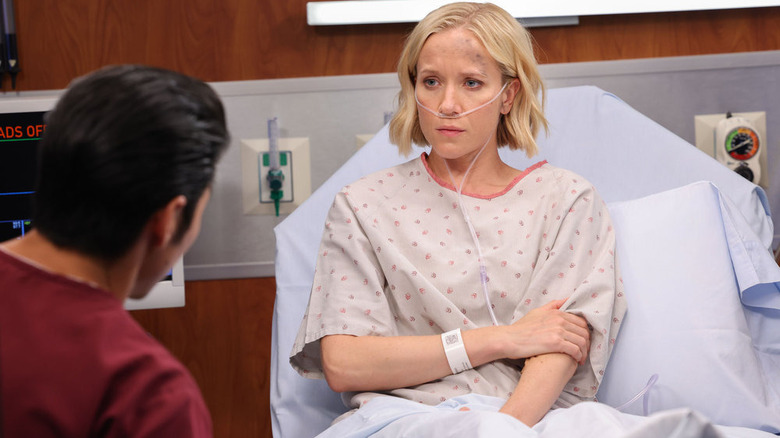 George Burns Jr./NBC
Unfortunately, Jo does not survive her gunshot wound and is pronounced dead at Med. This absolutely guts Dr. Scott, who blames himself since the bullet he shot at their assailant went through him and into Jo. Dr. Scott tells Ms. Goodwin (S. Epatha Merkerson) that he killed the woman he loves and eventually quits Med by the end of the episode. Variety confirmed after Episode 1 aired that Guy Lockard would not be returning to "Chicago Med." Dr. Scott's story is officially over, as showrunners revealed his planned arc was complete.
The fire also puts Dr. Asher in the hospital, as the smoke inhalation triggered a condition in her lungs caused by her prior heroin use. When she was an addict, the heroin she injected was likely cut with talcum powder, so when she used the talc formed an embolus that went into her lungs. She's been living with these for years, but it wasn't until the smoke inhalation that they were discovered, as they triggered interstitial lung disease and caused inflammation. It's a lot of medical jargon, we know. Steroids worked their magic, and Dr. Asher was extubated and was set to have her lungs cleared. This could be setting up another romantic season between Will and Hannah, based on her running into a burning building for him and him constantly being by her side during her hospitalization. By the way, the fire that caused all this trauma? Yea, it was started by Vas-COM pusher Jessa Rinaldi (Angela Wong Carbone), who was trying to kill Will before the trial. But thanks to Kim Burgess (Marina Squerciati) from "Chicago P.D.," the arsonist is behind bars now.
Coupling and uncouplings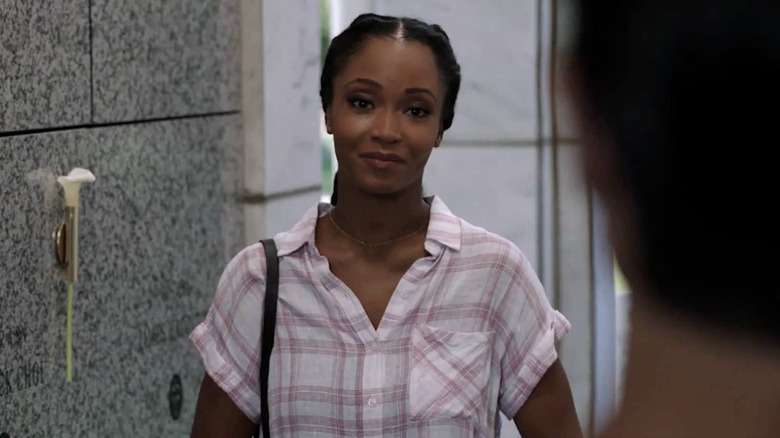 NBC
Dr. Blake's (Sarah Rafferty) future is also clear now, as the character reveals she's leaving after her recovery but promises Dr. Marcel (Dominic Rains) that she'll be back. She is still livid at him for his decision during her Season 7 surgery which caused her stroke, but he tells her she would have done the same if the roles were reversed. Dr. Marcel appears to be a single man yet again, and perhaps it's time for him to take a break from seeing coworkers (and their daughters). He is the number one transplant surgeon now at Med and will have a busy season ahead. Variety also confirmed Rafferty's exit from the series in addition to Guy Lockard.
While Dr. Scott's decision to quit Med was a complete shock, the biggest surprise in the Season 8 opener of "Chicago Med" was the return of April Sexton (Yaya DaCosta). April left the series after Season 6 to join a nurse practitioner program, but off-screen, DaCosta was offered the lead on the now-canceled Fox series, "Our Kind of People." With the actress having more free time now, it looks like she might be returning to "Chicago Med." April runs into Dr. Choi (Brian Tee) at his father's grave, explaining she would have come to the funeral if she knew at the time. The former couple's spark seems to reignite, as April shows a big interest in Ethan again. We'd be surprised at this point if the duo didn't come back together, or that would have one big heck of a tease for no good reason. 
When does Chicago Med Season 8, Episode 2 air?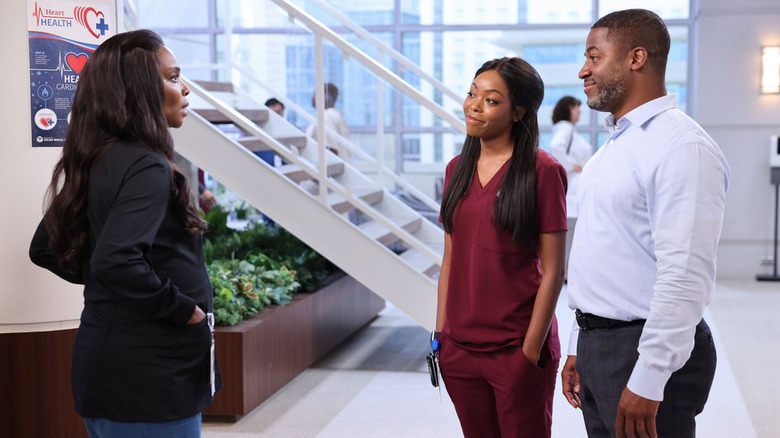 George Burns Jr./NBC
Episode 2 of "Chicago Med" Season 8 will land next week on September 28 at 8 p.m. EST on NBC. We're expecting a lot of answers to come in the episode and more of April now that she's back in Chicago.
While most of Episode 1 revolved around Dr. Asher's hospitalization, Dr. Marcell's fallout with Dr. Blake, and a schizophrenic teenager, we're guessing Episode 2 will dive into the other characters. Maggie (Marlyne Barrett) had a backburner story, which still sees her fighting some uncomfortableness now that her daughter Dr. Taylor's (Asjha Cooper) birth father is back in the picture. That could be explored further in Episode 2, with Maggie and Dr. Taylor talking about it all. Dr. Dean Archer (Steven Weber) also gets a call from his imprisoned son, who he reveals in Episode 1 that he hasn't seen in years. We expect a lot more of that story moving forward, which could show a softer side to the ice-cold doctor. 
Additionally, we expect to learn more about "Chicago Med" newcomer Dr. Cuevas (Lilah Richcreek Estrada), who just joined Dr. Charles (Oliver Platt) in the psychiatric department.