Why The Old Man At The End Of Andor Episode 2 Looks So Familiar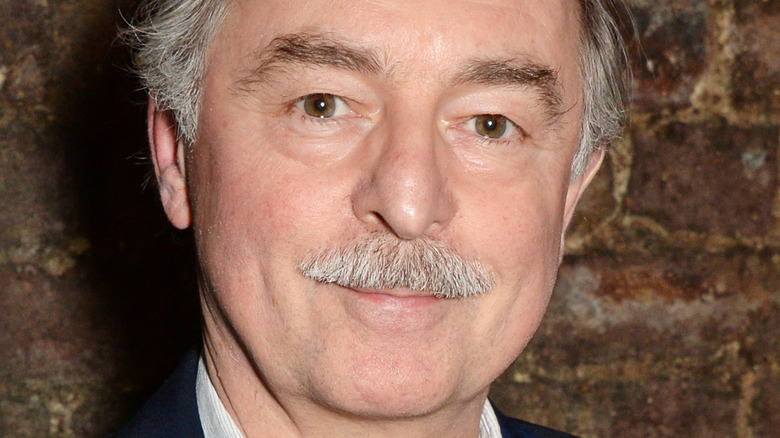 David M. Benett/Getty Images
Contains spoilers for "Andor" Episode 2
The Disney+ "Star Wars" series "Andor" proves that the franchise can be much more than Jedi-themed space opera and stoic Mandalorian bounty hunter action. The rise of the Rebel Alliance in general and intelligence officer Cassian Andor (Diego Luna) in particular shows fans just what everyday life under the Empire's heel is for the average citizen. While there's obviously rebellion in the air, the general population's feelings seem to have landed somewhere between resignation and mild annoyance.
Near the end of Episode 2, we get a particularly good example of an everyman dealing with Imperial rule. When a transportation ship Luthen Rael (Stellan Skarsgård) is travelling in gets held up, an affable fellow passenger strikes up a dialogue. During the brief, largely one-sided conversation, the older gentleman addresses things like Imperial spies and oppressive bureaucracy as facts of everyday life, while still managing to stay cheerful and largely treating them like casual annoyances. 
Though the character doesn't cast Force lightning or fly X-wings into battle, his role in the "Star Wars" universe is still quite meaty, as it provides a fascinating window into the average person's mindset and mundane existence. As such, the show made sure to give the role to a tried and tested actor who's guaranteed to make the most of it, and has the résumé to prove it. Here's why the old man at the end of "Andor" Episode 2 looks so familiar.
Ron Cook is the abrasive George Merchant in Hot Fuzz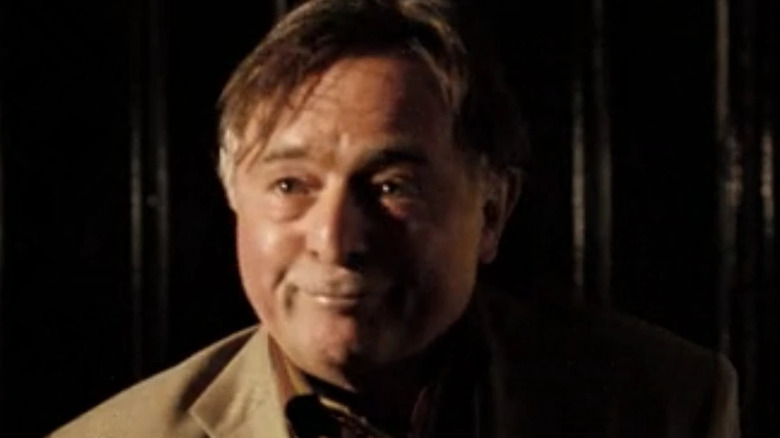 Universal Pictures/Rogue Pictures
British character actor Ron Cook has been acting for many a decade, and he's had plenty of roles that you may very well recognize him from. His first screen credits are from the mid-1970s, and he's had guest star appearances in a whole host of well-known TV projects, from "Midsomer Murders" and "Sharpe" to "Blackadder" and "Doctor Who." 
Apart from his work on stage and small screen, Cook has appeared in a number of movies, as well. His most prolific big screen period so far ran from 1999 to 2007. During this time, he turned up in no less than 13 films, ranging from huge musicals like Mike Leigh's "Topsy-Turvy" to serious dramas like "Charlotte Gray." During this era, one of his most memorable roles was oafish land developer George Merchant in "Hot Fuzz," the star-studded cop action comedy that some consider the best movie in Edgar Wright's Three Flavors Cornetto Trilogy. 
Cook's character is a self-made millionaire whose "new money" ways rub many Sanford residents the wrong way, and whose suspicious and explosive death is a massive piece in the crime puzzle Sgt. Nicholas Angel (Simon Pegg) and local cop Danny Butterman (Nick Frost) put together to uncover the town's dirty secret. Virtually every role in "Hot Fuzz" is a juicy one, but Cook certainly plays the highly abrasive businessman to great effect.
Ron Cook brought his dragon A-game to The Witcher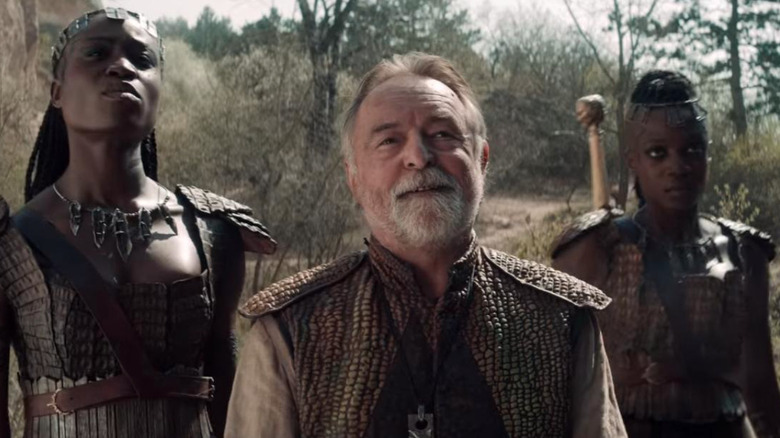 Netflix
In 2019, Ron Cook joined Netflix's live-action "The Witcher" series as one of the mightiest characters in the franchise. The curiously named Borch Three Jackdaws rolls with two Zerrikanians called Téa (Adesuwa Oni) and Véa (Colette Dalal Tchantcho), and forms an alliance with Geralt of Rivia (Henry Cavill) in order to deal with a dragon problem in the episode "Rare Species." As is par for the course in the show, however, things are more than they seem. As Geralt and Yennefer (Anya Chalotra) find out, Borch is actually a shape-shifting golden dragon who's simply out to protect his species, and after the mission, he dispenses some words of advice and parts ways with the main characters on friendly terms.
Cook's stage-honed gravitas makes him an excellent choice to portray the human form of this most mythical "The Witcher" creature. Though he hasn't been seen in the show after "Rare Species," "The Witcher" has made a habit of revisiting interesting, supposedly one-off characters later down the plotline — and few characters are more interesting than the world's only known golden dragon. 
Cook plays the maternity doctor in HBO's Chernobyl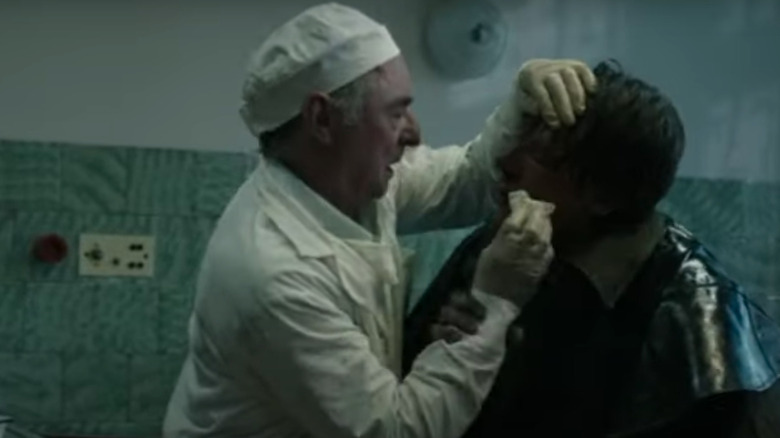 HBO
HBO's nerve-wracking "Chernobyl" miniseries does a great job at describing the unimaginable horrors of the real-life nuclear disaster, as well as the impossible-seeming task of the radiation containment and cleanup. Nearly every aspect of the series' production won awards (via IMDb), but the stellar way the show brings the era and its nuclear terrors to the screen is just part of the show's nail-biting charm. The five episodes of "Chernobyl" are filled to the brim with stellar talent, from star Jared Harris to Ron Cook's "Andor" co-star Stellan Skarsgård.
Cook himself turns up in the miniseries' first two episodes as a Chernobyl maternity doctor who tries to deal with the first responders who have been ravaged by radiation, and discovers first-hand that the rapidly escalating situation is well outside his area of expertise. He even manages to get in one of the show's many gloomy, memorable lines as he demonstrates the nuclear plant town's utter unpreparedness to deal with a radiation fallout situation. "Iodine pills?" he asks a far more up-to-date colleague, genuinely confused. "Why would we have iodine pills?"