Why Brad From Modern Family Looks So Familiar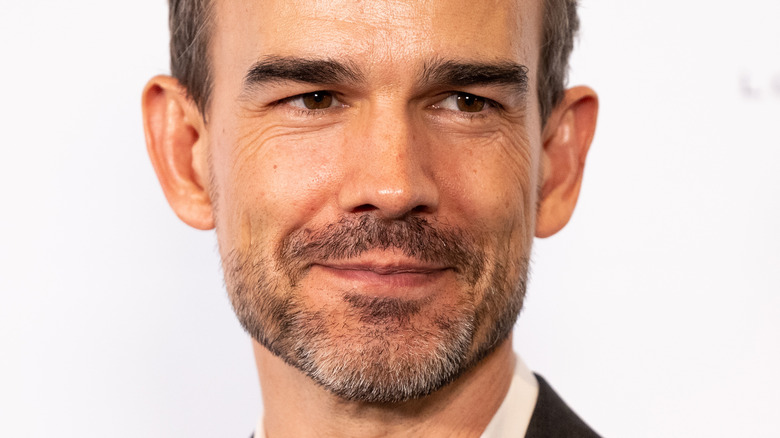 Amanda Edwards/Getty Images
"Modern Family" is a series that examines the humor that can be found in everyday situations. One aspect of family and parenthood that's frequently touched on throughout the series is each character's sense of self. Although the younger characters see plenty of growth over the course of the series, their parents see plenty of change, as well. Of course, reality can be harsh. Mitchell (Jesse Tyler Ferguson), Cameron (Eric Stonestreet), and Lily (Aubrey Anderson-Emmons) are forced to face their insecurities in a Season 11 episode titled "Perfect Pairs."
Mitchell and Cameron have been struggling to find decent renters until they meet Brad and Paul (Matthew Wilkas), a married couple with a daughter named Vera (Sanai Victoria). Although the arrangement gets off to a good start, Brad and Paul's picture-perfect lifestyle pressures Mitchell and Cameron to lie about their own interests. The actor who plays Brad gives a subtle performance that strikes a careful balance between irksome and laughable. If you spent the entire episode wondering where you've seen him before, then you've come to the right place. Let's take a look at the most notable roles in the actor's filmography.
Christopher Gorham played the title character's love interest on Ugly Betty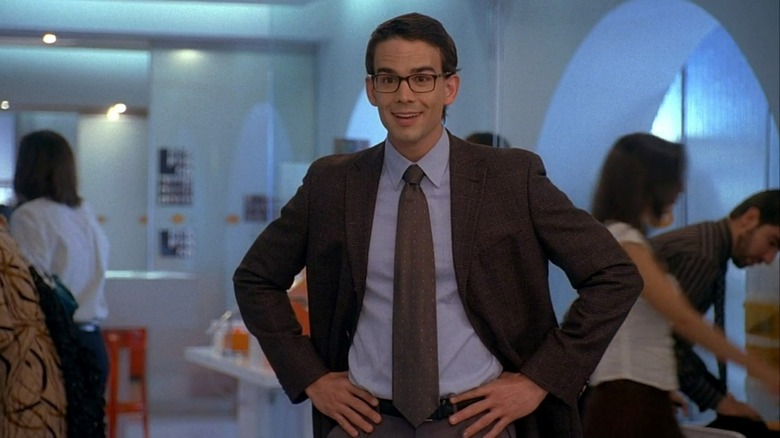 ABC
Christopher Gorham is the actor who played Brad on "Modern Family," and he has been seen in a number of projects since the late '90s. including the ABC comedy-drama series "Ugly Betty," which ran from 2006 to 2010.
Starring America Ferrera as the titular character, "Ugly Betty" follows a young woman named Betty Suarez as she embarks on a career in the cutthroat world of fashion. After landing a job at the famed magazine Mode, Betty tries her best to stay true to her humble roots even as she finds herself surrounded by vain, self-serving co-workers. With an impeccable ensemble cast rounded out by Tony Plana, Alan Dale, Ana Ortiz, Michael Urie, Becki Newton, and Vanessa Williams, the series does a great job of honoring its telenovela roots (via The Independent).
Every series needs a little bit of romance, and "Ugly Betty" is no exception. As Betty tries to work out her feelings for her on-again/off-again boyfriend, Walter (Kevin Sussman), she finds herself smitten with Henry Grubstick (Gorham), an accountant for Meade Publications. Henry's interest in Betty helps her to realize that she deserves to dream big when it comes to her future. Although Henry and Betty share a similar sense of humor, their lives eventually lead them on separate paths. Gorham gives a sweet, earnest performance as Henry, whose presence in the narrative allows Betty to grow in new ways.
Christopher Gorham played Auggie on Covert Affairs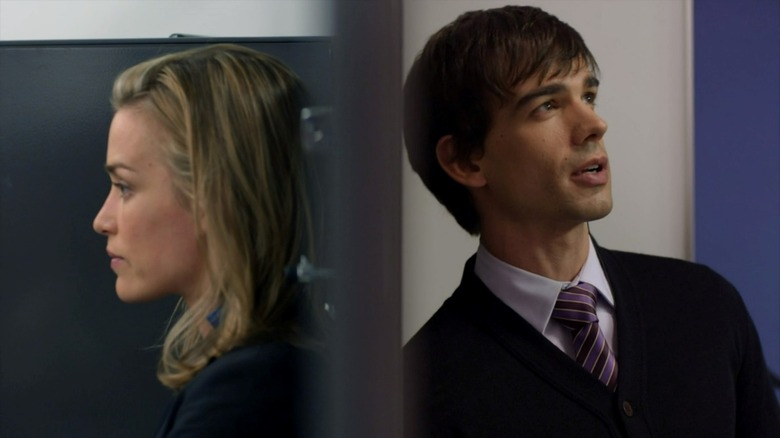 USA Network
After Piper Perabo starred in "Coyote Ugly," she played a CIA field agent named Annie Walker on the series "Covert Affairs," which premiered in 2010. Unexpectedly pulled from her training, Annie is thrust into a world of espionage where her considerable talents are frequently challenged. Thankfully, Annie meets a new friend named Auggie Anderson, a blind technology specialist and former special operations officer who was permanently blinded while serving in Iraq. Played by Christopher Gorham, Auggie has a wide range of talents that make him one of the smartest people working at the agency. Time and time again, he proves himself to be one of Annie's fiercest allies. Auggie is one of the most dynamic characters on the show, with a unique personality that drew Gorham to the role in the first place. 
"I liked the fact that he excelled at his work, but also wanted to make sure he didn't become the typical quirky computer geek that so many procedural shows have now," Gorham said in an interview with VisionAware. "I wanted him to be a leading man, who happens to be blind, and I think we succeeded."
Annie and Auggie take an instant liking to one another, consistently ignoring the rulebook to ensure the other's safety. Gorham and Perabo have a palpable on-screen chemistry that perfectly accents the fast-paced storylines. Their friendship eventually turns romantic, although they ultimately decide they're better off as work partners. 
Christopher Gorham played an iconic fantasy character on Once Upon a Time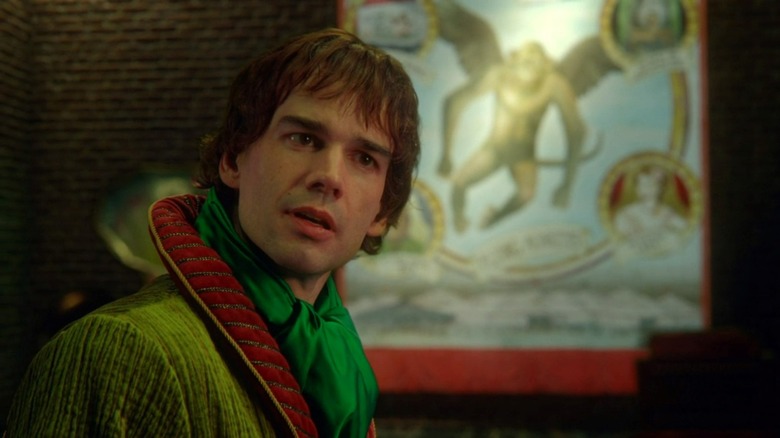 ABC
2014's "Once Upon a Time" is a series that reimagines classic fairytale characters. Although the Evil Queen/Regina Mills (Lana Parilla) starts off as the main villain, her eventual decision to become a hero leaves plenty of room for other antagonists to cause trouble in Storybrooke. Just when you think the narrative couldn't possibly introduce another familiar face, another one is brought into the fold. Season 3 features the arrival of Zelena (Rebecca Mader), the Wicked Witch of the West and Regina's long-lost sister. Her arrival forces Captain Hook (Colin O'Donoghue) to retrieve Emma (Jennifer Morrison) from her cursed life in New York City. Unfortunately, Emma has found this new life to her liking. She's even got a boyfriend named Walsh (Christopher Gorham), who intends to propose.
Unfortunately for Emma, flashbacks reveal that Walsh is working for Zelena. They met long ago in a distant land with magic and yellow brick roads. Walsh is actually the Wizard of Oz, who helped Zelena on her initial quest to learn magic from Rumplestiltskin (Robert Carlyle). However, after realizing that the Wizard of Oz was just a carefully constructed ploy designed to help Walsh to gain power, Zelena proves her magical prowess by turning him into her very first flying monkey. Gorham does a great job putting his own spin on this iconic namesake, whose introduction spurs the major conflict of the season.
Christopher Gorham played Caroline's boyfriend on 2 Broke Girls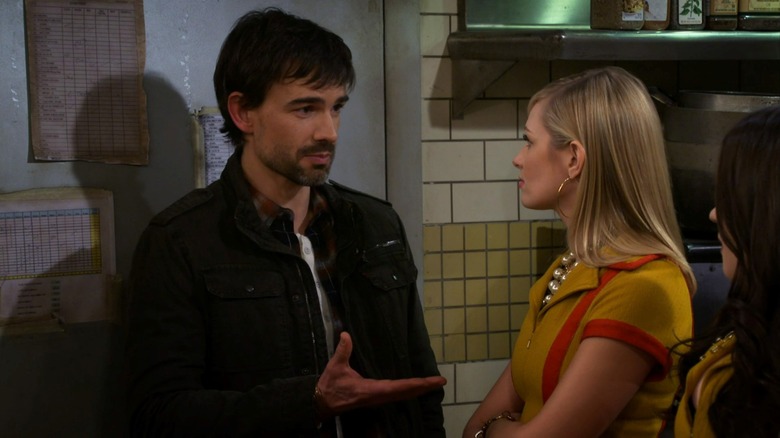 CBS
Starring Kat Dennings and Beth Behrs, "2 Broke Girls" is an aptly titled series about two best friends hustling to make ends meet. Although Max Black (Dennings) and Caroline Channing (Behrs) come from startlingly different backgrounds, they ultimately become best friends, roommates, and business partners. As they work to achieve their dream of opening up a cupcake shop, the women face a variety of personal and professional conflicts. In between dealing with their wacky coworkers Han Lee (Matthew Moy), Oleg (Jonathan Kite), and Earl (Garrett Morris), each woman suffers through a series of failed relationships. However, Caroline soon learns that when it rains, it pours. Soon after she and Max open up a dessert bar, Caroline falls for a contractor named Bobby (Christopher Gorham).
Aside from his stellar carpentry skills, Bobby is a great match for Caroline. He's understanding, fun, and, most importantly, appreciates the bond that Max and Caroline share. He even invites Max along when he brings Caroline to meet his family. Gorham's down-to-earth and charming performance makes the character appealing in a way that's still relatable, making Bobby the perfect match for Caroline. Gorham was a welcome addition to the cast for the sitcom's 6th and final season in 2017 (via IMDb).
Christopher Gorham played Bob Barnard on Insatiable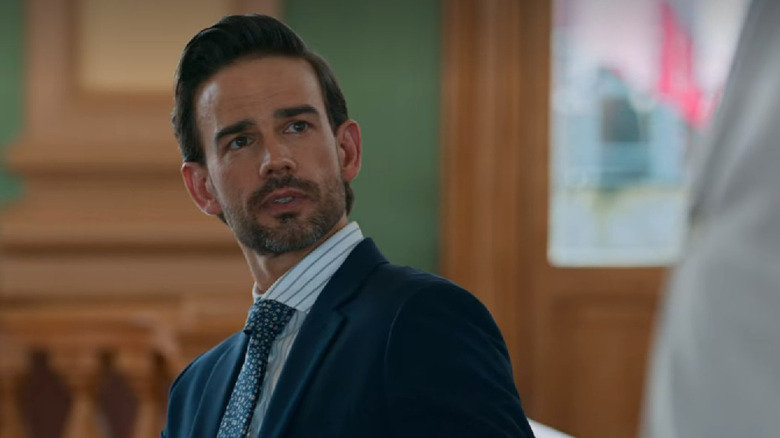 Netflix
While certain aspects of "Insatiable" went a bit too far, the show's signature brand of twisted humor is bound to make your jaw drop. Christopher Gorham appears throughout the series, which ran from 2018 to 2019, as Bob Barnard, a lawyer whose seemingly perfect life consistently annoys Bob Armstrong (Dallas Roberts) and his wife, Coralee (Alyssa Milano). While Armstrong struggles to climb the social ladder, good fortune comes naturally to Barnard and his wife, Etta Mae (Carly Hughes). The men's contentious relationship stems from their younger years when they started off as friends before growing apart. Armstrong is even more bereft when Barnard is hired as a senior partner at his law firm, leading to a heated argument that takes a surprising turn.
As it turns out, Barnard actively tries to be a thorn on Armstrong's side because he's in love with him. Barnard has spent his entire life trying to hide his love and the pair begin a torrid affair. However, nobody stays happy for long on "Insatiable," and their relationship is quickly challenged. Gorham skillfully evokes a simmering Southern charm that makes the character engaging despite his inflated ego, a combination that the actor portrays with ease.