Sonic Prime's Frenetic New Trailer Has Fans All Saying The Same Thing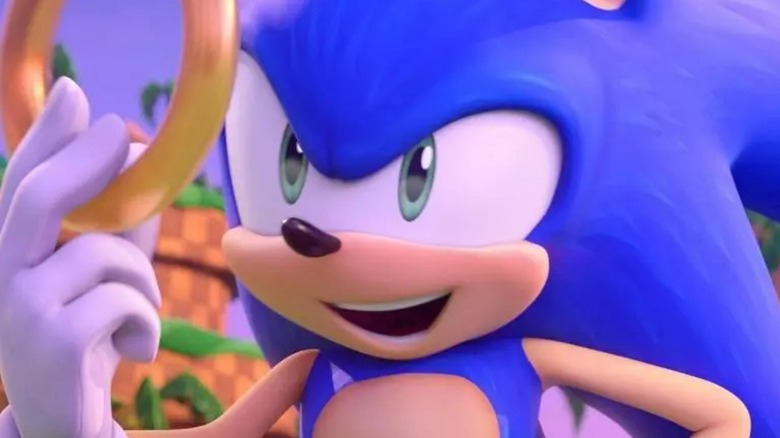 Netflix
Sonic the Hedgehog is an indisputable video game icon (despite doing some pretty awful things) and has been since his first game arrived in 1991. In the decades since, the "Blue Blur" has featured front-and-center in numerous Sega games and has even tried out other forms of media. For instance, he's a long-standing comic book favorite who's helmed several titles of his own over the years. Not to mention, he's become a big screen star in recent times thanks to Paramount's two live-action films. Although, when discussing non-video game Sonic media, one has to address his near-constant presence on the television scene.
Not long after becoming a household name, Sonic the Hedgehog started popping up on the small screen, with some of these efforts proving particularly popular. "The Adventures of Sonic the Hedgehog," "Sonic X," and "Sonic Boom" are among the most noteworthy, but they're far from Sonic's only TV outings. In fact, courtesy of Netflix, his laundry list of shows is about to add another animated production: "Sonic Prime." Announced back in 2020 (via Polygon), the show will feature seasoned voice actor Deven Mack as the title character alongside a host of Sonic's iconic friends and foes.
On September 20, 2022, a brand new "Sonic Prime" trailer reached the internet, and fans of Sonic the Hedgehog have made a lot of similar comments about it. Here's what so many have praised about the series so far.
Fans are loving Sonic Prime's aesthetic
Though just under a minute long, the latest teaser for "Sonic Prime" has a lot to offer. In addition to vibrant, colorful environments, we get a good look at the likes of Shadow the Hedgehog, Dr. Eggman, and Big the Cat. For the most part, the overall aesthetic doesn't look too far off from the source material to boot. The comment section on the YouTube post from SegAmerica is, surprisingly, loaded with positive remarks about the trailer. The vast majority of commenters especially adore the fluid, expressive animation that they feel will make the show a treat to watch.
Additionally, a few comments gave praise to Deven Mack for his take on Sonic the Hedgehog. This is his first time portraying the character, and as he expressed in a May 2022 video on his Twitter page, he's more than ready to do it justice. "I understand what these characters mean to a whole lot of people, and it's a lot to live up to," he said, highlighting his deep-rooted love of Sonic animated shows and his excitement to live vicariously through him. Mack also promises action and adventure throughout the series that will pay homage to Sonic and his pals' pop culture legacies.
As the teaser reveals, "Sonic Prime" will debut on Netflix in the winter of 2022.