The Real Reason Cillian Murphy Was Worried He'd Miss Out On Peaky Blinders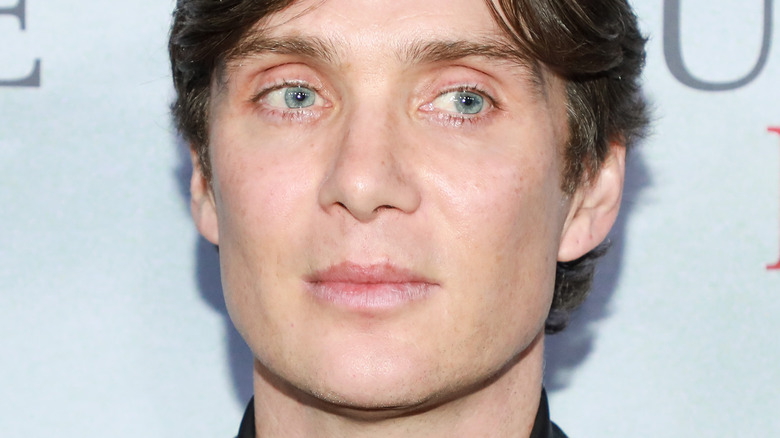 Jason Mendez/Getty Images
Cillian Murphy is regarded by many as one of the finest actors of the modern era. He's also renowned as one of the most versatile, disappearing as easily into gritty genre flicks ("28 Days Later") and Hollywood blockbusters ("Inception"), as indie dramas ("The Wind That Shakes the Barley") and ensemble thrillers ("Free Fire"). Despite already boasting an impressive list of screen credits, Murphy's profile was elevated in 2013 when he landed the lead role in a bruising small-screen crime saga called "Peaky Blinders."
Set in Birmingham, England in the years following World War I, the series finds Murphy portraying Thomas "Tommy" Shelby, the dodgy yet cunning leader of the titular street gang. Prior to the debut of the series, it's safe to say even Murphy's most steadfast fans had never really seen the actor in such a role. Over the course of the show's harrowing six-season run, however, Tommy would become one of the actor's most beloved characters. So much so that it's all but impossible to picture another performer in the role. Interestingly, prior to taking on the role, Murphy was apparently quite worried series creator Steven Knight was going to pass him over for the coveted role. Here's why.
Murphy feared typecasting would cost him the role
It seems Cillian Murphy believed typecasting would end up costing him the lead on "Peaky Blinders." After all, prior to landing the lead role on the series, Murphy was hardly seen as a cinematic tough guy. During a 2022 interview with Entertainment Weekly, the actor freely admitted he'd essentially spent his entire career leading up to "Peaky Blinders" playing the exact opposite of such roles. Even his villainous turns in "Red Eye" and Christopher Nolan's "Dark Knight Trilogy" fronted intellectual tyranny over brute force physicality.
Murphy confessed in that same EW piece he believed that approach complicated matters during the casting process for "Peaky Blinders." "There was slight hesitation because I'd never really played that physically imposing sort of hyper-masculine-type character," Murphy said. 
As it turns out, Murphy was right to worry, as Steven Knight wasn't initially convinced the actor could properly convey the physically intimidating aspects of Tommy Shelby. In fact, the "Peaky Blinders" mastermind admitted in a recent Esquire interview he first believed Murphy to be the "polar opposite" of Tommy. In a separate Esquire chat, Knight further confirmed he'd considered casting career tough guy Jason Statham in the role instead.
That would've been a different show for certain. Per Esquire, Murphy finally convinced Knight he could carry the role via a pointed text message stating simply, "Remember, I'm an actor." Murphy rewarded Knight's gamble by delivering one of the fiercest performances of his lauded career. And no, there's not a single moment in "Peaky Blinders" where you don't fully believe his Tommy Shelby could dismantle a human being with his bare hands.