The Actor Who Plays Timm On Andor Actually Played A Different Star Wars Character In The Force Awakens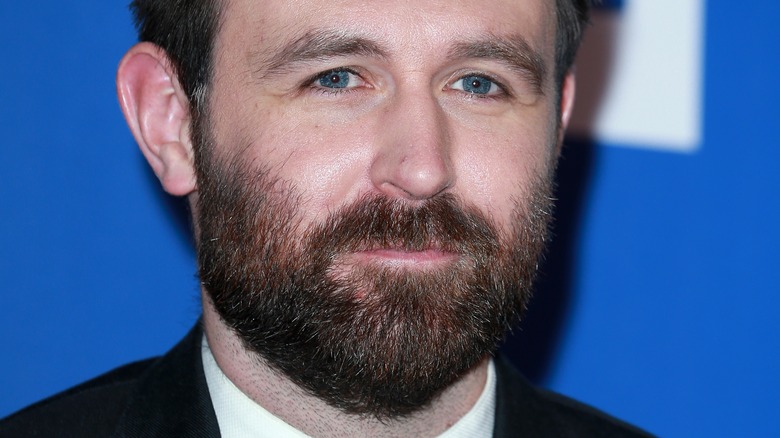 Fred Duval/Shutterstock
Jealousy can be a cruel mistress. Even when one is in a loving relationship, that tinge of possession and worry can cause people to behave in erratic ways, and to make far reaching decisions that yield disastrous results. Timm Karlo (James McArdle) is a fine example of this, in the latest "Star Wars" series on Disney+, "Andor." As the partner of Bix (Adria Arjona), Timm helps run a shop on Ferrix, a desert planet in the backwaters of the "Star Wars" galaxy. Considering that Ferrix is on the outskirts of Imperial territory, most of the planet's enforcers actually come from a private company that operates under the watchful eye of the Empire.
Unfortunately, Timm does not care for Cassian Andor (Diego Luna), which is probably based on the shared mysterious history between Bix and Cassian. Timm is mistrustful of Cassian. In fact, he is a little too curious for his own good, when it comes to Cassian visiting Bix — because all Cassian wants is Bix's help, Timm thinks there is something else to their meetings. As such, Timm makes a call to local law enforcement when it turns out that they are looking for Cassian, which has some pretty fatal consequences. 
That said, this isn't James McArdle's first time in the galaxy far, far away. Surprisingly enough, the actor already appeared in the "Star Wars" franchise before — namely "Episode VII — The Force Awakens."
McArdle played an X-Wing pilot in The Force Awakens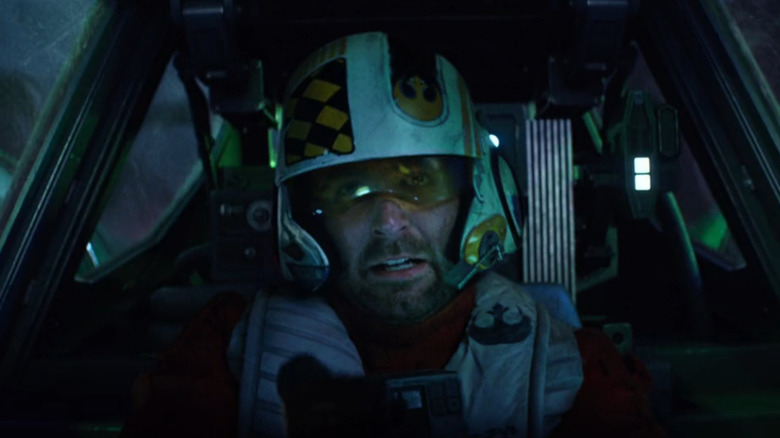 Disney/ Lucasfilm
It turns out that even though James McArdle has a jealous lover's heart in "Andor," he is a completely different character in "The Force Awakens," with completely different motivations. In "The Force Awakens," the actor took on the very small role of Niv Lek. Even though there isn't much that is revealed about this particular character during the film, he is worth noting, if only because he takes part in the Resistance attack on Starkiller Base, which is an absolutely critical engagement. 
As a pilot of a T-70 X-Wing Starfighter, Lek flies over Starkiller Base during the daring assault to stop the superweapon that makes the Deathstar look like a Jack-in-the-Box. The character's name is actually "Kelvin" spelled backwards, which is a nod to "The Force Awakens" director J.J. Abrams' grandfather, Harry Kelvin (per Wag Magazine). If you're thinking that tidbit sounds familiar, it's because over in the "Star Trek" side of sci-fi franchises, the alternate universe created by Abrams' 2009 film is generally referred to as the Kelvin timeline, as explained by Space.com, since it spawns after the destruction of the U.S.S. Kelvin.
The character of Lek is definitely a far cry from the one McArdle plays in "Andor," mainly because to fly directly at Starkiller Base requires a fair amount of bravery and the potential of self-sacrifice, while McArdle's character in "Andor" is pretty craven. On the bright side, McArdle getting to join the "Star Wars" franchise is the culmination of a childhood dream, as reported by iNews. 
It makes one wonder if McArdle will may continue to pop up in "Star Wars" properties, considering he has already been an X-Wing pilot for the Resistance and a jealous lover. Maybe a Sith or Jedi role could be next?