Oliver Stark Sees A Journey Of Healing For Buck In 9-1-1 Season 6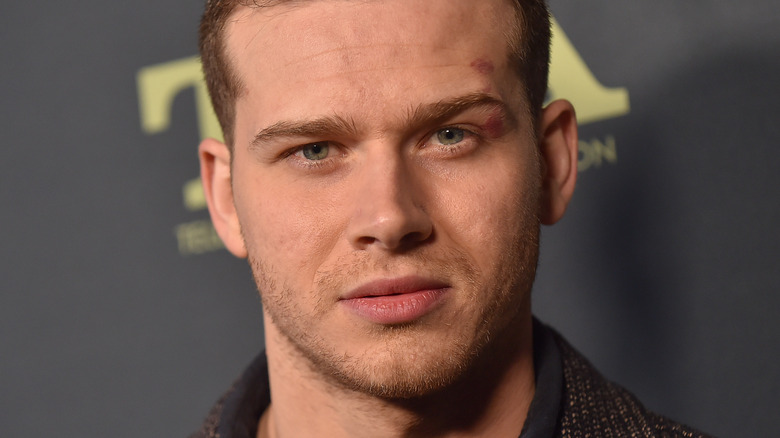 DFree/Shutterstock
As its title indicates, Fox drama "9-1-1" is a fictional series about some of the people who work for the various services that respond to 911 calls in the city of Los Angeles. In fact, "9-1-1" uses real-life 911 calls as inspiration, adapting noteworthy emergencies from all over the country to its L.A. setting.
"9-1-1" premiered in 2018 and has continued at a rapid pace, such that its sixth season began airing on September 19, 2022, a little over four and a half years after the show first started. Of course, "9-1-1" Season 6 continues to introduces various complications into the lives of its cast of characters. For instance, in the Season 6 premiere, L.A. Fire Department Station 118 Captain Bobby Nash (Peter Krause) must choose an interim captain as he prepares for a vacation, putting the station's hierarchy into stark focus.
Not considered for the position of interim captain is Buck (Oliver Stark), a firefighter whose life has always been tumultuous since his introduction in the show's first season. That said, Stark revealed in an interview published around the time of the Season 6 premiere that he believes Buck to be on a journey of healing during the sixth season of "9-1-1," leaving room for plenty of improvement as the season progresses.
Buck is taking some time to work on himself
Around the time that "9-1-1" Season 6 started airing on Fox, TV Insider published an interview with Buck actor Oliver Stark in which he dives deep into how he views and understands his character. At one point, interviewer Meredith Jacobs asked Stark whether or not Buck is in therapy during Season 6, as well as how his relationships with those close to him are faring.
"He's kind of turning to self-help books. Which doesn't mean that he's not still in therapy. It's not something that we necessarily see onscreen. But he's definitely on a journey to explore more of who he is," Stark replied. He then added that Buck's healing journey has its ups and downs, but is ultimately to the character's benefit.
After that, Stark mentioned that isn't yet cognizant of Buck's full Season 6 character arc, given that just six of its episodes were complete at the time of the interview. Nevertheless, he mentioned that Buck is now attempting to prove that he's more thoughtful and less reckless as a firefighter than in past seasons.
Buck has a new approach to romance
In previous Seasons of "9-1-1," Buck is often romantically involved with someone or another, whether long-term or for a short fling. Now, as of the start of Season 6, Buck is deliberately single pretty much for the first time since the series began. Concurrently, his sister Maddie (Jennifer Love Hewitt) is dating his coworker Howard "Chimney" Han (Kenneth Choi). In light of this development, TV Insider asked Stark how Buck views his sister's current relationship.
"He's certainly a fan of that relationship. But I think he also understands, which in itself is a sign of growth, that it's not necessarily his situation to meddle in too much," Stark said. "But he loves them both and supports them, no matter what."
Meanwhile, Stark spoke about Buck choosing to stay single in an interview with Entertainment Weekly similarly focused on Season 6. "He's certainly over his breakup, which obviously was his decision, but that doesn't mean it's always easy," he said. "I think he's really working on himself, and growing into a person that is ready to take on more responsibility and become the kind of firefighter that he wants to be."
By Stark's estimation, then, Buck may not be perfect, but as of Season 6, his heart is in the right place, and he seems to be doing the work to ensure his actions can more often reflect his intentions.