Batgirl Star Blesses Disappointed Fans With An Epic Behind The Scenes Look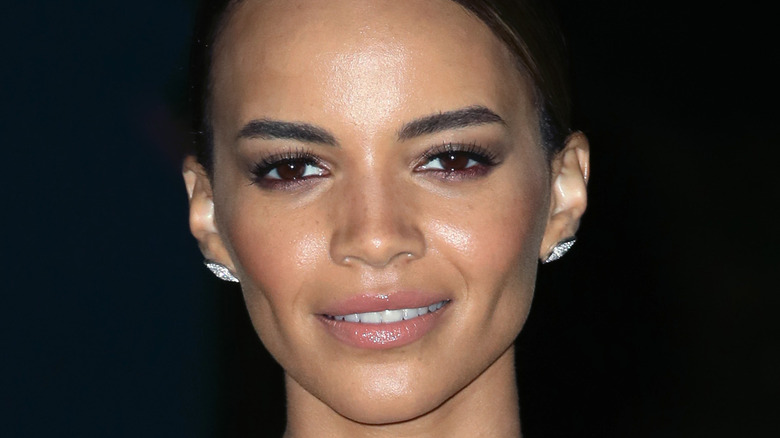 David Livingston/Getty Images
Warner Bros. infamously scrapped the entire "Batgirl" movie last month, and fans still aren't over it.
"Batgirl" starred Leslie Grace in the titular role of Barbara Gordon and Batgirl. The film would have followed Barbara on her journey to becoming Batgirl and taking on Brendan Fraser's pyromantic villain, Firefly. J.K. Simmons reprised his DCEU role of Commissioner Gordon, and in a move that further muddles the DCEU, Michael Keaton's Batman would have made an appearance. Adil El Arbi and Bilall Fallah, whose resumes include episodes of "Ms. Marvel" and "Bad Boys for Life," directed the movie that will no longer see the light of day.
Since the film's cancellation, many of the cast and crew have spoken out about how Warner Bros. treated their project. Grace took to Instagram to express her gratitude for having the role, even if it was for a short time. Arbi and Fallah also conveyed their sadness online and thanked the entire cast and crew. In a recent interview, Fraser praised Grace's performance and threw shade at Warner Bros. for the decision.
Many behind-the-scenes looks have accompanied the cast and crew's online posts of the movie, and a recent post gives fans a great look at Batgirl in action.
Batgirl is a high flyer in new behind the scenes footage
The latest "Batgirl" behind the scenes video comes courtesy of actress Ivory Aquino. The actress played Alysia Yeoh, Barabara's best friend, in the movie.
The footage, posted on Aquino's Twitter, shows Batgirl flipping through the air and crashing into a Christmas tree, taking the tree down with her. Leslie Grace's stunt actor Emely Cartagena posted the original video on Instagram, and Aquino reposted it to voice her support for both Grace and Cartagena's performances. "Just... WOWWW @EmelyTKD @lesliegrace you make a great tandem for sure," Aquino said in her post.
The video shows the true magic of movie-making. While the stunt itself is already an impressive accomplishment for Cartagena and the rest of the stunt crew, the video then shows what the scene looked like through the lens of the director's camera. The difference between the action on set and what it looks like being filmed by professionals is pretty incredible, and the video has us all wishing Warner Bros. released "Batgirl."
Aquino and Cartagena weren't the only members of the cast and crew to post behind-the-scenes looks at "Batgirl." Grace's Instagram tribute to the movie showed just how much fun the young actress had on set with her co-stars and directors. In a now-deleted Instagram story, director Adil El Arbi posted a picture of himself, Grace, and Michael Keaton on set, with both Grace and Keaton in full costume. Arbi didn't include any text in his post, but it really shows what "Batgirl" could have been for the DCEU (via Entertainment Weekly).