Do The Deadliest Catch Captains Ever Get Distracted By All The Cameras?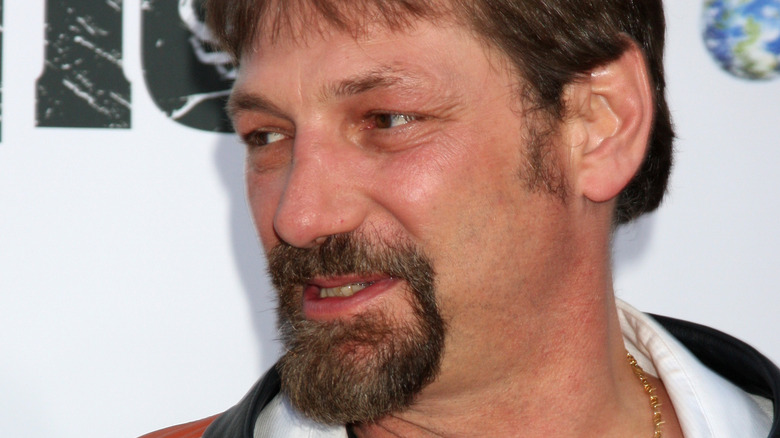 Kathy Hutchins/Shutterstock
Going fishing may seem like a calm and cool way to make a living, but try telling that to the individuals from "Deadliest Catch." 
First airing in 2005, the long-running docu-series follows the exploits of crab fisherman while doing their jobs in the harsh seas of Alaska. The Discovery channel show is not afraid in the least to show the real and surprisingly difficult escapades endured by these individuals in their line of work. Thanks to the horrendous conditions of the Aleutian Islands and Bering Sea during the winter season, when the fishing season for crabs is at its best, Alaskan crab fishing is considered the most dangerous occupation within the country (via CNN Money), with a census by the Bureau of Labor Statistics even listing it with a higher work fatality rate than loggers, roof workers, and aircraft pilots. 
It's hard enough imagining how the fishermen shown in "Deadliest Catch" must deal with the harsh conditions of their deadly occupation, but topping it off by having a film crew chronicle their exploits on top of that sounds like a practically impossible feat. With such dangerous circumstances, it can not only be harmful for the less experienced camera crews, but it can also prove distracting to the fishermen, who already have more than enough to keep track of. So just how do these different worlds collide?
The fishermen are not afraid to show who's boss
In an interview on "Larry King Now," "Deadliest Catch" captains Johnathan Hillstrand and Wild Bill Wichrowski appeared to discuss the show's 10th season and dive deeper into their own lives. When asked by King if they are ever distracted by the fact that they are being filmed, the duo responded with honesty. "You know, I'd like to say no," said Wichrowski. "You can see there's times where we will just draw the line and say 'it's a safety thing, just get out of my face, I'm going to continue on.' So we shut them down when we have to." 
Hillstrand joined in, saying, "And we've thrown them off our boat at the dock!" 
The camera crew must prepare themselves for the intensity they are about to endure. In an interview with Indiewire, the show's Director of Photography David Reicher and Executive Producer Arom Starr-Paul talked about what goes into the show's demanding shooting requirements. While Reicher dived into the complicated technology and manners of shooting the crew must go about on the show, Starr-Paul believes there's something even more crucial needed for any camera operator coming aboard. "You need to have an iron stomach, [Tolerating] motion sickness is the first requirement of the job," Starr-Paul said. "You need to be able to go out on those boats and sustain a level of health and operation so you can actually do the job, and it's hard to find those guys."