The Awkward Backstage Interaction That Boy Meets World's Will Friedle Claims Changed His Life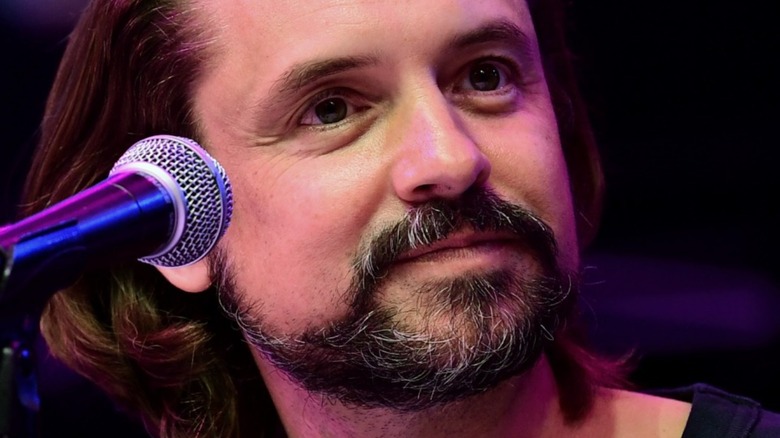 Chelsea Guglielmino/Getty Images
Over the past several months, actors from "Boy Meets World" have been reliving some of the show's greatest highlights, darkest moments, and pranks that went too far through a rewatch podcast series called "Pod Meets World" — hosted by River Strong, Danielle Fishel, and Will Friedle aka Shawn, Topanga, and Eric. The trio watches and reviews episodes from the series and often invites other members of the cast on to talk about various topics related to their time on the sitcom. For Friedle, the show's September 15 taping with Trina McGee aka Angela from "Boy Meets World" was an extra special one. 
During his time on the show, Friedle viewed himself and his character, Eric, as a simple funnyman who was there to provide comic relief and entertain the audience — and it didn't matter at whose expense. On "Pod Meets World," he and McGee both recalled a life-changing moment for Friedle that involved an insensitive joke he made about McGee to her face right before they started filming, which she later called him out for. 
"It literally changed my life," he said. "That moment was the moment where I was like, you can't just say stuff. You can't throw stuff out there, because you think it's funny and walk away. You could be hurting people." For McGee, that's exactly what Friedle's joke did to her — it hurt her in a way he could never understand at the time. But he apparently does now, and he is finally ready to talk about it.
Friedle jokingly compared Trina McGee to Aunt Jemima
According to the actors, Will Friedle's lifechanging moment came as Trina McGee was coming out of her dressing room in a red headscarf — which prompted Friedle to jokingly compare her to Aunt Jemima, the former maple syrup mascot who was retired in 2020 due to wider cultural conversations about the mascot being a racial stereotype (via NBC News). 
"In my head, I attached no cultural significance to that whatsoever," Friedle said on the "Pod Meets World" episode with McGee. "I saw a person who I thought was my friend but didn't know very well, wearing a big, red hat. That's all I saw. I was like, 'You're part of the cast, so that means, I'm gonna make fun of you the same way I make fun [of others].' I thought, 'Gonna make fun of her red hat.' That's as far as my dumbass, privileged mind saw. So right before I walked on for my part, I walked by and went, 'Love your syrup,' and walked on to the set, thinking 'Boom, zing! Just got her for her hat.'" 
Friedle recalled speaking to McGee immediately after the comment, saying he told her: "I assumed that was like you calling me the jolly green giant," to which she obviously disagreed. "You were like, 'No, that's not the same thing at all,'" Friedle told McGee. And while Friedle does note that cultural awareness of these issues was less discussed in the nineties, he explains that he was mortified once he found out, and that it was life-changing moment where he started taking these deeper issues into account. Thankfully, according to McGee, the two of them later hugged it out and Friedle apologized.