Boy Meets Worlds' Trina McGee Confirms The Upsetting Reason She Wasn't In The Series Finale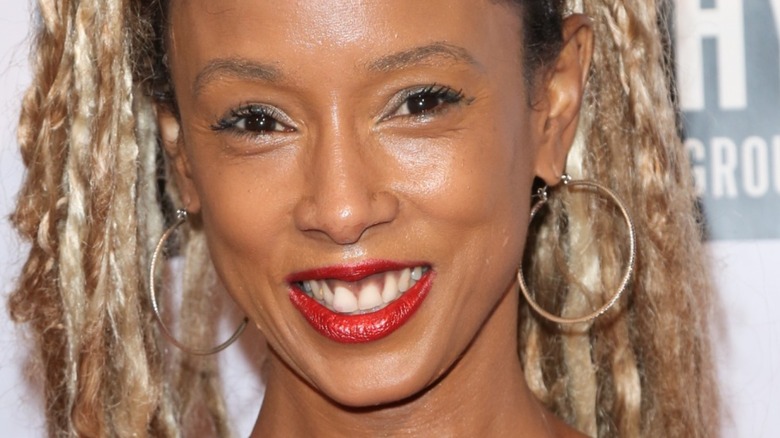 Paul Archuleta/Getty Images
"Boy Meets World" actor Trina McGee spent three seasons and nearly half a decade playing Angela Moore during the beloved sitcom's final years on television. But for some reason, the showrunners decided to leave her out of the last two episodes, which served as a two-part series finale. And nobody has ever really explained why.
"These motha f***as made Angela leave before the season finale of Boy Meets World but Rachel was there for the last scenes??" wrote Twitter user @irongrrlrock in a 2019 tweet. "Angela deserves bettttter," the user said. Another fan, @Angelpeach06, tweeted: "[Shawn] & Angela reunited for a second on the new show 'Girl Meets World' but I'm still mad about the finale episode of 'Boy Meets World.'"
Titled "Brave New World," the two-episode finale of "Boy Meets World" saw its famous cast all saying goodbye to each other as they moved away and ventured off in different directions. But not McGee's Angela. Instead, the character was sent to Europe to live with her dad during the show's penultimate episode of Season 7, "Angela's Ashes," which also saw her break up with Rider Strong's Shawn character. Appearing on a recent taping of the "Pod Meets World" podcast — hosted by Strong, Danielle Fishel aka Topanga, and Will Friedle aka Eric — McGee finally revealed why she thought she was excluded from the finale.
McGee was told the Boy Meets World cast pushed her out
According to Trina McGee, the reason Angela didn't appear in the series finale — according to what she was told by "a very important person" — was that her fellow stars didn't want McGee there because she was a distraction and ultimately stealing their spotlight (via Variety). She told her former castmates on "Pod Meets World" that this has sadly been her belief for years, though she's never spoken about it. 
"This is some ground we have not covered," McGee said before diving into the excuse she was given. "I was told, in kind of a weird, off-handed way...that you guys all went to [showrunner] Michael Jacobs, and you said, 'We don't want her in the last episode. She's somehow taking our light.' [That] was the gist of it," McGee explained. According to her, the "Boy Meets World" producers said they were going to create a new episode for Angela, without her knowing that they were actually gearing up for the finale. "I was so happy, not knowing this was going to be the show before the last show," she said. "I was under the impression that y'all got together and did not want me in the last show, for some reason I was going to take some shine or something to that effect." Rider Strong, Danielle Fishel, and Will Friedle all denied the claim about them pushing McGee out. 
"Can we say for the record, Trina, that never happened," Friedle said. "That's not competitiveness, that's sociopathy." McGee went on to tell the podcast hosts that she believed that they didn't play a role in her absence, but it's something that really bothered her. "I have had that in my head for so long," she said. "That hurt me a long time."