Why Eric's Bears Jersey From That '70s Show Was More Accurate Than You Think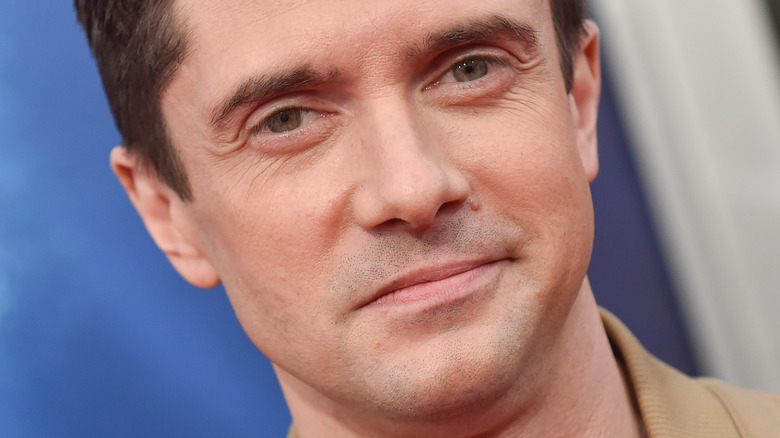 DFree/Shutterstock
One of the running themes of "That '70s Show" was Red Forman's (Kurtwood Smith) frustration with his son Eric's (Topher Grace) complete lack of interest and ability when it came to sports. In Season 7, Episode 14, "Street Fighting Man," Eric attempts to meet his dad halfway by going to a Packers-Bears game with Red, Hyde (Danny Masterson), Donna (Laura Prepon), and Jackie (Mila Kunis). Red sends Eric off to the souvenir stand to buy himself some gear, but Eric makes a serious faux pas when he comes back wearing a No. 34 Bears jersey instead of a green and gold Packers one.
A Packers fan (Ron Rogge) sitting behind the two — complete with full face paint — takes great exception to this blasphemy and picks a fight with Eric, which the spindly teenager wins handily. This is exactly the bonding moment Red has so long desired, but Eric's friends have all scattered and Red is the only one to witness the fight. He shouts to nobody in particular, "No one's here! No one's gonna believe me! Why didn't I bring my camera?"
It's a surprising and yet touching moment for a pair that doesn't often see eye to eye. However, historical accuracy can often be sacrificed for storytelling. So, who was No. 34 for the Bears, and why would his jersey be for sale? 
Eric is wearing a period accurate Walter Payton jersey
"That '70s Show" is set between 1976 and 1979, which were up and down years for both the Bears and Packers. But with "Street Fighting Man" coming so late in the series, it's most likely the game came during the 1978 NFL season, when both teams were part of a four-way battle for the division title. That year, the Bears were led by Hall of Fame running back Walter "Sweetness" Payton, who paced the league with almost 1400 yards rushing that season.
Payton, by the way, wore the number 34 for his entire career.
He was with the Bears from 1975 until 1987 and made the Pro Bowl in 9 of his 13 seasons (via Pro Football Reference), including all four covered by the "That 70s Show" timeline. It's always been possible to pick up a visiting team's jersey at an NFL game, even if it is that of a hated rival. An emerging NFL legend like Payton would certainly have his jersey displayed front and center at any souvenir stand, and whether a clueless Eric picked it up because he likes the combination of brown and orange or he was subconsciously trying to tweak his Packer-mad dad is irrelevant. Payton's jersey started the fight that brought Eric and Red closer together, and its inclusion in the episode should make any NFL purist happy, as well.