How Val Kilmer Reacted To Seeing His Top Gun: Maverick Scene For The Very First Time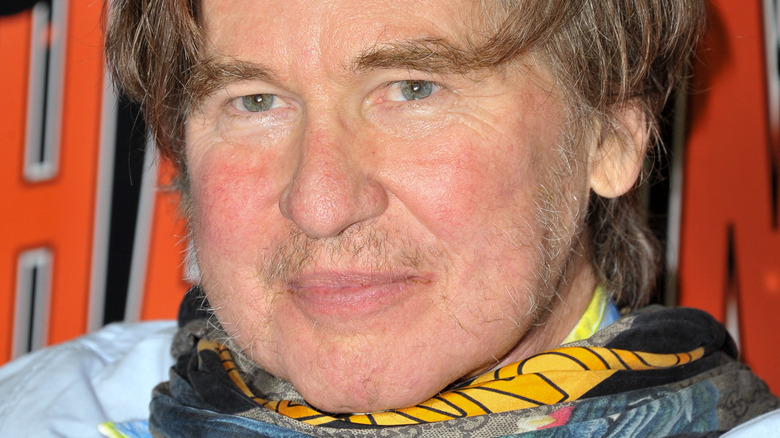 Allen Berezovsky/Getty Images
From biopics to vigilantism, Val Kilmer was no doubt one of the biggest stars of the '90s. Doc Holliday and Jim Morrison were just some of his best onscreen performances, but we would be remiss in not remembering one of the roles that started it all. Though Kilmer was so reluctant to take on the part of Iceman in "Top Gun" that he botched the audition, the Tom Cruise film became an '80s classic in pop culture and cemented Cruise's future as an action star.
With six "Mission Impossible" movies in the bag and the release of "Mission Impossible 7" on the horizon, "Top Gun" was next on the docket for a resurgence. "Top Gun: Maverick" was released over 30 years after the original premiered with many anticipating who would return in the new film. Of course, Goose (Anthony Edwards) is clearly not on that list, but that doesn't mean there weren't meaningful cameos in store. At the top of the list, Kilmer's appearance in the film would, unfortunately, come with some caveats. The actor's throat cancer diagnosis has made acting a challenge (via Los Angeles Times). However, "Top Gun: Maverick" was insistent on his involvement and his appearance was moving for everyone involved.
Val Kilmer supported a sequel to Top Gun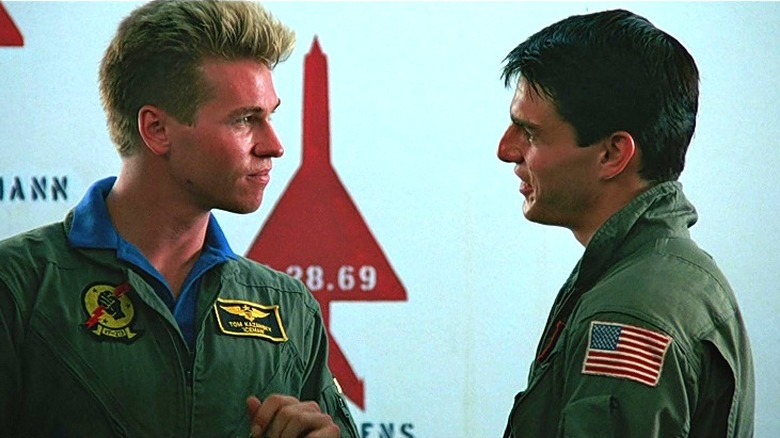 Paramount Pictures
Iceman and Maverick may be seen as adversarial in the original "Top Gun," but the same cannot be said for the actors that play them. Val Kilmer and Tom Cruise have been close friends since the filming of the movie and corresponded about their characters in "Top Gun: Maverick." Because of his throat cancer, Kilmer's role was retooled accordingly and his interview with the Los Angeles Times was done via email.
"We talked quite a bit about what was best for the [Top Gun: Maverick] story and I think they got it right at the end," Kilmer reflected about the film. He went on to explain that he and Cruise have remained friendly throughout the years which led to easy communication about the new film. Out of respect to Kilmer, they wrote into the film that Iceman also had throat cancer and shot a scene where he and Maverick are communicating through typed text. This became a scene that was appreciated by everyone, including director Joseph Kosinski who stated that Kilmer has not lost his edge.
"[Kilmer] is completely present in the scene and able to convey so much emotion without saying a word. I remember noticing that with his introduction in 'Heat' — so much said with just one look." Both Kilmer and Cruise were reportedly emotional during the scene that was about two friends coming together, as in life.
Val Kilmer was just as impressed by the final result as everyone else
With such high stakes to "Top Gun: Maverick," it is no surprise that emotions ran high. The film revolves around Pete "Maverick" Mitchell as a returning reluctant hero set to train the newest Top Gun recruits. This contributes added guilt as one of these recruits is none other than Rooster (Miles Teller), the son of Maverick's wingman who died during a flying exercise. In addition to the added weight of Rooster, Maverick's interaction with Iceman is also a loaded scene. Joseph Kosinski explained to The Hollywood Reporter how the magic of the scene came together as the two old friends communicated.
"Val and Tom performed the scene, and then we enhanced Val's voice by blending it with another one, mostly for clarity, more than anything else," Kosinski said. In the scene, the two characters come together in a moving scene that calls back to the original. Though initially anxious about how Kilmer would react to the scene, they were rewarded in the end.
"Obviously, we were all a little nervous showing it to him just because we really wanted him to like it. But his response was beautiful," Kosinski told The Hollywood Reporter. "He was so happy and so moved by it that it made us all feel really good and that maybe we had gotten it right."