Cobra Kai Still Has To Address One Major Issue Before It Achieves Its Final Form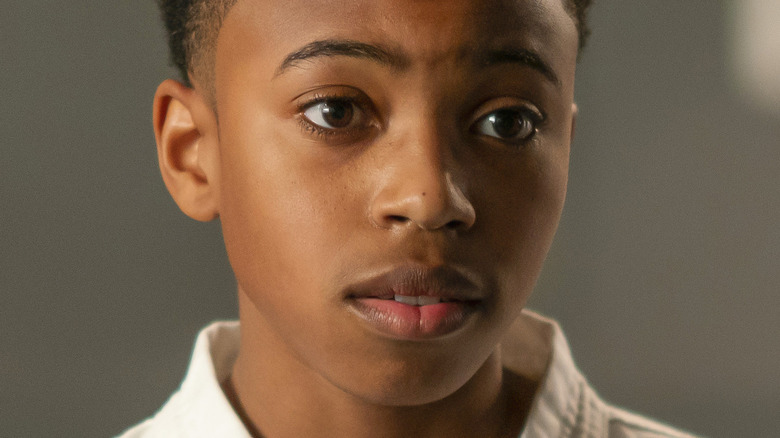 Curtis Bonds Baker/Netflix
"Cobra Kai" has done the franchise reboot maneuver a little differently from most others, aging the original characters in real time and adding a talented younger generation to carry new storylines. Creators Josh Heald, Jon Hurwitz, and Hayden Schlossberg have used the perfect mixture of nostalgia and fresh ideas to craft a show that has earned a 95% Tomatometer score from critics and a 92% from audiences on Rotten Tomatoes. Since the first season hit YouTube Red in 2018, we've met most of Daniel LaRusso's (Ralph Macchio) old friends and rivals from the "Karate Kid" movies, from Johnny Lawrence (William Zabka) to Ali Mills (Elisabeth Shue) and Mike Barnes (Sean Kanan). 
The series has also done a fine job of centering people of color and women, introducing a long-overdue girls' championship in Season 4 and focusing much of the show on Miguel Diaz (Xolo Maridueña), his mother Carmen (Vanessa Rubio), and his grandmother Rosa (Rose Bianco). 
However, Black characters are woefully underrepresented in "Cobra Kai," and the slight is made worse by the villainization of the show's biggest main character, Kenny Payne (Dallas Dupree Young). He's written so inexplicably evil in Season 5 that it has done a disservice to the show, the character, and the actor, especially in light of the entertainment industry's long history of demonizing people of color.
Hollywood hasn't traditionally shown Black Americans in the best light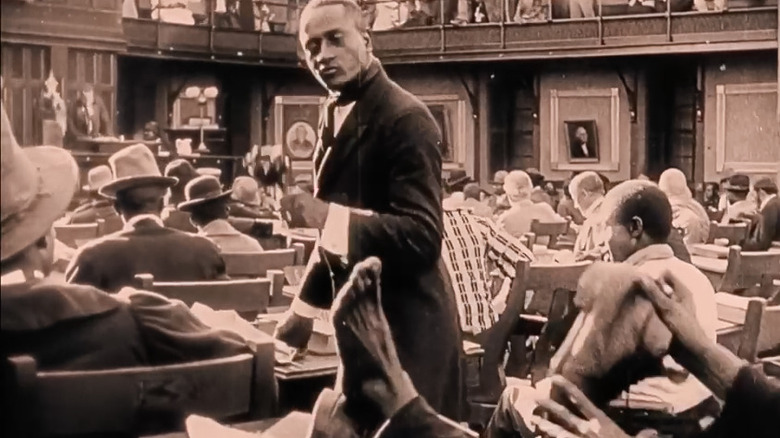 D.W. Griffith/HBO
Racist stereotypes have been a part of American entertainment since the fortunately long-gone days of minstrel shows. In 1915, just 50 years after the Civil War ended, came "Birth of a Nation," which in the century-plus since has stood as both one of the most racist creative projects ever imagined. The film depicts Black men as savages intent on killing white men and ravaging white women, reduces Black women to Mammy stereotypes, and shows Black Congresspeople on the chamber floor chowing down on fried chicken and resting their bare feet on the furniture. 
Racism in television and film has grown much more subtle in the years between the original and modern version of "Birth of a Nation," but representing Black men as dangerous brutes never went completely out of style. Early Westerns put good guys in white garb on white horses and bad guys in black on black, and the Angry Black Man stereotype lived on through others like Clubber Lang (Mr. T) from "Rocky III." Even more recently, we've seen James Doakes (Erik King) personify the trope in "Dexter." By now, though, Hollywood has finally evolved to a point where we really only see it in critical and satirical contexts.
It doesn't take much to turn Kenny from the bullied to the bully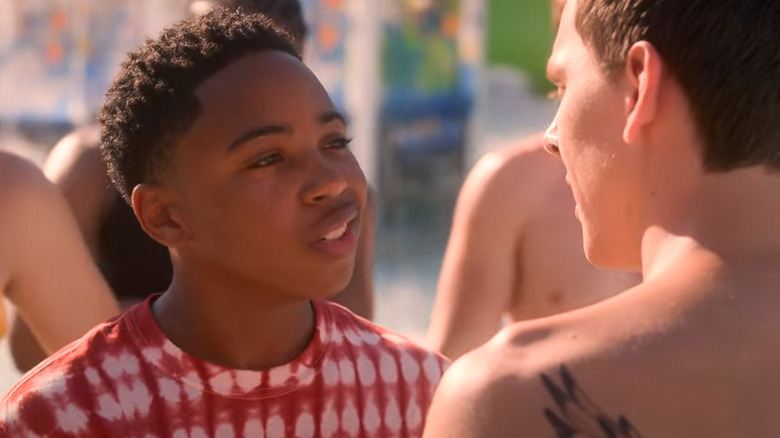 Netflix
That progress is precisely what makes Kenny's treatment in Season 5 of "Cobra Kai" stand out in such an unfortunate way. 
We first meet him in Season 4, Episode 2, "First Learn Stand," being bullied by Daniel's son Anthony (Griffin Santopietro) on the first day at his new school. Kenny starts out sweet and naive, with a loving father half a world away in the Army, an overworked mother, and a brother Shawn (Okea Eme-Akwari) in juvenile detention. That brother turns out to be a friend of Robby Keene (Tanner Buchanan), who introduces Kenny to the Cobra Kai dojo. It doesn't take long for Kenny to go full chaotic evil, and he earns his Cobra Kai ghee with a sucker punch to Kyler's face near the end of Episode 3, "Then Learn Fly." 
Kenny progresses as a fighter throughout Season 4, but a humiliating All-Valley tournament loss to a suddenly ruthless Robby pushes him over the edge, and in his rage he gives Anthony an overdue beating. Kenny's dark turn contributes heavily to Robby's decision to quit Cobra Kai, clearing the way for Kenny to become the dojo's top fighter. He takes on the bad guy role quickly and willingly, complete with defiant sneer and trash talk, and when Robby tries to steer him right again he calls his former mentor a quitter and doubles down on the black hat role.
Kenny embraces the Dark Side but it doesn't do him justice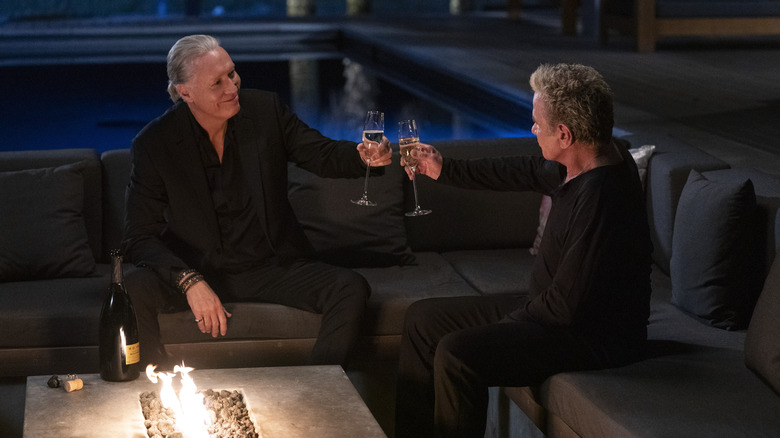 Curtis Bonds Baker/Netflix
Kenny is by no means the worst heel on "Cobra Kai" — that honor is currently shared by Terry Silver (Thomas Ian Griffith) and John Kreese (Martin Kove), even though the latter doesn't see Kreese as a villain — but he does orchestrate the dunking of Anthony's head into a poop-filled toilet and eagerly adopts the rotating franchise role of "fighter who will do anything to win and takes questionable advice during competition."
Robby tries to bring his friend along on his own redemptive arc, but Kenny deeps into his newly learned well of dirty tricks to defeat Hawk (Jacob Bertrand) in the Sekai Taikai audition between Cobra Kai and Miyagi-do/Eagle Fang. We later learn that the matches were fixed and Kenny is the first to remove his dojo sweatshirt and drop it on Silver's beaten body at the end of Season 5, but the moment is equally unsatisfying for Kenny and viewers.
The world is a dangerous place for young Black men right now, and painting the only really significant Black character as the series' primary villain doesn't do anything to help make them any safer. Season 6 of "Cobra Kai" will give showrunners and writers a chance to bring Kenny back from the edge. Here's hoping they take it.