The Shocking Amount Of Pudding Chandler Riggs Ate While Filming The Walking Dead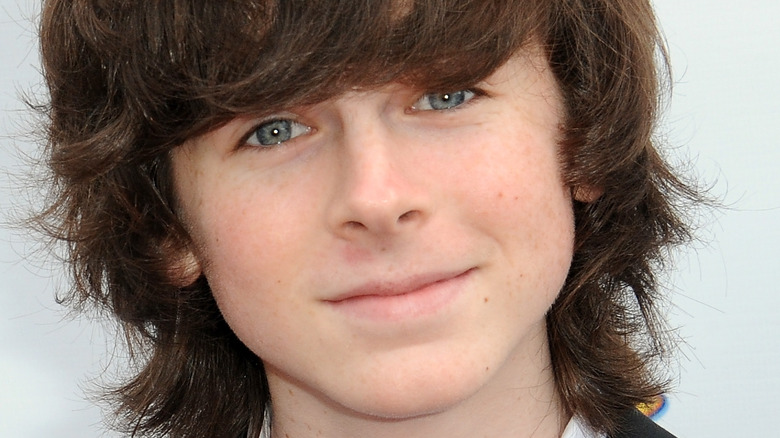 Albert L. Ortega/Getty Images
"The Walking Dead" likes to worry fans every time they sit down to watch an episode of Robert Kirkman and Tony Moore's post-apocalyptic comic book series brought to life by AMC. And Season 4 of "TWD" really left audiences hanging following the Governor's (David Morrissey) death in the mid-season finale, "Too Far Gone." However, the storm of death and danger was about to change directions drastically to a more lighthearted sequence when Carl (Chandler Riggs) stumbled upon a large can of chocolate pudding.
Rick Grimes's (Andrew Lincoln) confrontation with the Governor surely would have ended in his death had Michonne (Danai Gurira) not intervened, and the leader of the survivors was left a broken man afterward. "Carl sees himself as actually a superior survivor to his own father," executive producer Gale Anne Hurd said in an interview about the ramifications of "Too Far Gone" with AMC.
Food is almost always at a premium in the world of "The Walking Dead," but in the Season 4 episode "Away," Carl has the opportunity to chill out on a rooftop and just enjoy the chocolatey goodness of that super-sized can of pudding. But do you realize how much of the sugary dessert actor Chandler Riggs actually consumed while he shot the famous scene?
Chandler helped himself to five pounds of pudding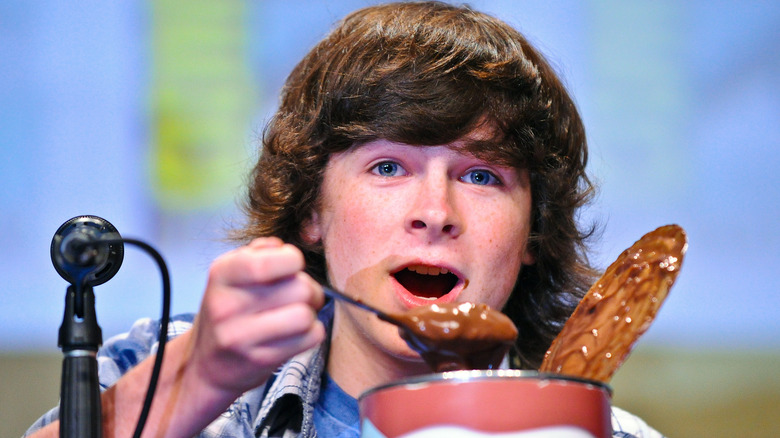 Albert L. Ortega/Getty Images
Carl's survey of an abandoned house leads him to the kitchen, where he finds a Sam's Club-sized canister of chocolate pudding. Young Grimes just sits down on the overhang of an old two-story house, as if he doesn't have a care in the world, and he eats the pudding at his leisure. Does Carl care there's a zombie reaching out for him from the window right behind him? Answer: not in the least.
Now, the can of pudding was 112 ounces, which is seven pounds, and Chandler ingested quite a lot of it. "I really just thought, 'Wow, when can I stop eating this pudding?'" Riggs said in an interview with Good Mythical Morning. On the other hand, Chandler understood completely why Carl went to town on the pudding like Garfield would tear up a cheesy lasagna.
"I don't blame him," Riggs explained in an interview with Entertainment Tonight. "And I don't think he had had pudding in years. I luckily didn't have to eat the whole thing, thank goodness. I only ate, like, a quarter of it, but that still was a lot of pudding. It was a good, like, five pounds of pudding that I had to eat." At the next year's San Diego Comic-Con, Chandler made his fashionably late entrance to "The Walking Dead" Season 5 panel toting a canister of chocolate pudding much to the crowds' delight. The actor then proceeded to eat some of the creamy dessert during the Hall H assembly.