Rick And Morty Season 6 Keeps Calling Back To This Jerry Side Story From Season 2
In its current incarnation, "Rick and Morty" maintains a complicated relationship with its growing canon. On one hand, the fact that it even attempts to build on established canon separates it from most episodic cartoons and sitcoms. On the other hand, some fans have criticized "Rick and Morty" for not developing its ongoing story enough in their estimation. In fact, showrunner Scott Marder addressed this backlash prior to the premiere of Season 6, promising that it would foreground the show's overarching storylines more often than before. That said, some viewers think that complaints about "Rick and Morty" canon are overblown.
A few episodes into "Rick and Morty" Season 6, the series does indeed appear to be tying into past storylines while maintaining its commitment to episodic storytelling. The season premiere, for example, links together disparate plot threads like the status of the universe Rick and Morty (both voiced by Justin Roiland) inhabited at the series' start, and Rick's search for the alternate universe version of himself that killed his family.
Similarly, as of Episode 3, multiple episodes of "Rick and Morty" Season 6 have called back to a particular Jerry (Chris Parnell)-centric plotline from Season 2.
Jerryboree is a recurring plot point in Rick and Morty Season 6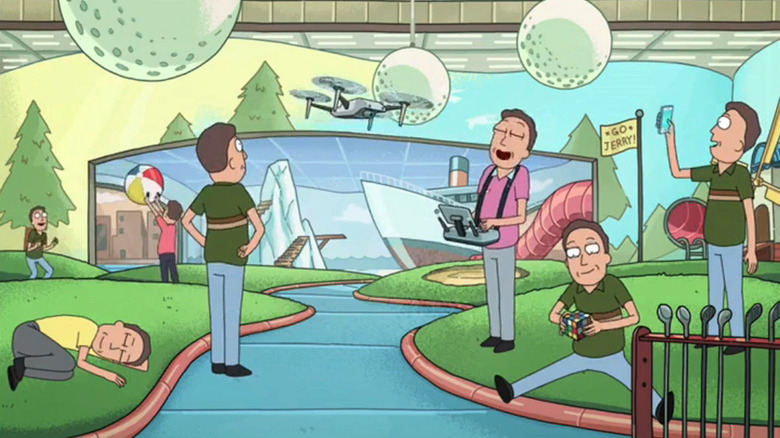 Adult Swim
In an moment that builds the series' canon, "Rick and Morty" Season 6, Episode 1 includes a Jerry reveal that ties into the plot of an episode that first aired years prior. In short, the version of Jerry native to the dimension in which the majority of the show takes place is revealed to have been switched out for another universe's Jerry at an multidimensional Jerry daycare called Jerryboree, introduced in the Season 2 episode "Mortynight Run."
As it turns out, Season 6, Episode 3 also incorporates Jerryboree in its post-credits tag. After his wife Beth (Sarah Chalke) carries out an affair of dubious morality with her own clone, Jerry is apparently interested in a dalliance with another version of himself as well. So, he visits Jerryboree in this final scene, where he's turned away at its front desk over a rule intended to prevent the very reason for his visit.
Justin Roiland outlined the importance of moments like this in an interview with Screen Rant, in which he compared his approach to "Rick and Morty" with that of most similar shows. "Their primary focus is comedy and jokes, jokes, jokes, which we try to do too, but we also have consequences and stakes and stuff that will ripple across seasons," he said. Continuing to incorporate Jerryboree, then, is one such example of a plot point causing a ripple effect seasons down the line.