12 Shows Like The Good Doctor You Should Check Out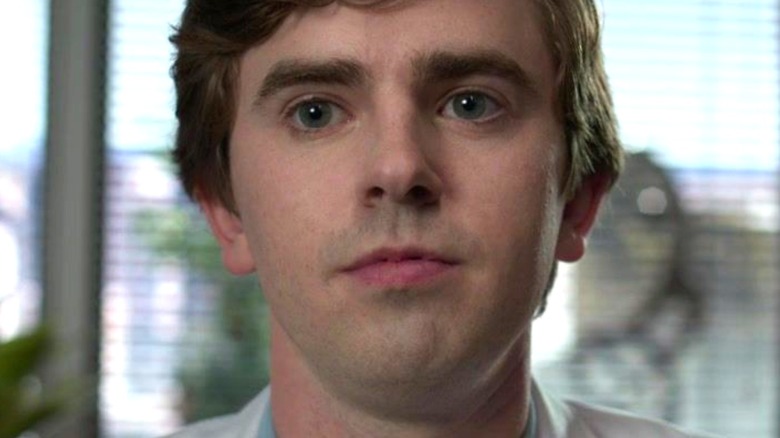 ABC
In a media landscape where every streaming network has bigger and bolder shows premiering every week while cable and network television have upped their game to crank out ever-better television, it can be hard to find a hit — especially in well-worn genres. However, despite popular medical dramas all over the proverbial dial, one more broke through in 2018, the quirky and light-hearted "The Good Doctor." 
"Bates Motel" star Freddie Highmore plays Dr. Shaun Murphy, a young doctor and prodigy whose autism and savant syndrome make him a highly skilled surgeon but emotionally and socially distant. Though it's been criticized for its handling of autism (via The Hollywood Reporter), there's no doubting the show's quality. Led by an acclaimed actor, the series sets itself apart from its peers with a mix of drama, heart, and a strong central character. With five seasons aired and counting, the show has climbed its way to the top of the medical procedural heap, alongside greats like "Grey's Anatomy" and "Chicago Med." 
However, even if you're a diehard fan of "The Good Doctor," there are plenty of similar shows you could be watching, both old and new. Some are medical dramas, others are focused on similarly brilliant savants, while some just have the same solid blend of comedy and drama. If you love Dr. Murphy, who else should you be watching? We're glad you asked because this is a list of a dozen shows like "The Good Doctor" that you should check out.
Doogie Kameāloha, M.D.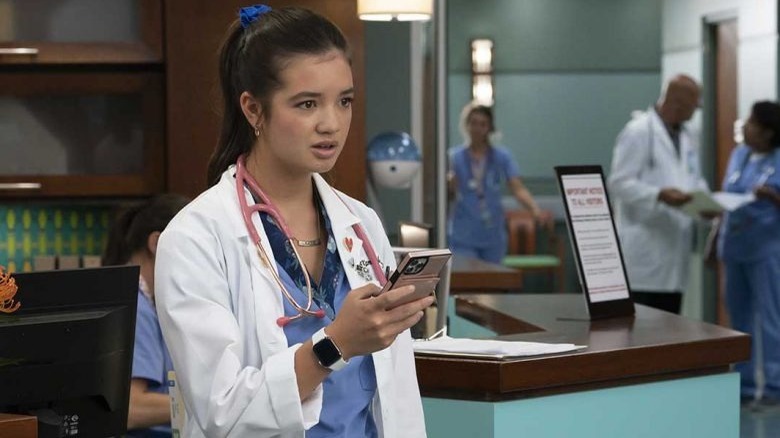 Disney+
When it comes to a medical series with a gifted young doctor, the first place to start might be "Doogie Howser, M.D.," Neil Patrick Harris' 1980s family comedy series. In the series, Harris played a savant himself, a young boy who breezed through high school, college, and medical school by the age of 14, becoming a licensed physician and a hospital surgeon two years later. However, that's not the series we're actually recommending. Instead, you may want to check out the remake, "Doogie Kameāloha, M.D."
In this revived series updated for the 2020s, Peyton Elizabeth Lee takes over as the leading doctor Lahela Kameāloha, a teen prodigy who, at the age of 16, serves as a doctor at the fictional Oahu Health Medical Center in Hawaii. She gains the nickname 'Doogie' thanks to the 1980s TV series that her friends, family, and coworkers compare her to, which is fictional in the series just as it is in real life. A whip-smart teen, she struggles to balance her work and her ordinary teenage life while always having to prove herself against colleagues twice — or three times — her age. 
A charming series that's just as much about Lahela's life and personal drama as it is about the medical cases she works on during the day, "Doogie Kameāloha, M.D." is a bit lighter in tone but will play well for audiences who appreciate often uplifting messaging of "The Good Doctor."
House, M.D.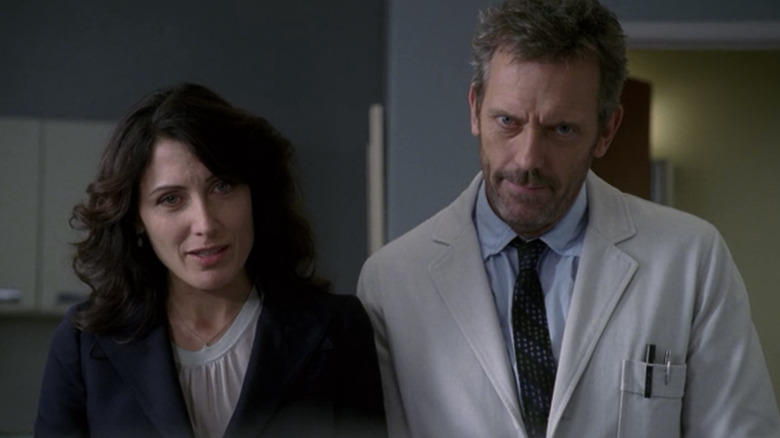 Fox
While perhaps a bit more cynical and dour than "The Good Doctor," the long-running drama "House, M.D." still has much in common with the Freddie Highmore starring medical procedural. In addition to being led by a troubled savant, here played by British actor Hugh Laurie, the show was developed by David Shore, the same man behind "The Good Doctor." With Shore in the driver's seat, you'll no doubt notice many tonal similarities, but here a much darker twist.
Loosely inspired by Sherlock Holmes, Laurie plays Dr. Gregory House, a shrewd and acerbic man with a genius intellect who can size up any problem and quickly come up with a solution. Accompanied by his loyal companion, best friend, and assistant physician Wilson, House runs his hospital with the cold and clinical precision of the famed detective. However, House is often his own worst enemy, a maverick professional who refuses to do anything by the book even when it might be the right thing to do. Plagued with several harmful habits, he also has a penchant for making bad personal choices that turn his life upside down.
With an all-star cast that includes Olivia Wilde and Omar Epps, "House M.D." was acclaimed for its dry wit, dramatic twists and turns, and high-class storytelling. Plus, with more than 170 episodes for you to watch, it'll keep you busy for months once you have run out of episodes of "The Good Doctor" and are looking for something new. 
The Queen's Gambit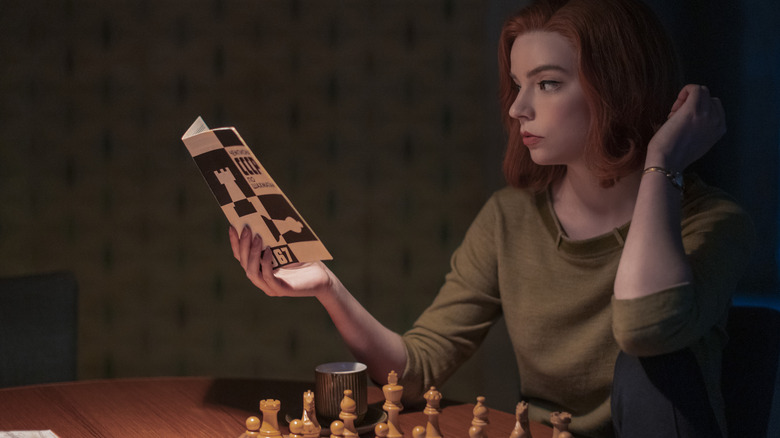 Phil Bray/Netflix
If you are looking for a series like "The Good Doctor" that focuses on a brilliant young mind, then don't sleep on the 2020 hit "The Queen's Gambit." A Netflix original miniseries, it was based on a book about a child chess prodigy named Beth Harmon, a wayward girl who goes from an orphanage to world champion. Starring Anya Taylor-Joy, the series is set in the 1960s but is about much more than chess strategy. Instead, the series focuses on the problems Beth faces growing up without a family and the challenges of being a woman succeeding in a predominantly male environment.
Underestimated by her peers, her incredible skill is offset by her guarded and protective nature. Preferring isolation, it's not easy for Beth to make friends — at home, at school, or on the champion chess circuit — but she eventually finds a kindred spirit in fellow champ Benny Watts and a romance with one-time rival Harry Beltik. However, as her career careens ever upward towards a showdown with the greatest players in Russia at the height of the Cold War, she falls deeper into self-isolating despair.
Winner of 11 Emmy's including outstanding limited series, and nominated for seven more, the series was beloved by audiences and critics alike. If you ever thought chess was boring, "The Queen's Gambit" with the young savant Beth Harmon may just change your mind.
Good Sam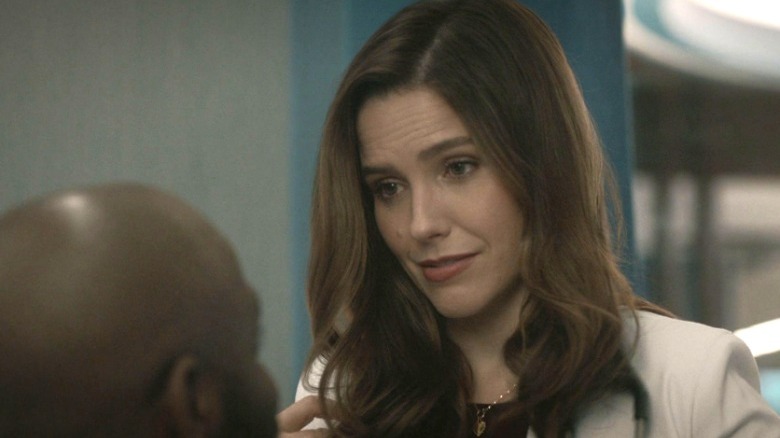 CBS
Perhaps one of the most underrated medical comedy dramas of the past decade, "Good Sam" shares more in common with the Freddie Highmore series than having the word "Good" in its title. Though the series' main character, Dr. Sam Griffith (Sophia Bush) may not be the young savant that Dr. Shaun Murphy is, she is put into a similarly uncomfortable position. While Dr. Murphy is out of place in his hospital as the young genius working alongside a staff of older, more experienced contemporaries, Griffith is put in charge of her hospital after her father — the former chief of surgery — falls into a coma.
Things get even more uncomfortable when the senior Dr. Griffith recovers and wants back on the job. Now, Dr. Sam is forced into the unenviable position of commanding her own father at Lakeshore Sentinel Hospital. Dr. Rob Griffith is a renowned cardiothoracic surgeon, but when returns he has no choice but to take orders from his daughter. Still, Dr. Sam is more than up to the task and impresses everyone, including dear old dad.
While it was sadly short-lived, only lasting a single season and 13 episodes, its brief run makes it an easy pick to pop on while you're waiting for the next episode of "The Good Doctor."
Monk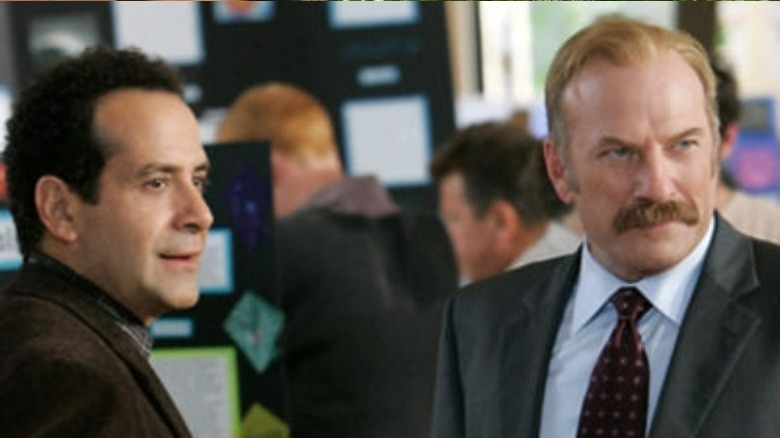 USA Network
A character-driven series that mixes comedy and drama — with a little more comedy — "Monk" should tonally remind fans of "The Good Doctor" with its off-kilter stories centered on a lovable but awkward consulting detective, Adrian Monk. With a high IQ and a photographic memory, Monk is well-suited for solving crimes, able to spot patterns and clues that others might not see. However, with a serious case of obsessive-compulsive disorder and a number of neurotic fixations that make his job difficult, he's also hard to get along with, just like Dr. Murphy.
A former San Francisco homicide detective, Monk is driven to retirement after the murder of his wife, a crime that remains unsolved. Finally returning to duty on a part-time basis after assisting his old colleagues at the SFPD, he finds support in the form of companions Natalie and Sharona, who are somehow able to put up with and manage his many quirks.
Like "The Good Doctor," the show hasn't been without critics of how it portrays mental illness, with Psychology Today calling it rather bluntly "the worst portrayal of mental disability and psychiatric treatment I've ever seen, in any form of media." Still, the magazine did praise actor Tony Shalhoub's performance, calling him "convincing and compassionate." If you don't mind the liberties taken, you'll enjoy the quirky "Monk" for its many charms and compelling cases.
This Is Going to Hurt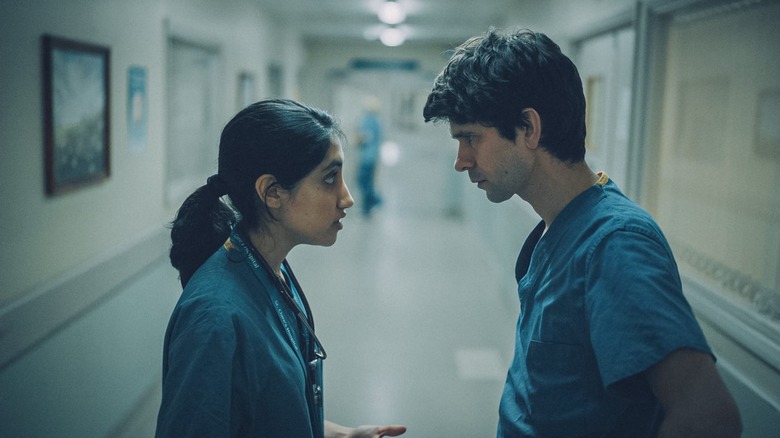 BBC One
If we look outside the United States for a foreign medical drama, there are plenty of contenders to choose from. Among them is one that you should definitely check out if you like "The Good Doctor" is the BBC One series "This Is Going to Hurt," a series inspired by a true story. Based on the memoirs of TV writer Adam Kay, it fictionalizes his account of his early career as a junior doctor who finds himself over his head during his medical training in an obstetrics and gynaecology ward in an NHS hospital. 
An honest look at the unseen world of public medicine in the United Kingdom, the series grabs the audience's attention for its unflinching look at the struggles facing the nation's underfunded and under-supported medical staff. Like "The Good Doctor," though, the series also delves into the personal lives of the hospital staff and how their tireless work takes its toll on them even during their off-hours. Praised by critics and fans for its medical accuracy and frank depiction of the state of women's health care, it never holds back from showing the harsh truth of the doctor's challenges. 
With stellar performances led by series star Ben Whishaw, it's a bit heavier on the drama than "The Good Doctor," though it certainly has its lighter moments. If you are looking for something on the serious side, this is it.
Numbers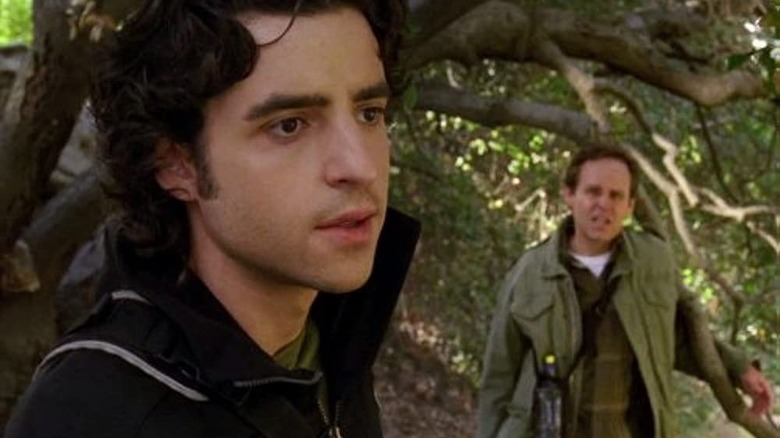 CBS
A socially awkward super-genius is almost a tried-and-true formula in the annals of hit television shows. While "The Queen's Gambit" did well by putting its hero in an unusual setting, "Numbers" — sometimes stylized as "Numb3rs" — took a more standard route but excelled just the same. Centered on an extraordinary genius whose gift for mathematics has also made it hard for him to relate to others, the series sees its hero Charlie Eppes recruited by his FBI agent brother Don to help him hunt down the most dangerous madmen that they cannot find on their own.
An uncomfortable misfit, Charlie's intelligence and soft-spoken manner provide a good contrast with Don's strong lawman persona, making them a perfect odd couple to lead a quirky crime drama. Though some might look at it on paper as just one in a long line of similar genius detective shows, "Numbers" stands out with its offbeat tone and deft mix of comedy and drama. Though a bit wittier than Dr. Murphy, Charlie shares his naive sense of right and wrong and eagerness to spout blunt truth no matter the consequences.
Straddling the line between a gritty crime story and a light-hearted romp, "Numbers" should appeal to fans of "The Good Doctor" who are looking for something a little more action-intensive.
Good Doctor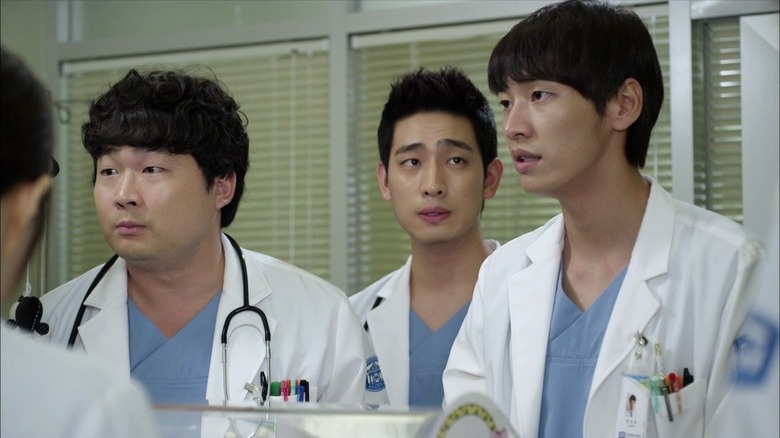 KBS2
"Hold on," you may be thinking, "a similar series with the same title?" Well, what many fans may not realize is that "The Good Doctor" is actually an American remake of a critically acclaimed medical dramedy from South Korea. Though the series aired for just one season and 20 episodes in 2013, it received rave reviews and earned several prestigious awards in its home country. Like the remake, it centers on a young physician, this time at a children's hospital and here named Shi-on, whose autism and savant syndrome make life and work a challenge. 
When airing in 2013, the series drew the attention of South Korean native and "Hawaii Five-O" actor Daniel Dae Kim. Immediately snapping up the rights to make an American version of the series, he began shopping it around. After being rejected by CBS twice, Dae Kim eventually connected with "House" creator David Shore, who helped get the show on the air with ABC.
What most sets the two shows apart, however, is their overall tone, as the original is a slower, more methodically paced story, lacking the quick, snappy dialog and fast-paced medical action. The result is an engrossing story with even more emotion, and those who like the more tender, touching side of "The Good Doctor" will appreciate the original even more.
Psych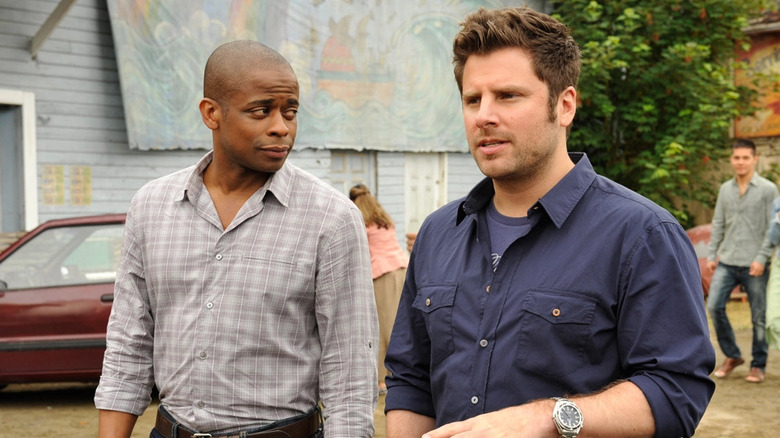 USA Network
Instead of a medical procedural, shift your focus to the ever-popular police format and you'll find a lot of common themes of "The Good Doctor" present in the comedy cop drama "Psych." Like Freddie Highmore as Dr. Shaun Murphy, series lead James Roday Rodriguez stars as an unusually talented consulting detective named Shawn Spencer. But unlike the young surgeon, Spencer isn't quite so moral and upstanding, as he uses his gift of eidetic memory recall to pass himself off as a psychic. 
Under the auspices of being a paranormal medium, Spencer and his partner Gus have formed a business assisting the Santa Barbara Police Department in investigating their toughest cases. From chasing drug-runners, kidnappers, and murder suspects, the pair become sought-after crime solvers who everyone thinks have otherworldly powers. However, while the show focuses on their efforts to nab the crooks, it also peers into their troubled past via ongoing flashbacks to their youth where we learn how Spencer's father helped him hone his extraordinary talents.
Beyond the series' two main stars, it also featured a parade of high-profile guest stars, including Racheal Leigh Cook, Val Kilmer, Bruce Campbell, Anthony Michael Hall, and Cary Elwes, among others. Running for eight seasons and over 100 episodes, the show also received three follow-up TV movies.
Sliders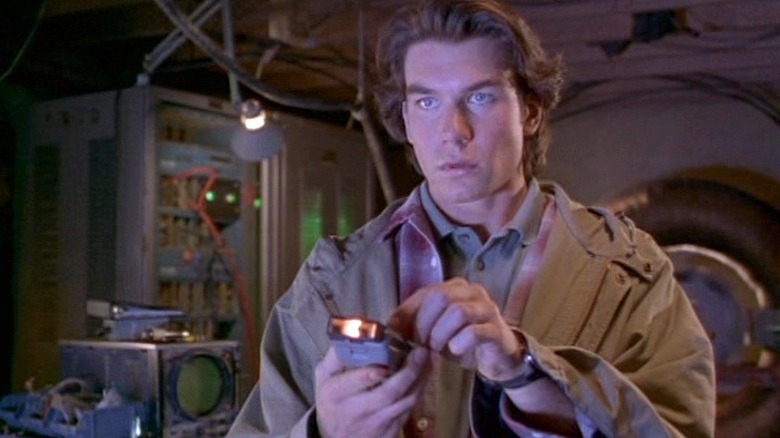 Fox
Moving from the grounded realism of a Wyoming hospital to parallel realities across the vastness of the multiverse, "Sliders" is another series with a brilliant young mind at its center. Like Murphy, Quinn Mallory is a brilliant young man whose intellect has made it hard for him to make friends. However, instead of turning to medicine, Mallory has turned to science and has discovered the key to accessing alternate realities in his parents' basement. With the help of his friend Wade, local professor Maximillian Arturo, and eccentric car salesman Rembrandt Brown, Mallory decides to explore these parallel worlds.
Once Mallory and his gang of rag-tag misfits go jaunting through dimensions, they quickly find themselves lost and unable to find their way back to their own reality. Now, they must travel through an infinite number of alternate realms in search of their own. Along the way, they discover different Earths that are wildly different. Some memorable episodes depict worlds in which the Soviet Union has conquered the West, a society where women control society, and even a reality where wasps have nearly wiped out the human race.
Sometimes dark, sometimes humorous, but always loads of fun, "Sliders" imagines what would happen if a genius like Dr. Shaun Murphy decided to take a grand adventure across the multiverse.
Scorpion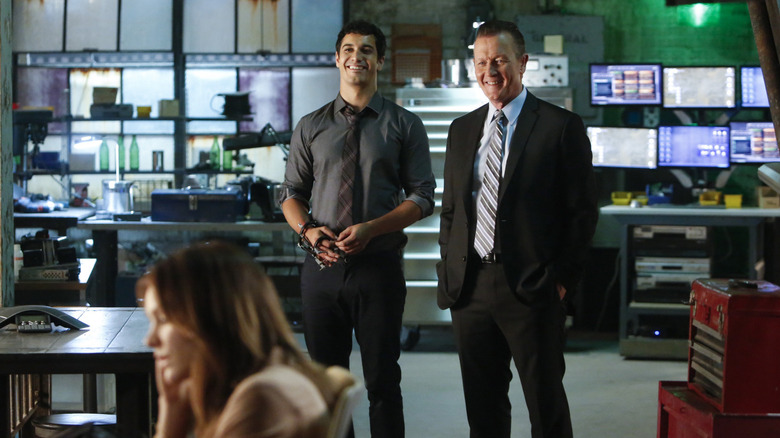 CBS
There's been some question as to just how true the true story is (via CNET), but the government spy drama "Scorpion" is based on the exploits of real-life figure Walter O'Brien. Founder of a security agency called Scorpion Computer Services, O'Brien claimed to have been in trouble with authorities as a youngster, sneaking into government servers and stealing innocuous information at the tender age of 13. Eventually, his firm developed a revolutionary software program called ScenGen, which uses artificial intelligence to extrapolate scenarios based on complex data sets.
In the series, the eager O'Brien — played by Elyes Gabel — assembles a group of brilliant minds composed of outcasts, oddballs, and eccentrics, to join his security agency when government agent Cabe Gallo comes calling. Looking for any edge against the world's worst villains, Gallo recruits the ragtag crew at Scorpion Computer Services to stop diabolical international plots that threaten the United States. However, stopping the baddies isn't the only problem, as the many geniuses on the team don't always get along.
Debuting in 2014 and featuring an ensemble cast that included Katharine McPhee, Eddie Kaye Thomas, Jadyn Wong, and Ari Stidham, "Scorpian" ran for four seasons on CBS.
Nurse Jackie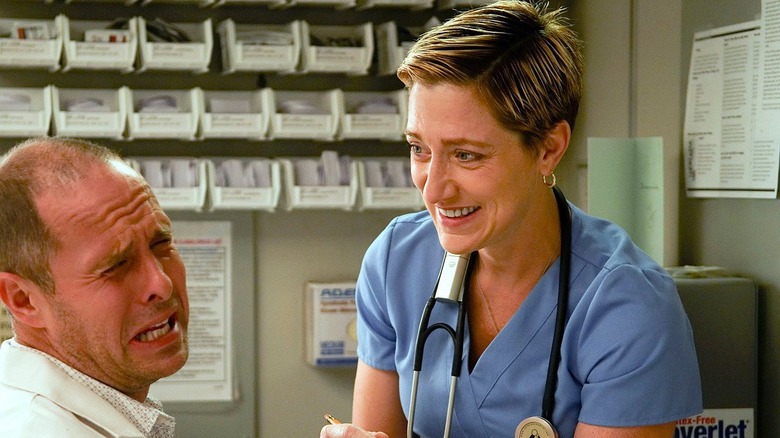 Showtime
Unlike most shows on this list, "Nurse Jackie" doesn't feature an unusually brilliant, genius medical professional — just an ordinarily brilliant one — but does share its strong balance of story and character, as well as a mix of quirky comedy and medical melodrama. Starring "The Sopranos" alum Edie Falco in the title role, the series aired on premium cable channel Showtime beginning in 2009, it ran for seven strong seasons before concluding in 2015. 
Developed to be something different, creators Liz Brixius, Evan Dunsky, and Linda Wallem eschewed the focus on the more glamorous doctors, choosing instead to give the spotlight to a nurse, one of the unsung heroes of a big city hospital. A dedicated and determined caregiver, Jackie goes to great lengths to get the job done even as the failing system throws numerous obstacles in her path. However, like "House, M.D." this series follows a medical professional who has a bad habit that she has to hide from everyone around her.
A half-hour comedy with touches of drama that highlight Falco's immense talents, each season of "Nurse Jackie" continued to top itself. With moving stories and light laughs, it's one of the better hospital shows of the 2010s, and if you didn't catch it then, there's no reason you shouldn't be binging it now, especially if you're a fan of "The Good Doctor."