The Handmaid's Tale Star Gets Candid About Nick's Questionable New Marriage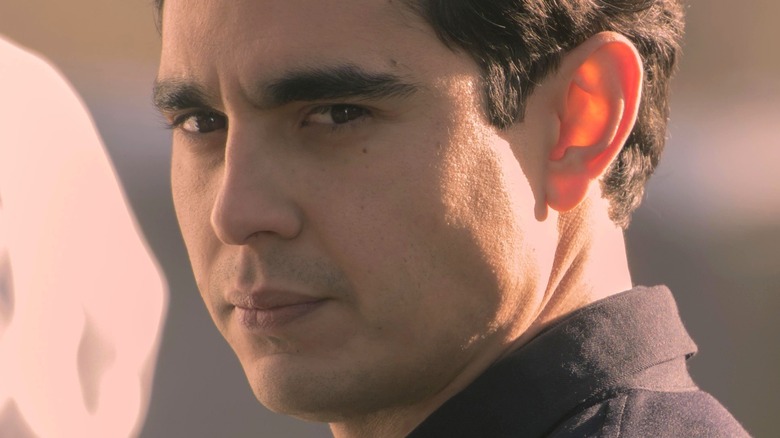 Elly Dassas/Hulu
The dystopian drama series "The Handmaid's Tale" — based on the novel of the same name by Margaret Atwood and developed for television by Bruce Miller — is back for its fifth season, with the first two episodes now available on Hulu. The new season picks up where Season 4 left off: in the aftermath of June (Elisabeth Moss) murdering Commander Waterford (Joseph Fiennes), with the help of other handmaids and her on-and-off lover Nick Blaine (Max Minghella), who is now a Commander in Gilead.
And speaking of Nick, at the end of Season 4, viewers found out that Nick had remarried — following the death of his first wife, 15-year-old Eden (Sydney Sweeney) in Season 2 — but was choosing not to tell June by hiding his ring while they spoke. In the new season, viewers get a glimpse into Nick's new marriage. In the first episode, "Morning," we see Nick returns to his Gilead home after helping out June. It becomes clear right away that his wife, Rose (Carey Cox), knows about June — she asks Nick if he saw her. Rose then asks if June accomplished what she needed to do, implying she knows about the attack against Waterford and is, seemingly, totally accepting of it. She even says she'll pray for June, hoping she'll find peace.
It's definitely an intriguing setup — based on Nick's recent interactions with June, it seems as though there are still feelings between the two of them. However, Nick now also appears to have at least a friendship-type relationship with his new wife, even though she insists on serving him as she would God (her words). Here's what Minghella has to say about Nick's questionable new marriage.
Max Minghella says Nick's new marriage is trustful but not romantic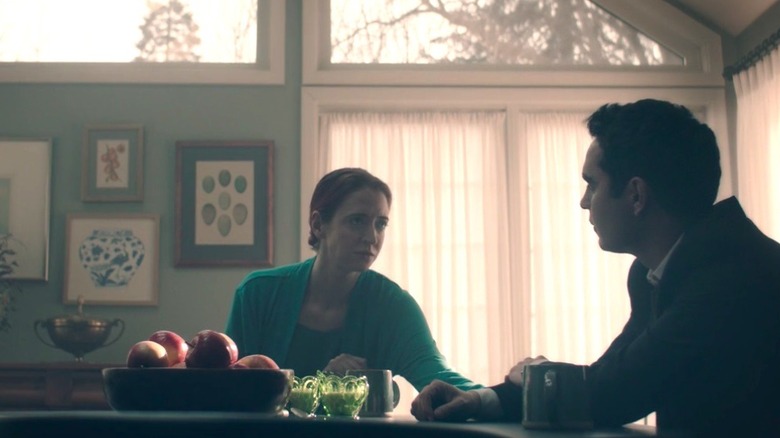 Hulu
Following the release of the new episodes of "The Handmaid's Tale," Max Minghella spoke with Collider about the new season — including the inclusion of a new wife for Nick. During the discussion, interviewer Maggie Lovitt asked Minghella to talk about what his new marriage means for the next stage of his life, as well as if he thinks there is genuine love between Nick and Rose. Minghella begins by declaring that he has realized Nick is not very good at marriage and notes that the new one is also complicated, just as his marriage to Eden was.
Speaking on what the scene in Episode 1 reveals of the marriage, Minghella continued, "It's clear, I think to me, from the outset that there's real trust between them. And I think that he trusts Rose in a way we haven't really seen him trust anybody outside of June in this show. So it's obviously a meaningful relationship. It does strike me as maybe more strategic, or a marriage of convenience, perhaps more than a romantic [relationship]."
Showrunner Bruce Miller has also spoken about Nick's new wife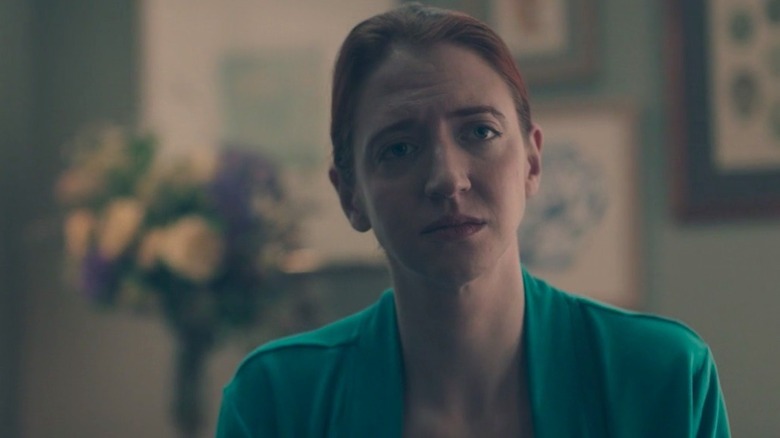 Hulu
Showrunner Bruce Miller recently spoke with Entertainment Weekly about Season 5 and delved into the new, complicated relationship between Nick and Rose. Rose is, of course, very different from Eden — not only is she more age-appropriate for Nick, but she walks with a limp and uses a cane. This is notable because disability is not something you often see in Gilead, especially amongst the wives. While speaking to EW, Miller gave some insight into Rose's condition: she has congenital hip dysplasia.
Giving more context, Miller continued, "Rose is the daughter of a very prominent commander, and when she was born, there was very little hope. And he brought her home and did absolutely everything he could do to keep her alive." Miller continued that Rose's commander father is content that she married Nick and that she seems to be happy in the relationship. Miller also discussed the thought process that went into bringing Nick and Rose together, noting that, first and foremost, they wanted Nick to be able to be honest with his new wife, which he was unable to do with Eden.
There definitely seems to be a lot to explore between Nick and Rose; we can't wait to see how it plays out through the rest of Season 5.