The Actress Who Plays Pearl Krabs In Spongebob Squarepants Is Gorgeous In Real Life
Of all the cartoons to ever grace the small screen, few have stood the test of time like "SpongeBob SquarePants." The beloved Nickelodeon series has been making audiences laugh for over two decades thanks to its side-splitting characters and their hijinks. Despite some episodes being more beloved than others, viewers of all ages continue to visit Bikini Bottom to follow the adventures of the titular yellow sponge person and the wacky assortment of personalities he continuously encounters. Whether it's a puffer fish boating school instructor or a goofy starfish, there is never a shortage of gut-busting players that enter the frame in every entry.
SpongeBob is arguably as adorable as he is absorbable. Still, several other fantastic characters have been introduced throughout the Emmy-nominated cartoon's successful run. While the candidates for fan-favorite status may vary, some people will most assuredly show some love to the daughter of Mr. Krabs, who also happens to be an intelligent sperm whale, Pearl Krabs. The enthusiastic and boisterous cheerleader with big dreams has been on the show numerous times, and many may not realize the actress that voices her is absolutely gorgeous in real life.
Meet Lori Alan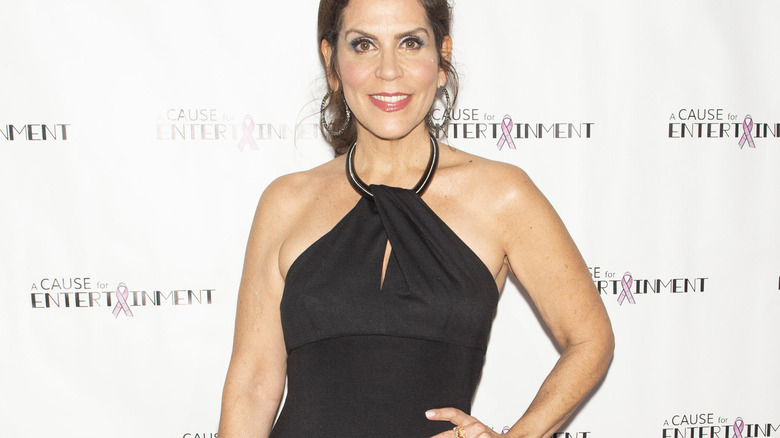 Michael Bezjian/Getty Images
Lori Alan is the beautiful voice actress responsible for bringing Pearl Krabs to life on "SpongeBob SquarePants." Alan is credited as Pearl, as well as a few other characters, in over 100 entries of the series. She has also voiced the character in the "SpongeBob" movies and the prequel series "Kamp Koral: SpongeBob's Under Years" (via IMDb).
Alan's other notable credits include Sue Storm in "Marvel's The Fantastic Four," Diane Simmons on "Family Guy," and The Boss, an influential character in the infamous "Metal Gear Solid" video game franchise.
After voicing so many characters over the years, it's clear she has a passion for her vocal work; one could even argue she was destined to succeed, given how she got started. Alan revealed her voice-acting origin story in an interview with Talking Voices (via YouTube). "My parents are voice actors as well, so I kind of grew up doing that and doing commercials, and going into promo voice-over work and then landing in animation and I just couldn't be more excited." Though she has accomplished a lot in her rewarding career, Alan went on to say that she feels like "the luckiest girl in the world" for her involvement in the Nickelodeon series.