Star Wars: The Last Jedi Has Second Biggest Opening Weekend Of All Time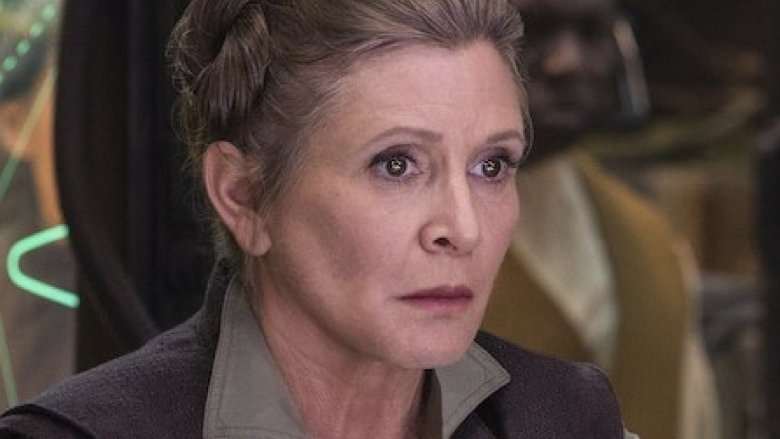 No surprises here: Star Wars: The Last Jedi is officially a box office behemoth. The latest outing in the long-running saga brought in $220 million in its opening weekend, good for the second highest domestic opener of all time, after The Force Awakens' $247.9 million.
The Last Jedi follows up on the ending of The Force Awakens, in which Rey (Daisy Ridley) found Luke Skywalker (Mark Hamill) on the deserted planet of Ahch-To. Elsewhere, Finn (John Boyega) teams up with new character Rose (Kelly Marie Tran) for a mission to the casino planet Canto Bright, where they meet up with a mysterious codebreaker played by Benicio del Toro. Meanwhile, Poe (Oscar Isaac) butts heads with Vice Admiral Amilyn Holdo (Laura Dern) and General Leia Organa (Carrie Fisher). 
The Last Jedi has been a favorite with critics, earning a 93 percent on Rotten Tomatoes, although it has been slightly more divisive with fans, sitting at a 56 percent audience score on the platform. Still, though, fans who headed out to see the movie on Friday night awarded it with an A CinemaScore, and the movie has brought a lot of buzz on social media, trending on Twitter throughout the weekend.
The Last Jedi's $220 million haul managed to beat out the likes of Jurassic World ($208.8 million), Marvel's The Avengers ($207.4 million), Avengers: Age of Ultron ($191.2 million), and Captain America: Civil War ($179.1 million). It also topped Beauty and the Beast for the best opener this year, beating out that film's $174.7 million. (via Box Office Mojo)
Second place for the weekend went to John Cena's animated comedy Ferdinand, which slightly underperformed despite receiving positive reviews from critics. However, it's tough for any film to open against a behemoth like Star Wars, and the movie still managed to hold its own with $13.3 million. It beat out the winner of the past three weekends, Pixar's Coco, which brought in an additional $10 million.
Quite a few films will try to compete with The Last Jedi for box office dominance next weekend, although they're all likely to fall below the movie's stellar heights. New openings will include Dwayne Johnson's Jumanji: Welcome to the Jungle and Hugh Jackman's The Greatest Showman, both opening Dec. 20, as well as Pitch Perfect 3, Downsizing, Father Figures, Hostiles, and The Post, all opening Dec. 22. (Hostiles and The Post will both be in limited release.)
You can view this weekend's full box office results (via Box Office Mojo) below.
Top 10 Weekend Box Office Gross
1. Star Wars: The Last Jedi: $220,047,000 (– percent), $220,047,000 Total Domestic Gross   
2. Ferdinand: $13,325,000 (– percent), $13,325,000 Total Domestic Gross  
3. Coco: $10,025,000 (-45.7 percent), $150,810,896 Total Domestic Gross   
4. Wonder: $5,400,000 (-36.1 percent), $109,256,738 Total Domestic Gross 
5. Justice League: $4,170,000 (-56.9 percent), $219,456,347 Total Domestic Gross
6. Daddy's Home 2: $3,800,000 (-35.8 percent), $96,579,982 Total Domestic Gross   
7. Thor: Ragnarok: $2,981,000 (-52.5 percent), $306,375,120 Total Domestic Gross   
8. The Disaster Artist: $2,636,908 (-58.6 percent), $12,932,039 Total Domestic Gross  
9. Murder on the Orient Express: $2,470,000 (-52.5 percent), $97,252,742 Total Domestic Gross   
10. Lady Bird: $2,108,117 (-38.9 percent), $25,977,506 Total Domestic Gross