Where You've Seen The Cast Of Barbarian Before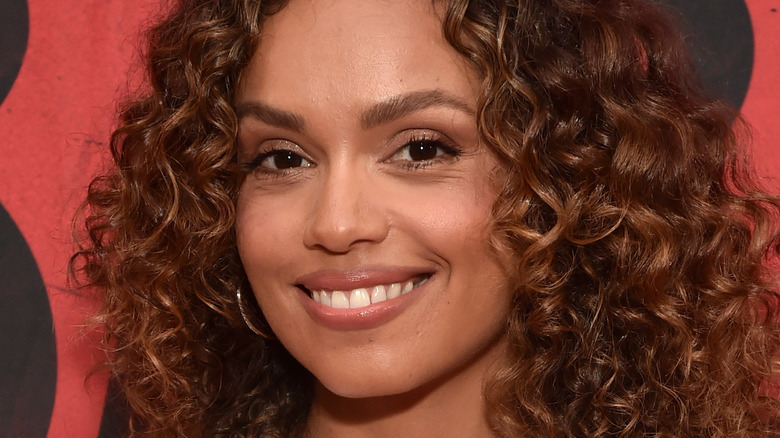 Alberto E. Rodriguez/Getty Images
Reviews for "Barbarian," are slowly coming in, and the offbeat horror film looks like a winner. Boasting a sharp plot line, eerie tension, echoes of the #MeToo movement, and a compelling cast, horror fans have lots to sink their teeth into with director Zach Cregger's sophomore effort. The disquieting and unsettling film leads audiences through a hellish rental riddled with underground passages, a murky past, and the specter of toxic masculinity.
In a move that is peak 2022, "Barbarian" is set in a rented house; finding a vacation rental has literally become a horror genre. The protagonist, Tess (Georgina Campbell) arrives at her Airbnb to discover it's been double-booked and a young man is already staying there. Will Tess end up as a classic "final girl," or can audiences expect a few twists by the end?
Either way, "Barbarian" is rocking a cast list with a few secrets and surprising connections of its own. Pulling from popular comedies, famous sitcoms, and more than a few animated TV series (fans should recognize several actors by voice alone), Cregger has brought together a talented and diverse ensemble.
Bill Skarsgard (Keith)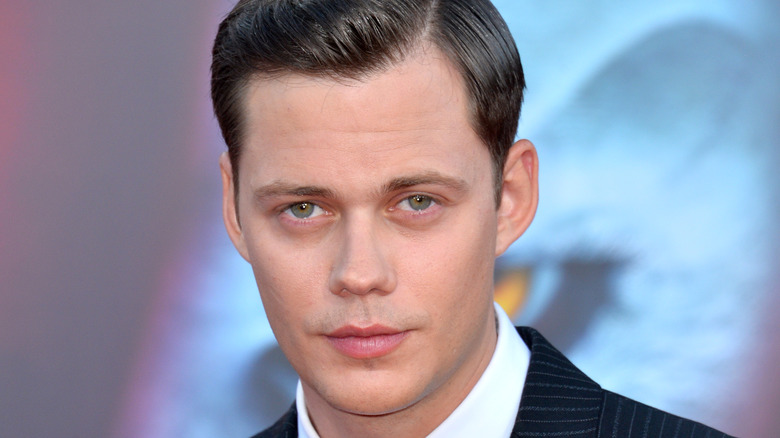 Featureflash Photo Agency/Shutterstock
Any true fan of the horror genre should recognize Bill Skarsgard as the nightmare-inducing clown, Pennywise from "IT" and "IT: Chapter Two." The first film was well-reviewed by critics and broke several box office records, with Skarsgard earning himself several awards for the role of Pennywise. But "IT" wasn't Skarsgard's first horror role, since he also starred as Roman Godfrey in the Netflix horror series, "Hemlock Grove." Clearly, he's a fan of the genre.
Bill Skarsgard comes from an impressive family of actors: Stellan Skarsgard is his father and three of his brothers are also actors. In fact, his older brother Alexander Skarsgard dated fellow "Barbarian" co-star Kate Bosworth several years ago, and the two lovebirds also starred together in the psychological thriller "Straw Dogs."
Before he became famous for his monster-portraying skills, audiences watched him play Matthew in "Allegiant," and Merkel in Charlize Theron's "Atomic Blonde." By that time, Bill Skarsgard was already an award-winning actor in Europe, after starring in a Swedish comedy-drama film called "I Rymden Finns Inga Kanslor" (or "Simple Simon" in English). Skarsgard's portrayal of a young man with autism trying to help his older brother find a girlfriend won him a Guldbagge award.
Georgina Campbell (Tess)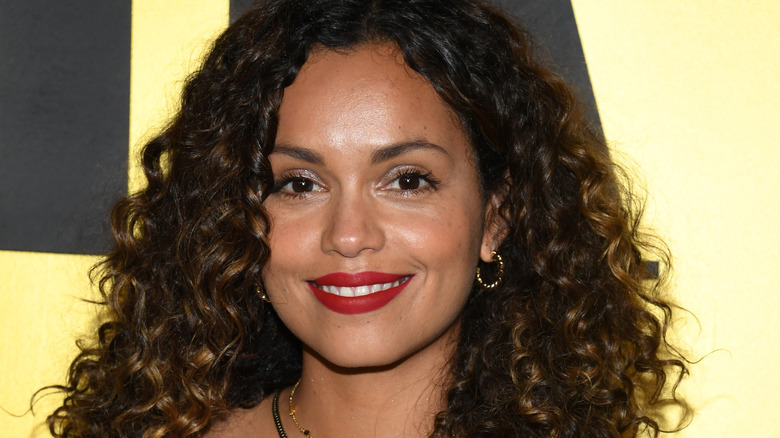 Jon Kopaloff/Getty Images
British actress Georgina Campbell has built up an impressive resume in a short amount of time. Campbell has been acting since 2009, though her breakout role came years later for BBC3's "Murdered by my Boyfriend," a powerful treatment of domestic violence. In fact, Campbell won a BAFTA TV award for best leading actress, and the film was nominated for best single drama. Fans might also recognize Campbell from Season 3 of the brilliant "Broadchurch" as DC Katie Karford.
"Barbarian" isn't Campbell's first foray into the strange and supernatural, however: Viewers have also seen her in Guy Ritchie's oddball "King Arthur: Legend of the Sword" and HBO's "His Dark Materials." Similarly, look for her in not one, but three science fiction anthology series: "Electric Dreams," "Black Mirror, "and, "The Ministry of Stories Anthology."
The Ministry of Stories is a charity co-founded by Nick Hornby (author of "High Fidelity") which works with school children and young writers in east London. In 2017, Georgina Campbell starred as Medusa in one of the short horror films, "Stone Cold Catwalk," written through the program.
Hopefully, Campbell's performance in "Barbarian" will prove that this bright young actress is ready for even more leading roles.
Justin Long (AJ)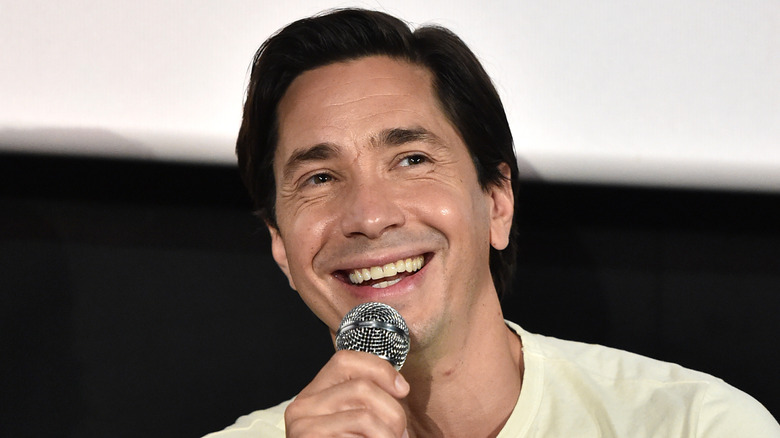 Alberto E. Rodriguez/Getty Images
Any movie-lover should instantly recognize this actor, with his boy-next-door good looks and wry humor. However, Justin Long has stepped away from his usual comedy and romantic comedy fare for "Barbarian," starring as AJ, a character described by IndieWire as, "the ultimate toxic white guy." Naturally, we're all here for familiar actors stepping out of their usual type to subvert expectations. Interestingly enough, Long and co-star Kate Bosworth are also in a real-life relationship and star in another horror film together, "House of Darkness."
But before he was portraying male toxicity, Long has been making audiences laugh in theaters since his very first role as overeager "Galaxy Quest" fan Brandon. Over the next few years, Long would go on to star in dozens of popular comedy films, such as "Dodgeball," "Accepted," "Herbie Fully Loaded," and even had a featured role in a 2015 episode of "Portlandia." And of course, audiophiles might also recognize his voice as Alvin from all four of the "Alvin and the Chipmunks" films.
Yet fans who've been following Long's career for a while should remember that one of his first films was also a horror film: 2001's "Jeeper Creepers." Justin Long played Darry, a young man terrorized by a mysterious killer while on a road trip with his sister. Since then, Long has appeared in a few other horror and thriller films, notably 2014's "Tusk."
Matthew Patrick Davis (The Mother)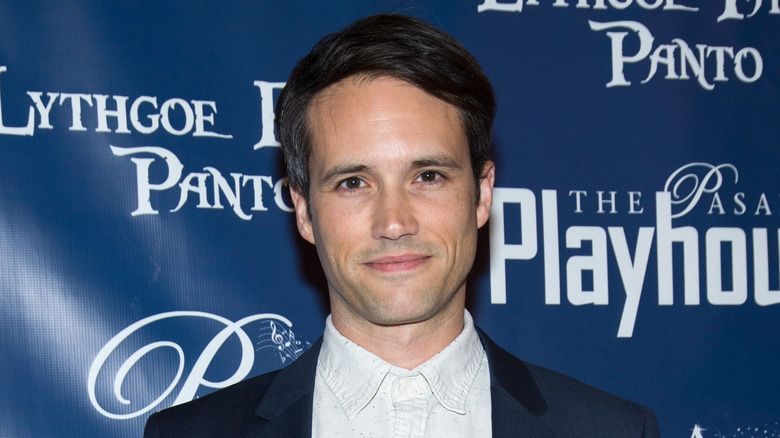 Tara Ziemba/Getty Images
Comedy fans should recognize this "Barbarian" actor, and not just because he's 6-foot 8-inches tall and has excellent hair. Matthew Patrick Davis may play the mysteriously named Mother in "Barbarian," but he's most famous for comedic roles and voice acting. However, according to the Hollywood Reporter, Davis has managed to portray a "truly terrifying character" in his feature film debut.
While Davis has appeared on "Veronica Mars" and "Community" in small supporting roles, eagle-eyed fans probably know him from "The Sarah Silverman Program," where he stood out for his impression of Jim Carrey as Ace Ventura. In fact, Davis was so skilled at impersonating Jim Carrey that it was almost career-defining. In an interview with the Washington Post, Davis recounted the consequences of playing Ace Ventura a little too well: "They all thought that was all I did, that I was a full-time Jim Carrey impersonator." The talented musician has also done voice acting for "American Dad!" and played Uncle Arnof in the family comedy "Dwight in Shining Armor."
Richard Brake (Frank)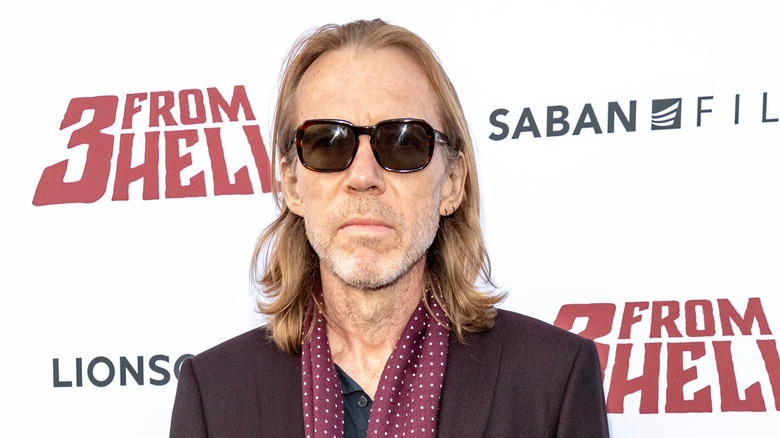 Eugene Powers/Shutterstock
Richard Brake specializes in the genre best known as "dark and moody." Most of Brake's appearances have been in horror and thriller films, as well as unsettling science fiction. This distinctive actor has been a part of some of the biggest hits in past years, including "Game of Thrones."
That's right, Richard Brake was the Night King, the ultimate evil in the "Game of Thrones" series. He only played the Night King for Seasons 4 and 5, though — from Season 6 onwards, the character was played by stuntman and actor Vladimir Furdik after Richard Brake left "Game of Thrones" due to scheduling conflicts with his new TV series, "The Bastard Executioner."
However, that's not his only bad guy moment in popular television. He also played Valin Hess, a general from the Imperial Remnant in "The Mandalorian," in a brief but powerful scene. In "Barbarian," Brake plays the owner of the innocuously evil Airbnb, and it's a fair guess that he might also turn out to be on the villain's list; let's be real, he makes an excellent bad guy.
Kurt Braunohler (Doug)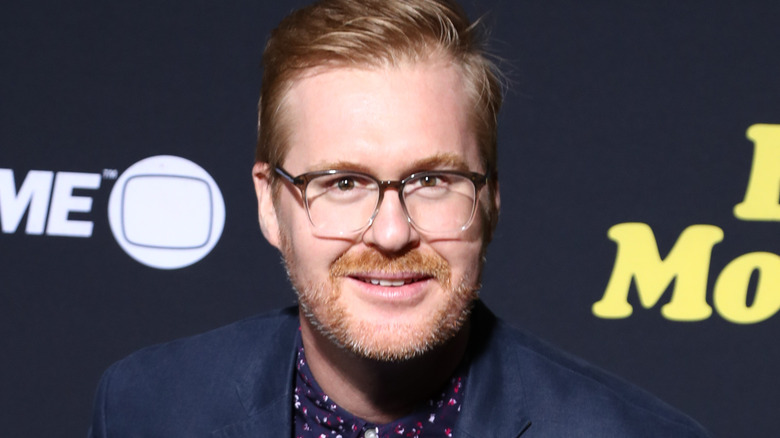 Rich Fury/Getty Images
Perhaps because of the director's own links to comedy, many of the actors in "Barbarian" are comedians, and Kurt Braunohler is no exception. He had his own comedy special on Comedy Central in 2017, but viewers will most likely recognize him as Chris in Michael Showalter's award-winning "The Big Sick." His comedy roles are extensive, also including appearances in "Just Roll with It," "Mr. Mayor," and "American Housewife."
This talented comedian is also a writer and voice actor, and fans of animation can hear Braunohler in the brilliantly funny "Bob's Burgers." We imagine that Braunohler was involved in "Bob's Burgers," not only because he's a funny guy, but due to his long-standing friendship and partnership with Kristen Schaal. Together, Braunohler and Schaal have co-hosted a live variety show called "Hot Tub" for nearly 17 years, a show that's been heralded in Los Angeles as one of the best. But he's no one-trick pony: He also had a recurring dramatic role on "Black Monday."
Jaymes Butler (Andre)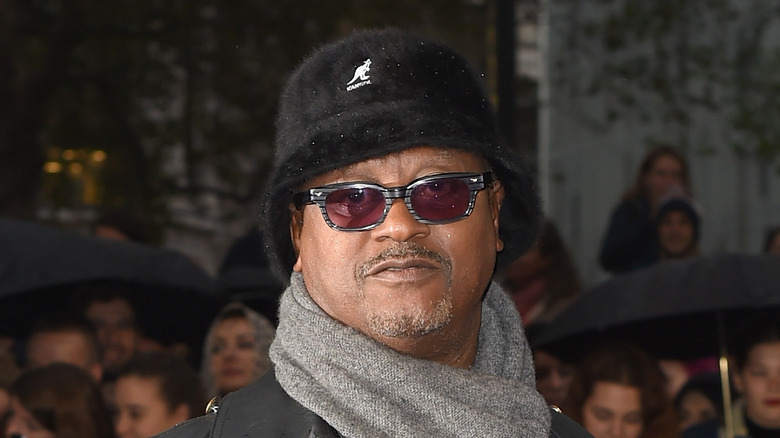 Ben A. Pruchnie/Getty Images
There are many ways to make a career in Hollywood, and a movie production requires a huge group of people all working together. Stuntmen and women represent some of the most overlooked but utterly essential figures on the Hollywood set. Most people don't jump off a building during their 9-5, but Jaymes Butler used to be one of them. Butler worked as a stuntman for a German film company, which is why a look through his credits might include a few unfamiliar German titles.
But this American actor eventually made it back home and has since taken on smaller roles in "iCarly" and "The Adventures of Huck Finn." As Butler built up a more substantial career as an actor, he began appearing in even bigger films. He had an uncredited role in "Kingsman: The Secret Service," and was featured as the memorable drill sergeant from "Snowden." And naturally, no acting career would be complete without at least one episode on "NCIS."
Kate Bosworth (Melisa)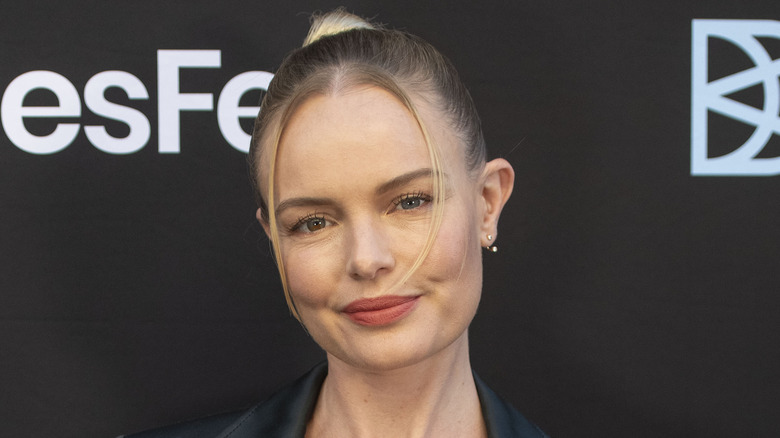 Tom Cooper/Getty Images
To say that Kate Bosworth has a recognizable face would be an understatement; The actress has been starring in films since the late '90s, when she played Anne Marie in the surf film "Blue Crush." The film had mixed reviews, but Bosworth's acting was praised, which is impressive considering that she'd only started acting a few years before.
Kate Bosworth's dream was originally to be an equestrian and by the time she was 14, she was already a champion horse rider. This skill is what led to her career as an actress, as "The Horse Whisperer" had an open casting call looking for accomplished riders; Bosworth won the role and within just a few years was acting in more high-profile films, including "Remember the Titans." Naturally, Bosworth tried her hand at romantic comedies, starring in the delightful "Win a Date with Tad Hamilton." Audiences will also recognize her from the 2006 film "Superman Returns."
Bosworth is no stranger to spookier fare, as she's starred in several psychological thrillers and horror films, including "Before I Wake," "Straw Dogs," and "The Girl in the Park" alongside Sigourney Weaver.
Zach Cregger (Everett)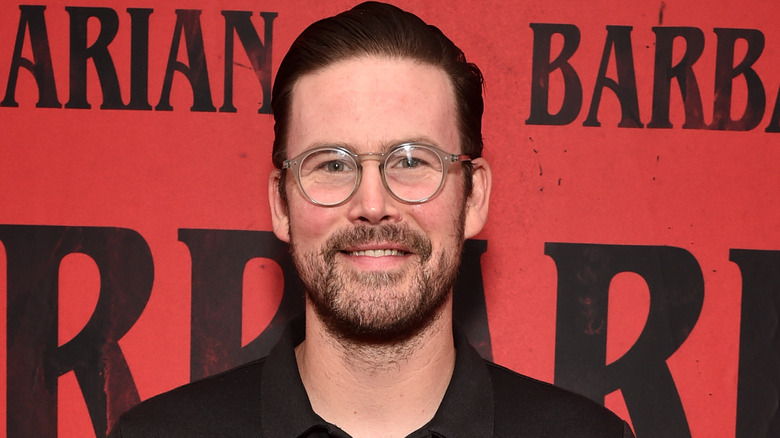 Alberto E. Rodriguez/Getty Images
"Barbarian" was written and directed by Zach Cregger, and as the driving force behind the film, Cregger also gave himself a small role. Director cameos are nothing new, and Cregger's role as Everett is fairly small. Hopefully, audiences will recognize Cregger when he arrives on screen, as he's had several guest roles on TV series over the years.
Earlier in his career, he played Aaron on "Friends with Benefits," and starred as Nick on "Guys with Kids." However, Cregger's biggest acting credit so far has been as Owen on the TBS comedy, "Wrecked." An obvious parody of "Lost," "Wrecked" follows an inept group of survivors on a deserted island, but low ratings and mixed reviews saw the series canceled after only two seasons.
"Barbarian" marks a huge shift for Cregger, since he actually got his start founding the sketch comedy troupe, "The Whitest Kids U Know" with friends Trevor Moore and Sam Brown, though sadly Moore died in 2021. "The Whitest Kids U Know " won an award for best comedy troupe in 2006, receiving eventual distribution on IFC. In an interview with Below the Line, Cregger said that he began writing "Barbarian" without any intention of it becoming a movie, instead as more of an experiment in creativity. Well, here's one experiment that succeeded.
Brooke Dillman (AJ's Mom)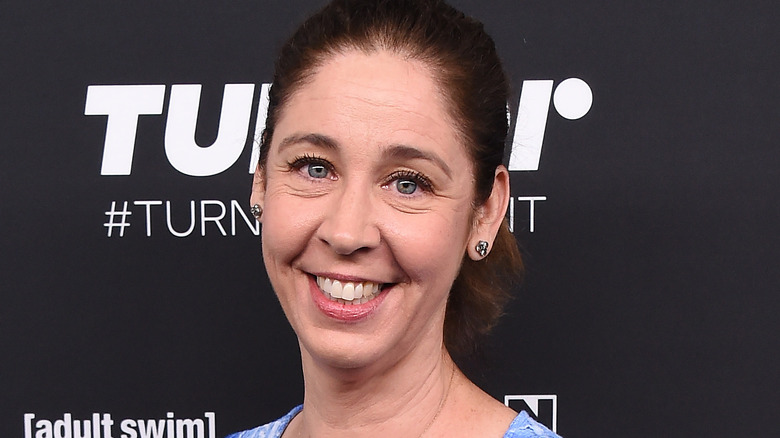 Nicholas Hunt/Getty Images
Brooke Dillman is another great comedian joining in the foray into horror. As a co-star and contemporary of many of the "Barbarian" cast members, Dillman is a natural fit as she portrays AJ's (Justin Long) mother. This isn't her first role in a scary movie: Dillman also acted in 2017's "Dismissed," a high-school horror flick about a student who seeks revenge after getting a bad grade. And while the plot might seem like a comedy-horror film (it's not), Dillman starred in one of those, too: 2017's "Take Me," with Taylor Schilling.
As a comedy star, Dillman also had guest roles in some of the laugh-out-loud comedies of the past few years: "The Office," "The Mindy Project," "2 Broke Girls," and the "Big Bang Theory." Beyond her guest roles, Dillman was also a recurring character on HBO's "Six Feet Under," and a regular cast member on "Blue Collar TV."
Audiences can also watch Dillman on "Wrecked" as the unintentionally hilarious Karen Cushman, and for those with a good ear for voice actors, she makes frequent appearances on "Bob's Burgers."
Will Greenberg (Robert)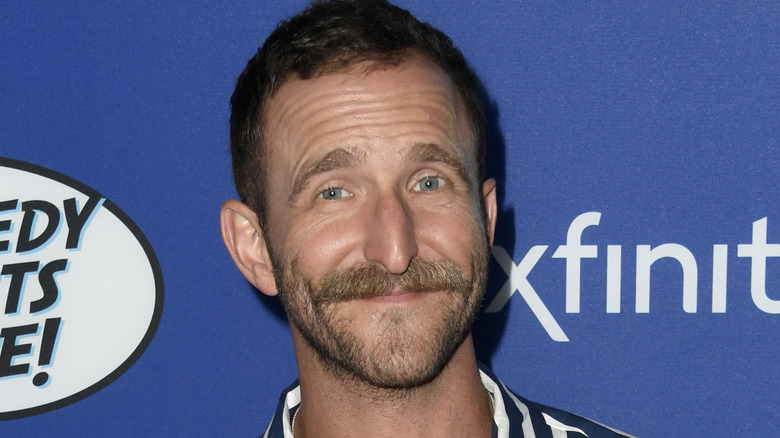 Frazer Harrison/Getty Images
Will Greenberg should have a recognizable face to any comedy lover, considering the fact that he's got over 70 acting credits to his name. Greenberg has been acting for less than 20 years, and yet he's managed to build a huge acting resume. Again, Greenberg hails from "Wrecked," the TBS comedy that launched so many "Barbarian" careers.
Recently, Will Greenberg had a role on Apple's "The Afterparty," an experimental comedy where each episode shows the same events from a different character's perspective. The genre-bending, award-winning TV show stars Tiffany Haddish, Sam Richardson, and "Community" alum Ken Jeong.
Fans who enjoy an oddball pregnancy comedy will recognize Greenberg as the unintentional live-in doula for first-time parents Deb and Silvio in the Chris Pine-produced comedy, "Doula." Of course, if that's too niche for most audiences, viewers can still watch Greenberg on shows like "Workaholics," "The Grinder," and "A.P. Bio."