The Witcher: Blood Origin Official Trailer Promises A Brutal Prequel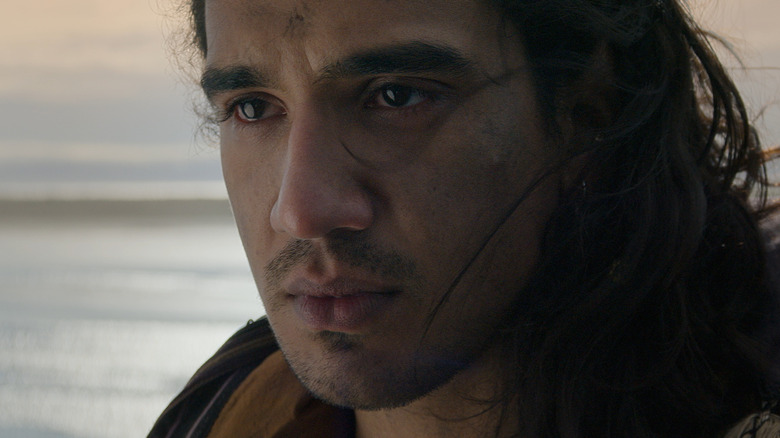 Netflix
It's been quite the dry spell between teasers of "The Witcher: Blood Origin." The first teaser for the spin-off series came at the end of "The Witcher" Season 2 finale. The new series will help fans of the Henry Cavill series get through the very long drought between "Witcher" seasons as they explore the elven world looked like before the Conjunction of the Spheres in "Blood Origin."
In that first teaser, we met sword-elf Scían (Michelle Yeoh), warrior Fjall (Laurence O'Fuarain), and warrior Éile (Sophia Brown). According to "Blood Origin" showrunner Declan de Barra, the spin-off will have viewers questioning everything they know of the "Witcher" world. "We have obviously heard in the Witcher show that humans brought civilization to the elves. They're the ones who showed them what it was like to be civilized. And in fact, what we're seeing in Blood Origin is that's exactly opposite of the truth," de Barra told Entertainment Weekly in November 2021.
The first official trailer for "The Witcher: Blood Origin" is hinting at just that, as we have more questions than answers.
The Witcher: Blood Origin stands apart from its predecessor
There's even more sword fighting and magic in "The Witcher: Blood Origin" trailer than we saw in the 2021 teaser. Michelle Yeoh's Scían is a force and shares the spotlight with Fjall and Éile. While we know this is a "Witcher" spin-off, "Blood Origin" is very much its own thing that stands apart from its predecessor. The series takes place about 1,200 years before "The Witcher," so don't expect to see anyone you love (or hate) from the OG Netflix series in the spin-off.
"Blood Origin" will have four episodes and will be a limited series, so we're not expecting a second season. For quite some time, the show was without a release date, but the new trailer finally reveals when we'll be able to watch it. All four episodes of "The Witcher: Blood Origin" will drop on Netflix on December 25.