The Surprising Real-Life Inspiration Behind Living Single's Maxine Shaw
Fox sitcom "Living Single" aired for five seasons, totalling 118 episodes, between 1993 and 1998. The series is centered around an ensemble cast of six single men and women living in Brooklyn. Both their personal and professional lives serve as fuel for the drama that drives a typical episode.
"Living Single" is arguably one of the funniest sitcoms in TV history. In fact, the series inspired another entry some might feel belongs on that list in "Friends." Kenan Thompson even referenced the importance of "Living Single" during the opening number of the 2022 Emmy awards, drawing attention to the fact that "Living Single" walked so "Friends" could run, so to speak.
Many members of the cast of "Living Single" are still active today. Most notably, series lead Queen Latifah remains a superstar for her achievements in music, movies, and TV. Some of Latifah's costars, like Kim Fields and Cress Williams, likewise maintain acting careers to this day. Erika Alexander, meanwhile, portrays the eccentric Maxine Shaw. As it turns out, Alexander revealed in an interview that she drew from some real-life sources of inspiration while playing Maxine during the five seasons of "Living Single" that aired in the '90s.
Maxine Shaw is inspired by Erika Alexander's family members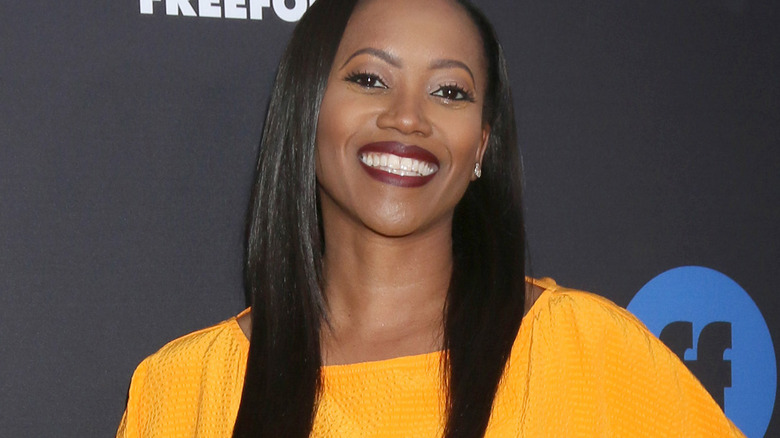 Kathy Hutchins/Shutterstock
Online interviewer Quencie Thomas spoke to Erika Alexander about her "Living Single" character Maxine Shaw during an interview about the two most well-known roles from her career. At one point in their discussion, Thomas asked Alexander for some background on the development of Maxine.
First, Alexander credited series creator Yvette Lee Bowser with the initial idea for the character. Then, she went on to explain how members of her family — specifically her sister and dad — inspired Maxine's personality. "If anybody thinks that Max was crazy, they gotta get a load of my sister Caroline, who's a social worker in Philadelphia, who I pulled from a lot. And also my father was a huge, huge — just a real funny guy," Alexander said. "I'm actually like the most boring person in my family."
While Maxine may be considerably different than Alexander in her day-to-day life, she continues to look back fondly on the character she and Bowser created. "I think the role that I played that had the most meaning might be Maxine Shaw," Alexander told The Root. She also mentioned hearing from the likes of Stacy Abrams and Bill de Blasio that her work inspired their careers.
Abrams, de Blasio, and anyone else who enjoyed watching Maxine on "Living Single," then, has Alexander's family to thank for inspiring her with their eccentricity.