The Handmaid's Tale Handled Alexis Bledel's Season 5 Absence In The Most Twisted Way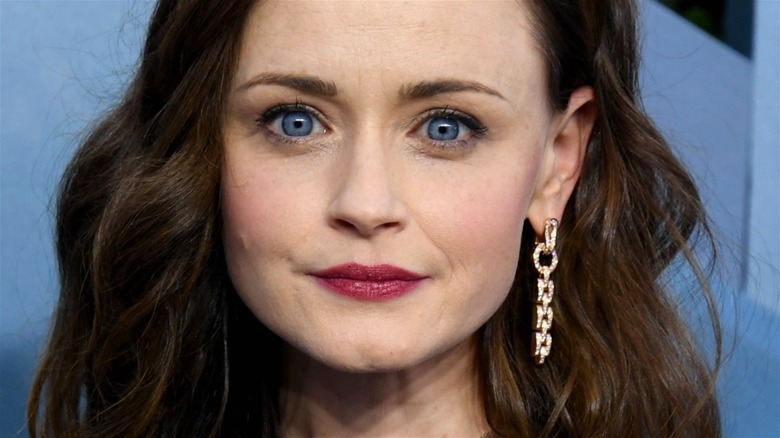 Jon Kopaloff/Getty
One of the scariest things imaginable is a heavily theocratic government that creates policies, laws, and commandments based on incredibly rigid interpretations of lesser-known religious parables. What is even worse is if that theocratic government gains power and then enforces its will on everybody else, regardless if they are members of the dominant religion.
"The Handmaid's Tale" is based on the book of the same name and deals with the nation of Gilead, which arose from the ashes of the United States after a second civil war. Fertility has become a significant issue, and most of the population is sterile, save for a few women who are essentially enslaved and used as vessels for children. Primarily following Elisabeth Moss' character of June, "The Handmaid's Tale" has now entered Season 5. Still, there is a glaring issue in the fact that one of the major characters of Emily Malek (Alexis Bledel) is missing. Having been a part of the series from the start, and being one of the first people to act as a friend to June, Bledel's absence is very noticeable, but why is she gone, and how does the show explain the missing character?
Alexis Bledel's character of Emily went to fight Gilead off-screen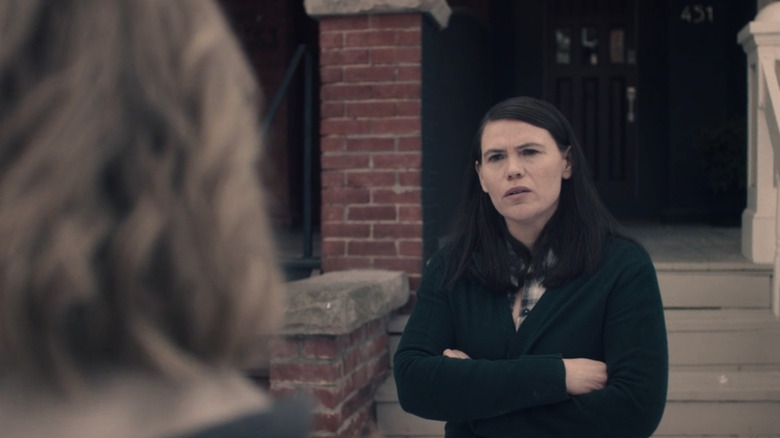 Hulu
It is important to note that Season 4 of "The Handmaid's Tale" is a culmination of several different plots and sees criminal proceedings at the International Criminal Court. This is in addition to viewers witnessing the cathartic and exceptionally brutal death of longtime series antagonist Commander Fred Waterson (Joseph Fiennes). Having finally made it to Canada at the tail end of Season 4, June, Emily, and others who have been subjected to travesties beat Commander Fred to death. The season ends with Fred's wife Serena (Yvonne Strahovski) receiving an envelope with Fred's wedding ring and detached ring finger.
Season 5 immediately picks up after the shocking turn of events from the Season 4 finale, and as June comes to terms with what had just happened, she realizes that Emily is no longer with her. In a panic, she realizes that she must find her friend, so she quickly goes to Emily's house in Canada and speaks with Emily's wife Sylvia (Clea Duvall) to find out what happened to her friend. At this point, Sylvia explains to June that Emily has returned to Gilead in order to keep up the good fight and that she had previously called to say goodbye to Sylvia but didn't want their child woken up. Sylvia then admonishes June for her actions but says that it doesn't matter and that she is happy to have spent at least a little time with Emily before her departure. When June asks Sylvia to let her know if she hears anything from Emily, Sylvia declines and goes back into her house. 
Alexis Bledel announced she was leaving The Handmaid's Tale in May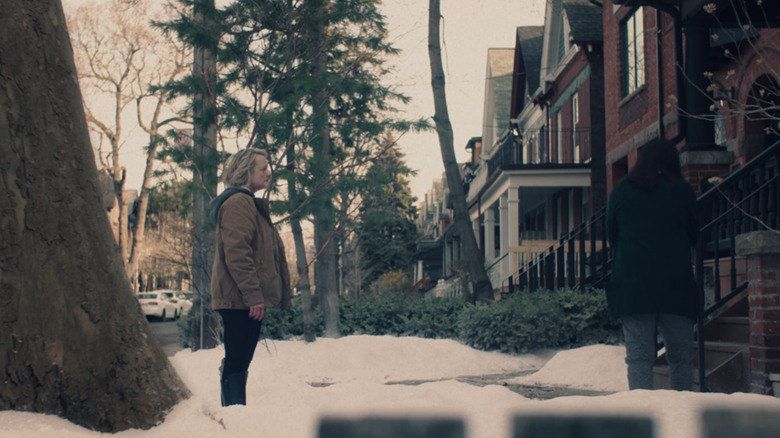 Hulu
That means that even though Alexis Bledel is no longer appearing in "The Handmaid's Tale," she isn't officially dead or killed off. This may seem a little hasty to longtime fans of the series, but Bledel had said back in May that she was leaving the show. As reported by Newsweek, Bledel released a statement that said, "After much thought, I felt I had to step away from 'The Handmaid's Tale' at this time. I am forever grateful to (show creator) Bruce Miller for writing such truthful and resonant scenes for Emily, and to Hulu, MGM, the cast and crew for their support."
Even though it sounds like Bledel wanted to leave the show, it seems as if the proverbial door is still open for her to return, should she choose to do so. If she never wanted to come back, chances are the showrunners and writers would have killed her off or at least given her a more fitting send-off, but to simply say that she went back to Gilead to fight certainly keeps Bledel's options open. Still, it is exceptionally jarring to see a longtime character essentially leave the show off-screen and in between seasons, considering the two-year lull between Season 4 and Season 5. Hopefully, that means that we will either see Bledel return to the series or, if not, receive some character closure in a later episode since there will only be one more season.