Kal Penn's Guest Role On Law & Order: SVU Certainly Turned People's Heads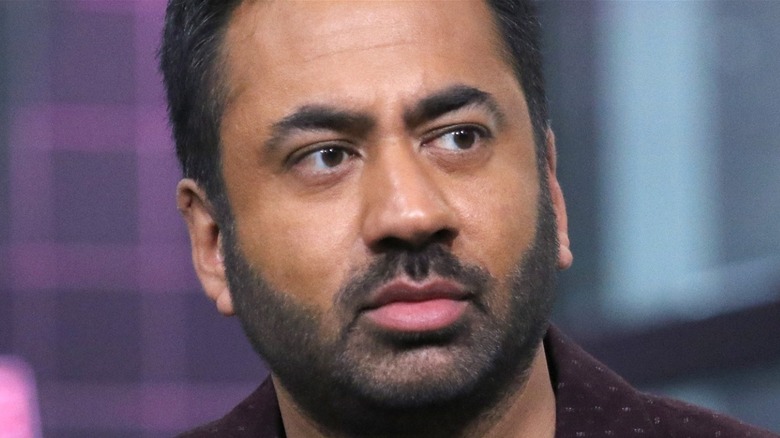 Jim Spellman/Getty
Over the years, there's been loads of big names in Hollywood who have tossed their hats into the "Law & Order: Special Victims Unit" acting ring, from Whoopi Goldberg to Adam Driver and even Robin Williams, who managed to nab an Emmy nomination for his 2008 "SVU" appearance. And what always seems to work best when these well-known stars make cameos is a complete deviation from their typical genre norms. For instance, Williams played an anti-authoritarian anarchist in his "SVU" episode, "Authority," which aired during Season 9. Oscar winner Mahershala Ali once portrayed a serial rapist during the "SVU" Season 11 premiere "Unstable." And then there's Kal Penn's appearance in the 2007 episode "Outsider," which aired during Season 8 — and is one of the most head-turning performances in franchise history.
"Kal Penn is freaking me out on SVU right now," wrote Twitter user @jenny_bleu while watching a re-run of the Penn episode in 2010, which has joined the Williams appearance as one of the more iconic cameos in "SVU" history. 
"Robin and Kal Penn were SO great," tweeted @spockerel in 2018. 
For those who haven't seen it, Penn's episode "Outsider" focused on a series of sexual assaults and murders in which the victims had all visited the same gynecology clinic. The doctor there, Dr. Rankesh Chanoor (Navid Negahban), is the father of Penn's character Henry and is suspected to be behind the attacks. But authorities eventually learn that there's much more to the story — and Chanoor's clinic — than meets the eye. And that's where Penn comes in...
Penn's SVU character was a serial rapist and murderer who works as a janitor at his dad's clinics
Hiding behind his father's practice, Kal Penn's Henry Chanoor was a closet nutjob who relished in becoming famous for his despicable acts, which included sexual assault and murder. The part came along at a time in Penn's career when he was trying to establish himself as one of Hollywood's rising funnymen, with iconic roles in "National Lampoon's Van Wilder" and the 2004 cult classic "Harold & Kumar Go to White Castle." Many people were blown away by the character choice.
"Sometimes Law & Order SVU has brain-breaking cameos. Currently airing: Kal Penn, serial rapist," wrote Twitter user @syalmans. "Kal Penn has some impressive acting skills in SVU," said @BTQBCT.
For Penn, 2007 seemed to be a year devoted to stepping outside his acting box — with him also appearing in a sinister role for Fox's "24" as the sleeper cell terrorist Ahmed Amar in Season 6. He eventually chose to alter his career path altogether by leaving acting in 2009 and working as a staffer in the Obama administration (via NPR). Penn later called the experience "awe-inspiring," telling ABC News: "I think everyone has an understanding of the impact you can have, and the fact that ... that feeling is indescribable."