Ranking Every Kevin Smith Movie Worst To First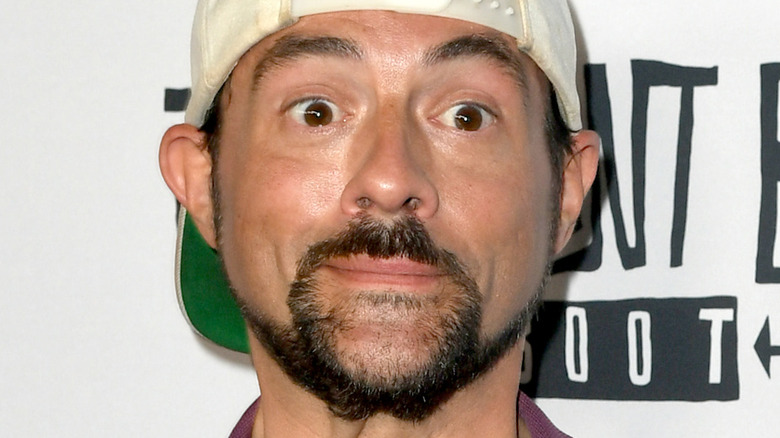 Kevin Winter/Getty Images
Kevin Smith is a true anomaly in the world of pop culture, loved and despised by many in equal measure. Some view him as a major inspiration for thousands of amateur movie makers while others view him as a corny corporate shill. Whatever your opinions of the man are, one cannot deny the widespread variety and impact of his filmography. From low-budget comedies to religious satire to walrus-centric body horror, the man has done it all.
The films we'll be ranking are all films that Smith has directed during his decades-long career. Excluded are films that he only wrote the script for, like "Jay and Silent Bob's Super Groovy Cartoon Movie," and "Clerks III," which is too fresh to get properly ranked yet. Additionally, his recent horror film "Killroy was Here," doesn't make the cut for being released as an NFT — making it hard to actually watch. So presented here is every Kevin Smith movie ranked from worst to best, Snooch to the Nooch!
13. Yoga Hosers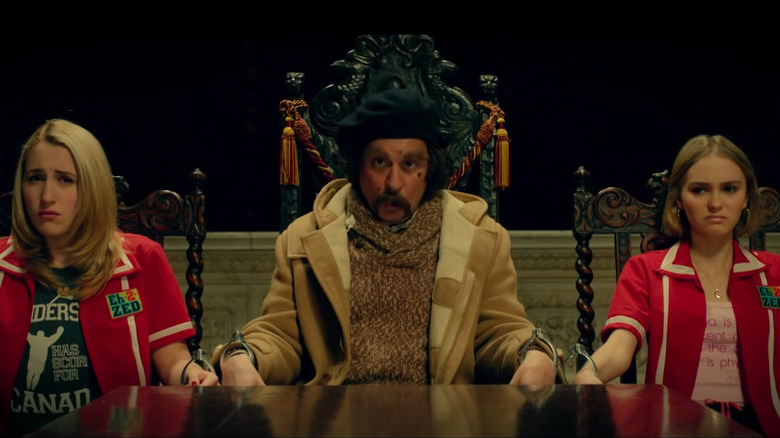 Invincible Pictures
If one were to look up nepotism in the dictionary, one would likely find an image or two from "Yoga Hosers." The film is centered around Colleen Collette and Colleen McKenzie, played by Lily-Rose Depp and Harley Quinn Smith, two convenience store clerks and yoga enthusiasts. The teen duo are approached by eccentric detective Guy LaPointe, played by Johnny Depp, regarding a string of comical murders. The cause of these murders is soon revealed to be Bratzis, half-foot-tall sausage-Nazi hybrids (yes, you read that correctly). Now it's up to the Colleens and LaPointe to stop the Bratzis from taking over their native land of Canada.
The protagonists all started life in Smith's second theatrical horror film, "Tusk," originally only as bit parts — not ever meant to sustain their own film. However, Smith loved the idea of a film centered around the Colleens, especially since his daughter Harley and Depp's daughter Lily-Rose are real-life friends (via Nylon). The biggest sin of "Yoga Hosers" is just how unrelentingly unfunny it is, leaning way too heavily on the humor of the Canadian accent. If you've ever listened to a later-era "Smodcast" episode, you'll be aware of Smith's love and appreciation for Canada. While the humor resulting from that love is funny in small doses, an 88-minute movie is far from the venue for it.
12. Cop Out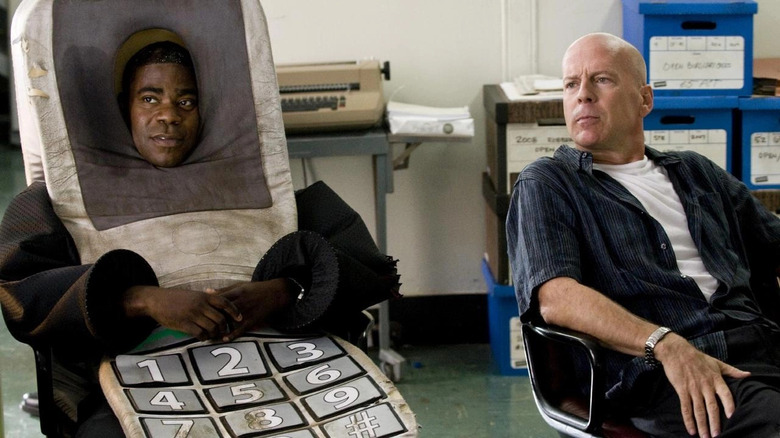 Warner Bros. Pictures
Buddy comedy films are a genre that's fairly played out, with every conceivable oddball pairing having been done at least once. That's ultimately the biggest failing of "Cop Out," which despite a few decent chuckles doesn't include much to write home about. The film follows two cops named James "Jimmy" Monroe and Paul Hodges, played by Bruce Willis and Tracy Morgan. Monroe, now suspended alongside Hodges for an arrest gone wrong, looks to pawn a rare baseball card to pay for his daughter's wedding. However, the card is stolen, which sets the duo off on an adventure rife with all the standard buddy cop trappings.
The film is your standard buddy cop fare, bolstered ever so slightly by Willis and Morgan's decent comedic chemistry. Smith has gone on record saying that he signed onto the film due to his appreciation for the script's dialogue (via Vulture). The most interesting takeaway from the film stemmed more from its tumultuous behind-the-scenes drama between Smith and Willis. The two did not mesh well together, making the production an immensely frustrating one for both parties. Not Smith's worst film, but definitely far from a prime example of Smith's actual talents behind the camera.
11. Jersey Girl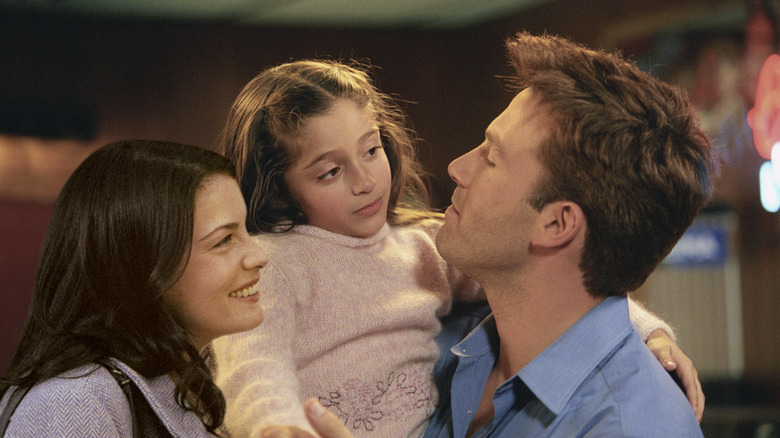 Miramax Films
"Jersey Girl" represents a definite turning point for Smith's film career, as it was a departure from his comfort zone. It was the first film he had made in years that had no connections to his established View Askewniverse — the Kevin Smith cinematic universe. 
The film follows media publicist Ollie Trinke (Ben Affleck) who, after a blowup at Will Smith, is blacklisted from the industry. This, in conjunction with the passing of his wife, leaves Ollie as a struggling single father living in New Jersey. Now Ollie must figure out what's more important, his daughter Gertie or getting his career back on track. Simply put, it's every "cynical jerk raising a little kid" movie that you've seen with some decent Smith-style subversions. This includes the school play Ollie rushes to get to at the end of the film being "Sweeney Todd: The Demon Barber of Fleet Street."
Some fun situations and above-average acting aside, the film is fairly forgettable, which is really its biggest failing. "Jersey Girl" is far from abysmal, but definitely a sizable step down from Smith's previous work in the Askewniverse.
10. Tusk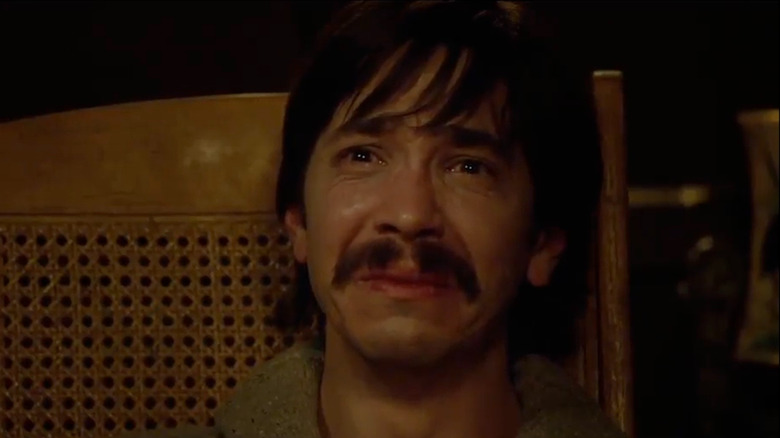 A24
While doing "Smodcast" in the early 2010s, Smith and his co-host Scott Mosier began to craft a strange narrative inspired by a bizarre online rental listing. This listing concerned a retired architect seeking a lodger to dress as a walrus for two hours each day. This seed of an idea resulted in an unfiltered pitch for a cuddly version of "The Human Centipede" that definitely stuck with Smith. He ran with it and in 2014, via A24 films, Smith unleashed "Tusk" on the general public.
The film follows Wallace Brighton (Justin Long), a shock jock podcaster traveling to Canada to interview a viral star. After learning of his subject's untimely demise, Wallace laments having flown out for nothing until he finds a listing from one Howard Howe (Michael Parks). Enticed by Howe's offers of "stories to tell," he heads to his sizable estate for a sitdown conversation with the former sailor. However, one drugged cup of tea later, Wallace wakes up a leg short and completely at the mercy of a deranged Howard who soon reveals his plan: physically modifying Wallace to properly fit into a realistic walrus suit so he can live out his twisted oceanic fantasies.
The film is an absolute total mishmash, equal parts body horror crossed with Smith's standard cheeky dialogue. "Tusk" is certainly not for everyone, but for those with ample fortitude, it might be worth taking the plunge and going full walrus.
9. Red State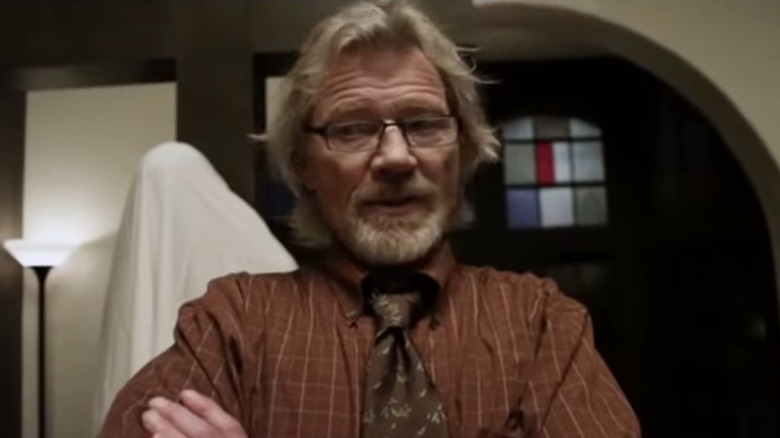 SModcast Pictures/Lionsgate
When it was announced that Kevin Smith would take his first foray into the horror genre, it definitely raised some eyebrows. As explained by Smith in a live Q&A in (fittingly) Texas, the 2011 film was inspired by footage he'd been given by his friend and colleague Matthew Ingram. Ingram, director of "Small Town Gay Bar," gave Smith some unedited footage of an interview with the pastor of the Westboro Baptist Church, Fred Phelps. This haunting footage of Phelps's unflinching dedication to anti-LGBTQ+ rhetoric inspired Smith to write "Red State."
The film finds a group of promiscuous young men kidnapped by a cadre of insane churchgoers led by Pastor Abin Cooper (Michael Parks). This situation grows to such a level of insanity that it warrants a visit from the ATF, led by Special Agent Joe Keenan (John Goodman). While tonally and structurally uneven, the film boasts some tremendous acting, especially from Parks and Goodman, who are both in top form. Smith's intended message regarding faith, doubt and the state of modern-day religious extremism, while a bit muddled, does shine through. While not initially beloved by critics, the film has been gradually reappreciated and has spurred discussion years after its original release.
8. Jay and Silent Bob Reboot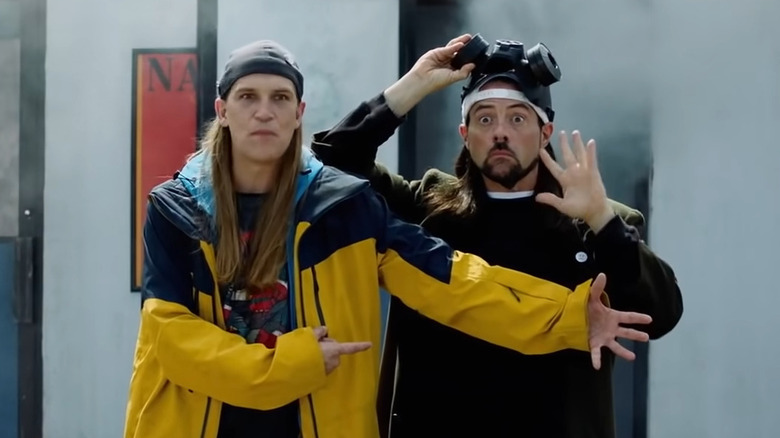 Saban Films
It's always nice to see old friends again, even if they've lost a fair amount of their luster. "Jay and Silent Bob Reboot" is a direct sequel to "Jay and Silent Bob Strike Back," with the recurring stoner duo of the View Askewniverse firmly in their middle age. 
After an unfortunate legal kerfuffle, Jay (Jason Mewes) and Bob (Kevin Smith) are humorously swindled out of the rights to their own names by Saban Films. This is due to a "Bluntman and Chronic" reboot being close to completion, with one scene left to film at a sizable comic book convention. Adding to the madness is Jay's reunion with his ex, Justice (Shannon Elizabeth), and their daughter, Milly (Harley Quinn Smith). With Milly and her friends in tow, the stoner duo set off on another cameo-studded, madcap adventure. Many of the film's gags revolve around the current IP-fixated nature of Hollywood and the cynical notion of reboots.
This film's success for many will depend on how much they enjoy the antics of Jay and Silent Bob. Their shtick, heavily entrenched in the '90s, might be a bit too played out for some, while others might feel differently. Much like its predecessor, the film makes for a cute enough romp with some serviceably heartwarming and nostalgic moments.
7. Jay and Silent Bob Strike Back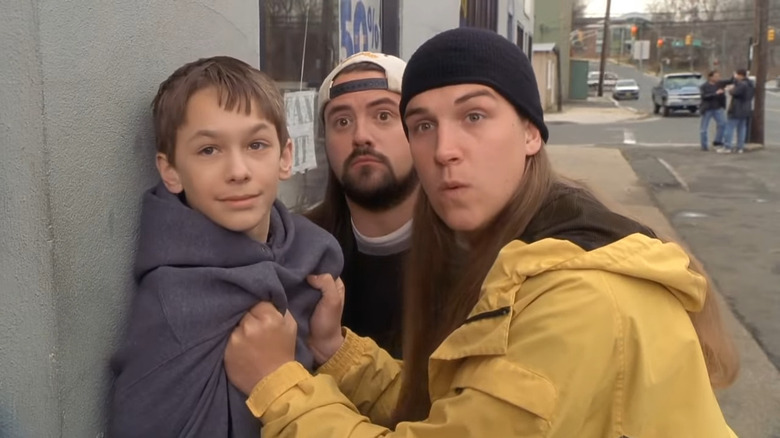 Miramax Films
"Jay and Silent Bob Strike Back" is an unapologetic stoner comedy, lifting many pages from the playbook of Cheech and Chong, as well as Bob and Doug McKenzie. To say this film is stupid would be an understatement, but it honestly feels like the film was made that way by design. After being barred from the Quick Stop convenience store — physical and spiritual center of the View Askewniverse — the duo discover that the comic book based on their likenesses, "Bluntman and Chronic," has been optioned for a Hollywood movie. Now with nothing but their (lack of) wits and a few bags of dope, the duo set out to stop the movie's production.
The film is honestly an excuse to put Jay and Bob in as many madcap and ridiculous situations as possible. Additionally, it serves as a vehicle for as many celebrity and View Askew cameos as possible, which only adds to the charm. From Dante to Brody to Holden to Alyssa, just about every character from Smith's previous films gets a small appearance. Far from the most complicated outing, the film works best as a bright, colorful bookend to Smith's formative creations.
6. Clerks II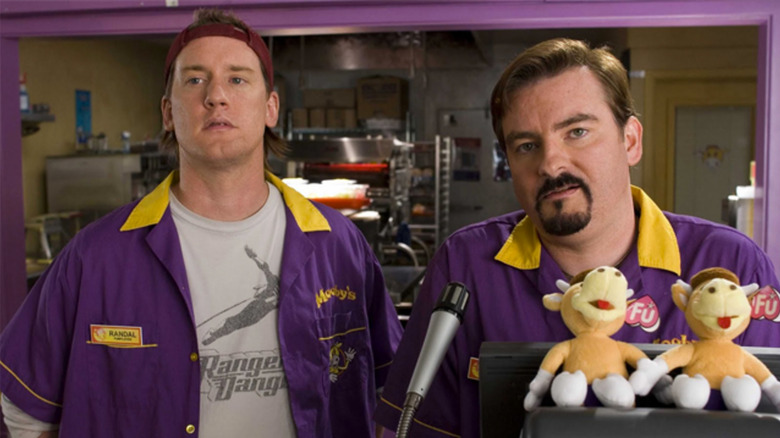 Metro-Goldwyn-Mayer
Following the box office disappointment of "Jersey Girl," Kevin Smith opted to go back to the Quick Stop for another round. "Clerks II" once again follows Dante (Brian O'Halloran) and Randal (Jeff Anderson), 10 years after the first film and still stuck working at the Quick Stop. This is until the place burns down due to Randal leaving the coffee pot on, leaving the boys jobless. They pick up jobs at the recurring View Askewniverse location of Mooby's, alongside the wimpy Elias (Trevor Fehrman) and under the management of Becky (Rosario Dawson). With Jay and Silent Bob fresh out of rehab, the status quo appears to be the same as ever for our favorite clerks.
"Clerks II" sadly doesn't hit the high mark of the first film but still makes for a satisfying and funny viewing. Gone is the low-budget charm of the first film and in its place are more vulgar comedy set pieces — the funniest revolving around a donkey. Additionally, the film is held aloft by its legitimately charming performances, with both O'Halloran and Anderson still sharing impeccable chemistry. Additionally, the characters of Elias and Becky both provide some unique personalities for Dante and Randal to bounce off. "Clerks II" is still a fairly cynical sequel made years after the fact, but possesses enough appeal and humor to justify its existence.
5. Zack and Miri Make a Porno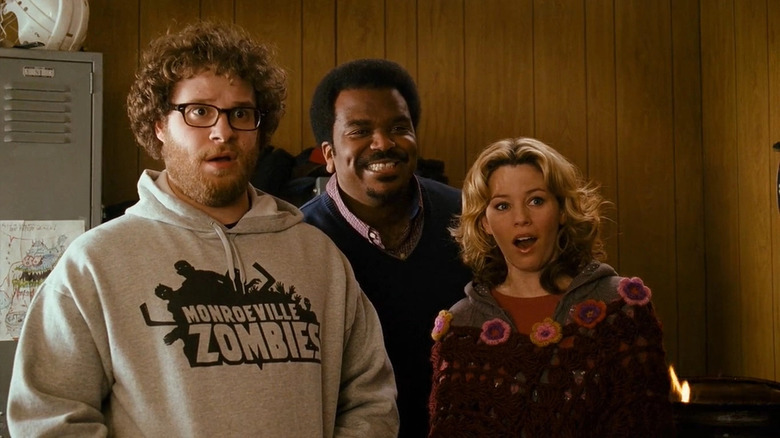 The Weinstein Company
This is yet another example of Kevin Smith leaving the confines of the View Askewniverse, but this time for a more successful outing. Set in Pittsburgh, the film follows longtime friends and roommates Zack (Seth Rogen) and Miri (Elizabeth Banks), who are both stuck in dead-end jobs with bills piling up by the minute. While attending their high school reunion, Miri learns that a clip of her in "granny panties" has gone viral, much to her embarrassment. Zack notes that they should profit off her newfound viral stardom and cash in by making an adult film. With a ragtag team and some crude costumes, the duo set off to pay their bills while discovering their true feelings for each other along the way.
The film is definitely a late-2000s product, almost in the same vein of many Judd Apatow comedies but with a Kevin Smith twist. While far from the most original rom-com, the film does benefit from its humorous dialogue and talented cast. Rogan and Banks share some genuine romantic chemistry with each other, which does help to bolster the film's paint-by-numbers plot.
4. Mallrats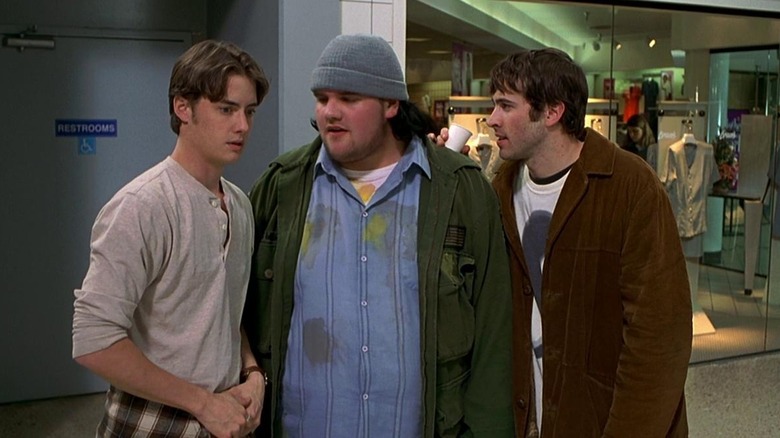 Gramercy Pictures
"Mallrats" follows Brodie Bruce (Jason Lee) and T.S. Quint (Jeremy London), two hapless 20-somethings with respective girl troubles. Looking to escape their problems, the duo venture to the Eden Prairie Center — a local mall — for comic books and cheap food. However, both of them are presented with opportunities to resolve their issues with their respective girlfriends and proceed to do so in public fashion. The laughs are a mile a minute in this one, with ample snark from Jason Lee and a welcome return from Jay and Silent Bob. From an Easter bunny beatdown to a pre-MCU Stan Lee cameo, the film is stuffed with memorable gags and moments.
It's hard to imagine a time when "Mallrats" wasn't looked at fondly, but following its 1995 release, Smith's sophomore effort wasn't received favorably. After "Clerks," there were a lot of eyes on Smith, who was viewed as one of Hollywood's top filmmaking prospects. Sadly, Smith's bigger budget sophomore effort did not test well with critics at the time, with many referring to it as a poor follow-up to "Clerks." Despite this, the film has still retained a solid fan base alongside most of Kevin Smith's filmography — and rightly so.
3. Dogma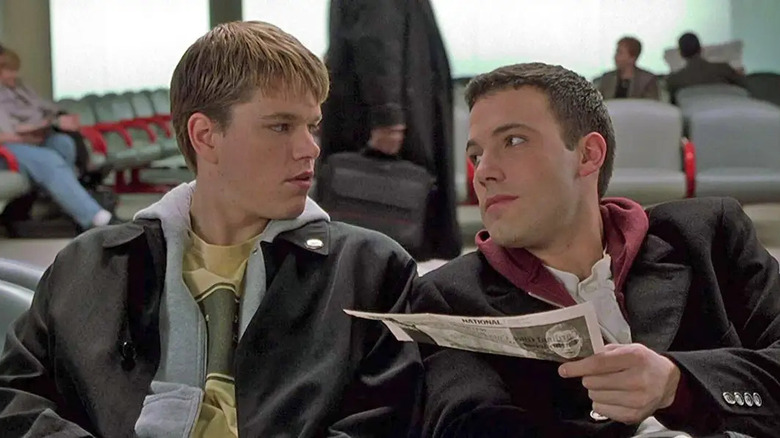 Lionsgate Films
Kevin Smith and religion have always had a complicated relationship, something made quite evident by his films. His earliest example of skewing religion through his writing was "Dogma," released in 1999. Per an essay released with the special edition DVD of "Dogma," Smith revealed that the idea had been percolating since before "Clerks." Following the runaway success of "Chasing Amy," Smith finally felt like he had reached the point that he could make "Dogma" properly.
The film follows Bethany Sloane (Linda Fiorentino), an abortion clinic counselor who finds herself thrust into a conflict spanning both heaven and hell. Two fallen angels, Bartleby (Ben Affleck) and Loki (Matt Damon), look to re-enter heaven, which would inadvertently nullify all of existence in the process. Aiding Bethany along the way are Jay and Silent Bob, who enter the film in grand fashion by battering some demonic hockey punks. The film is loaded with some stellar talent, including Chris Rock, Salma Hayek, George Carlin, and Alan Rickman. It also contains one of the most bizarre onscreen portrayals of God, played here by pop singer Alanis Morissette. From start to finish, "Dogma" is Smith firing on all cylinders, and stands as a perfect blend of his standard snark with some legitimately compelling storytelling.
2. Chasing Amy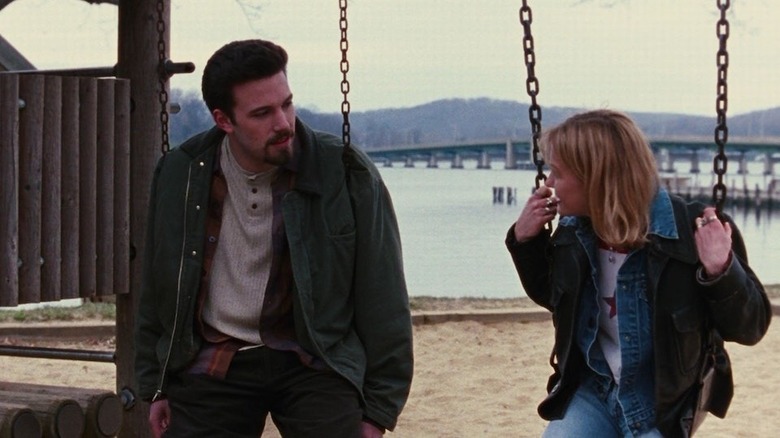 Miramax Films
"Chasing Amy" is the film that convinced a number of critics that Kevin Smith was more than just a guy making marijuana jokes and "Star Wars" references. The film follows comic book artist Holden McNeil (Ben Affleck) who, along with his buddy Banky Edwards (Jason Lee), has created the successful "Bluntman and Chronic" comic book. While at a local comic convention, the duo meet a fellow creative, the sassy Alyssa Jones (Joey Lauren Adams), who Holden becomes instantly smitten with. Alyssa being a lesbian complicates things, especially when she starts sharing the same feelings for Holden.
The film stands as an outlier even among Smith's early films, as it definitely leans into drama more so than stoner comedy. This means that Jay and Silent Bob, usually central characters, are relegated to a small but integral cameo. It's during this cameo where Bob, speaking for once, regales Holden with a story about his own relationship troubles with a girl named Amy. Now Holden must come to terms with his own insecurities and decide if he's truly "chasing Amy, so to speak." The film was a sizable hit at the box office and with critics, who all praised it as a step up for Smith.
1. Clerks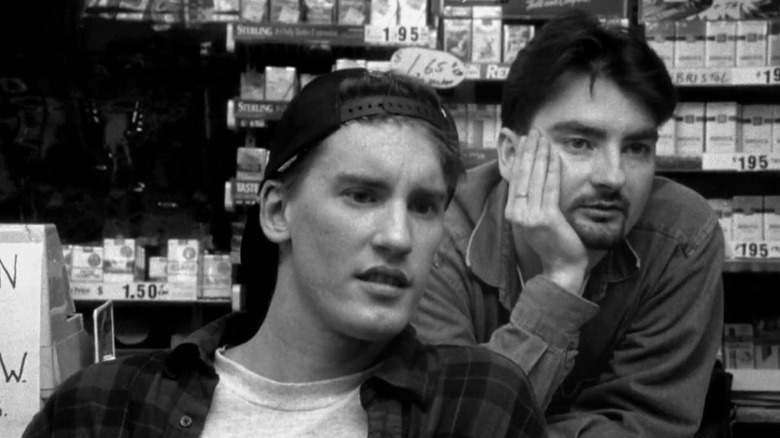 Miramax Films
Kevin Smith, like many people in their 20s, was an aimless college dropout just looking for his big break. After seeing Richard Linklater's "Slacker," Smith was inspired to chase filmmaking as his new passion. After a brief stint in film school, the future Silent Bob opted to spend what little money he had on his own feature film. One sold comic book collection and a check for storm-related property damage later, Smith had accrued a micro-budget of $27,575 (via Vice).
The film follows two clerks, Dante Hicks and Randal Graves, just passing the time at their nine-to-five jobs with discussions of sex and "Star Wars." We see an average day in the life of both men that sees them participate in rooftop hockey and attend the funeral of a former classmate. This is all compounded by Dante's strained relationship with his girlfriend Veronica (Marilyn Ghigliotti), made more complicated by the impending marriage of his ex, Caitlin (Lisa Spoonauer). Add Jay and Silent Bob in their big screen debut and you have the makings of a '90s indie classic. "Clerks" still stands as an inspiring example of how all you need to make a movie are a script, a camera and some above-average ambition.