Winona Ryder Shares A Key Insight Into What Makes Working With Keanu Reeves So Special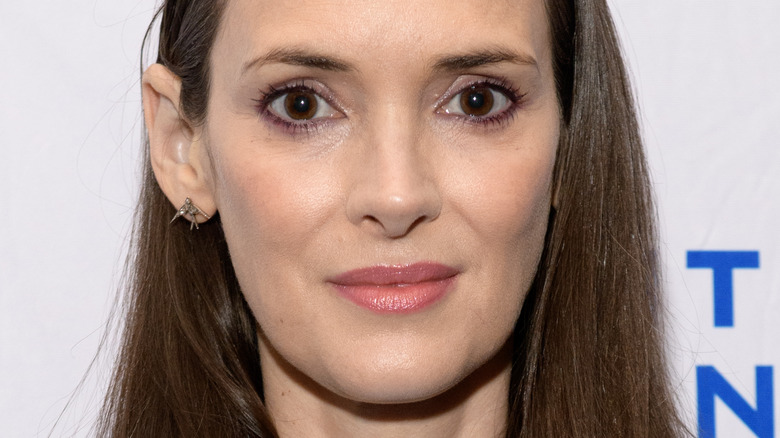 Noam Galai/Getty Images
Winona Ryder has had a pretty impressive run over the course of her career. The actor first rose to prominence in Tim Burton's 1988 horror comedy "Beetlejuice" and the dark coming-of-age comedy "Heathers." This fact is somewhat ironic when you consider that most viewers from more modern times will probably recognize Ryder from "Stranger Things," a retro throwback that also takes place in the 1980s.
Keanu Reeves also got his start in the '80s as well, coming off the back of his iconic role as time-traveling himbo Ted Logan in "Bill and Ted's Excellent Adventure." Funny enough, the actor reprised his role from the beloved "Bill and Ted" comedy series in the 2020 sequel, "Bill and Ted Face the Music." Of course, Reeves has also played iconic roles in films like "The Matrix" and "John Wick" over the years.
Being that the two performers were coming into their own in much the same timeline and era of filmmaking, naturally, they've gotten to know one another over the years. But how do they feel about working together?
The two actors are very protective of each other
Winona Ryder and Keanu Reeves sat down with Today to talk about their careers in show business and their romantic comedy, "Destination Wedding." "I feel very protective of you, but I feel [...] I could try anything, and he has my back," Ryder said while trying to explain their close personal connection and their professional relationship.
"That's rare, and it's also a beautiful thing," the actor concluded. Hilariously, Reeves began making faux threatening gestures to the cast and crew when Ryder suggested he was protective over her. Unfortunately, "Destination Wedding" underperformed at the box office, earning less than half of its budget back in ticket sales (via Box Office Mojo).
Ryder and Reeves first worked together on Francis Ford Coppola's gothic horror film "Bram Stoker's Dracula" but have since gone on to share the screen in Richard Linklater's science fiction thriller "A Scanner Darkly" as well as "Destination Wedding" and "The Private Lives of Pippa Lee."
At the moment, both Reeves and Ryder have reached a career resurgence for the ages based on the major popularity of the franchises they happen to be working on. With "Stranger Things" coming up in second place only to Netflix's international hit "Squid Game" (via Variety) and "John Wick" bringing in massive box office numbers with each subsequent entry (via Box Office Mojo), the two stars are bigger than ever.
Ryder and Reeves first met on the red carpet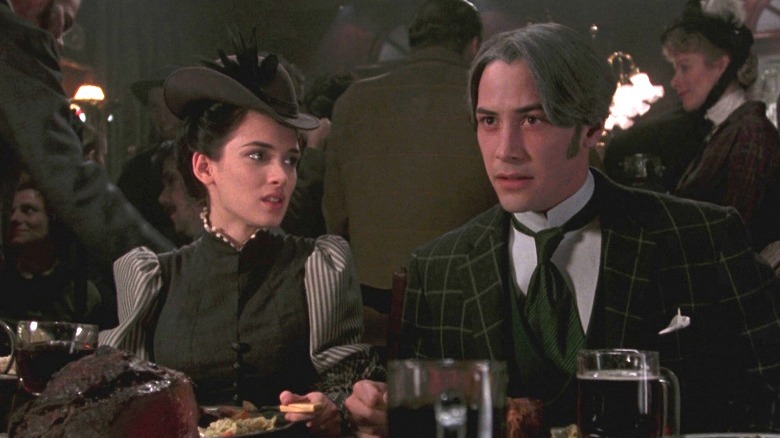 Columbia Pictures
Winona Ryder also went on to tell Today how she and Keanu Reeves first met. She recalled wanting to audition for "River's Edge," which starred Reeves, but her parents wouldn't allow her to try out for the part based on the risque nature of some of the film's more steamy scenes.
"There was a scene that was sexy-sexy. Sexy-sexy-sexy," Ryder intimated. "We met at the Independent Spirit Awards," she went on to explain, later revealing that Reeves would have been her dream award to present at the show. Being that Ryder was a woman in the '80s, of course, that checks out, as the interviewer quickly noted.
It's definitely cute how close the two stars are after knowing one another for so many years, as they often cut in, interrupt, or try and finish each other's sentences with virtually zero tension. Could we be seeing Ryder and Reeves sharing the screen again soon? All we can do is cross our fingers and hope.