The Big Reason Ralph Macchio Is So Proud Of The Fight Scenes In Cobra Kai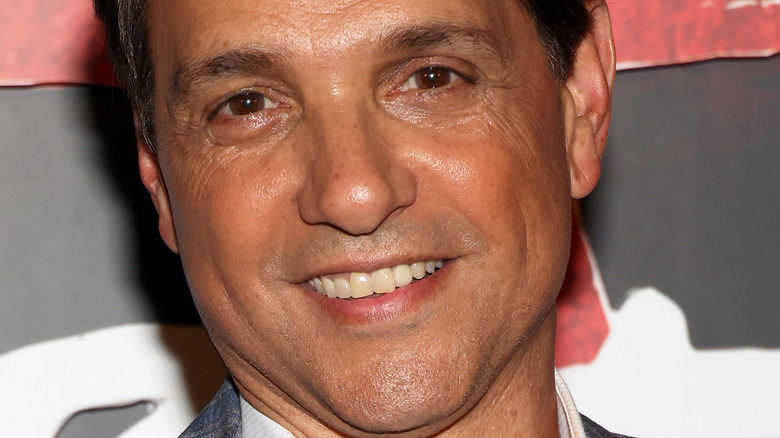 David Livingston/Getty Images
The following article contains mild spoilers for "Cobra Kai" Season 5.
It's wild to think that after Daniel LaRusso (Ralph Macchio) crushed the dreams of toxic waste disposal head Terry Silver (Thomas Ian Griffith) in 1989, he'd be going another round with the snake-like sensei decades later. Such are the trials and tribulations of a former All Valley Tournament Karate champion in the ongoing saga that is "Cobra Kai." Now just roundhousing off its fifth season that ended with sword fights, data leaks, and whistleblowing from a Stingray, there's a lot the cast and crew should be proud of in a season that raised the bar yet again to a level fans didn't anticipate. 
One person in awe of it is the OG "Karate Kid" himself, Ralph Macchio. It's safe to say that if anyone went back to tell the original franchise star just how much of a legacy his adventures with Mr. Miyagi would've had, he'd have eaten a bonsai tree. Now the torch hasn't just been passed; it's been split up to light the fires of a host of young and old stars bound to the classic rule of waxing on and off, and they're all nailing the one crucial element that both "The Karate Kid" and "Cobra Kai" couldn't be without; the fight scenes. 
Ralph Macchio's proudest moment was Daniel vs. Johnny but not for the reason you think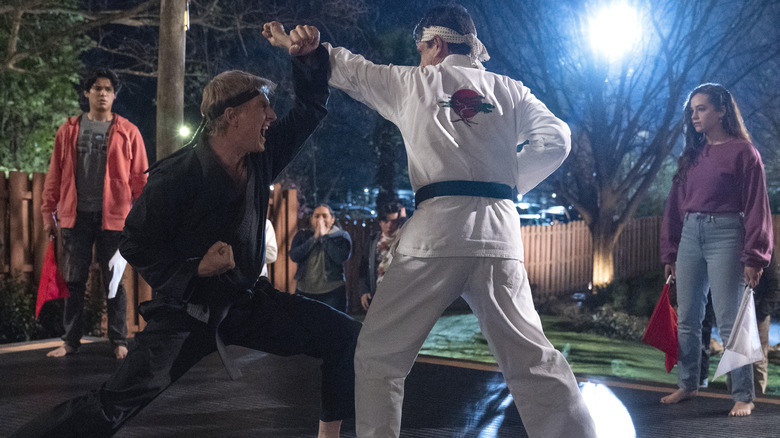 Curtis Bonds Baker/Netflix
When you're signing onto the show linked to "The Karate Kid" franchise, the chance of getting punched is high. For Ralph Macchio, it was another day at an office he hadn't visited for over 30 years, knowing that whatever fight was headed his way, it would be a great one.
One particular fight he was excited about was facing off against William Zabka's Johnny in Season 4. He explained to GQ that this wasn't just round with nostalgia but the fallout from it. "It was really important to play it from the perspective of what the characters' stakes were. It was about trying to do what's right for the kids in the show." Macchio explained. "So we wanted it to be true to how guys this age fight, so it had its own feel to it."
Looking back the original Karate Kid was pleased with the punch-up, "I was proud that it came from the perspective of the characters and it came from the perspective of the guys at this age, and we weren't trying to do a fight like, say, Tanner [Buchanan] and Xolo [Maridueña], two studs from the Cobra Kai cast, or Jacob [Bertrand] for that matter." But with such young blood doing spin kicks without breaking a sweat, surely there were some slip-ups between cast members that left "Cobra Kai" stars with some unplanned bumps and bruises.
Things got intense between Tanner Buchanan and Jacob Bertrand in the Season 4 finale of Cobra Kai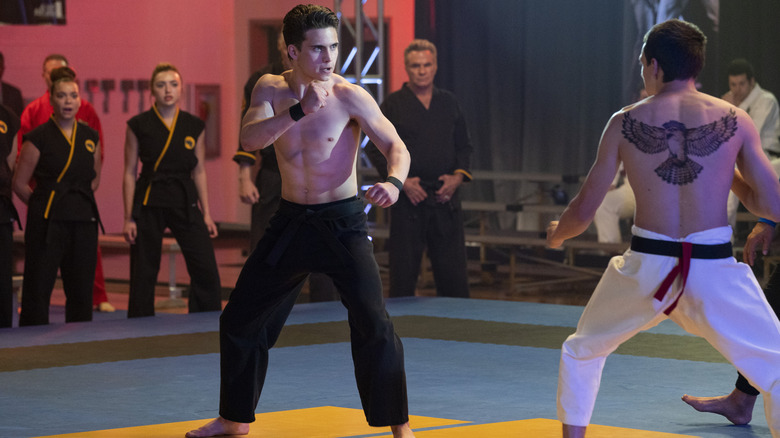 Curtis Bonds Baker/Netflix
Ralph Macchio isn't wrong about the younger cast in "Cobra Kai," many of which packed a significant punch or two in Season 4 of the series. Of course, when things get as heated as they do, staged or not, sometimes the fighters involved will get caught with a hit landing when it shouldn't have. That's something Tanner Buchanan knows all too well when he clipped the wing of a Hawk in the All-Valley tournament in Season 4's epic closure.
Speaking to Shine On Media, Buchanan admitted that during the lengthy battle with his co-star Jacob Bertrand there was a mild slip-up that was met with payback. "Me and Jacob, we shot that fight all day, probably like 14 hours of just that fight. Towards the end, we were getting tired, and I think I missed something," he explained, looking back on the sequence. "And we had the distance, but for some reason, I noticed I was going the wrong way, and I extended my hand and poked him in the face, like the eye."
Thankfully, Bertrand took it all in his stride right up until he returned the favor. Buchanan added that even after accidentally catching his co-star in the eye, "Two takes later, he did something to me, so we were even." All is fair in love and warring karate schools, after all.