Nicolas Cage Had An Incredibly Difficult Time Filming This Butcher's Crossing Scene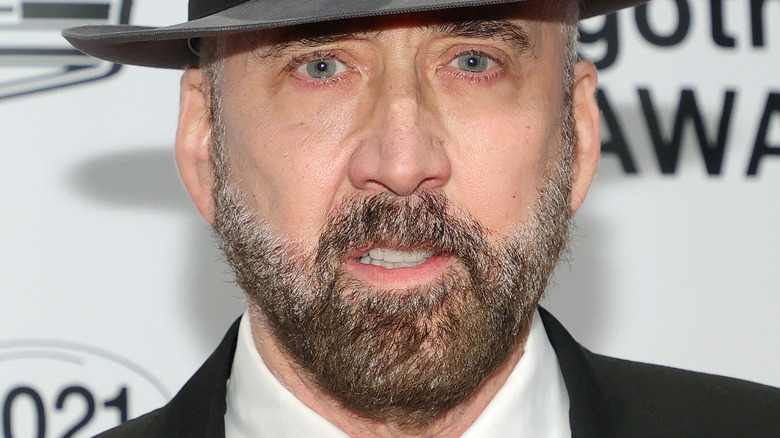 Dia Dipasupil/Getty Images
In September 2022, "Red Army" director Gabe Polsky's adaptation of John Williams' 1967 frontier novel by the same name, "Butcher's Crossing," debuted at the Toronto Film Festival. Set in the late 19th century, the film follows grizzled and experienced buffalo hunter Miller (Nicolas Cage) as he guides wide-eyed college drop-out Will Andrews (Fred Hechinger, of "White Lotus") across the vast and treacherous landscape of a still truly wild frontier, on an expedition to the Colorado Rockies. 
Though we certainly seem to be in the midst of a western genre renaissance (thanks partially to Taylor Sheridan's ever-expanding "Yellowstone" universe), "Butcher's Crossing" is far from your typical cowboy narrative. Like Jane Campion's Oscar-winning "The Power of the Dog" (also based on a book), Polsky's film explores a much darker side of the frequently mythologized and romanticized American West, not least of all because of its specific setting and subject matter. Part-survivor narrative, part-sobering depiction of an excessively violent century with destructive and lasting consequences, "Butcher's Crossing" is less about riding off into the sunset and more about examining hubris, not just in individuals, but in the cultures, societies, and eras to which they respond, in which they operate, and through which they leave lingering and sometimes appalling legacies. 
Given the inherent grit and complexity of the story, it's perhaps not surprising that Cage, one the film's central characters, had some difficulty filming one of its more visceral scenes. 
Cage struggled with his character's animal slaughter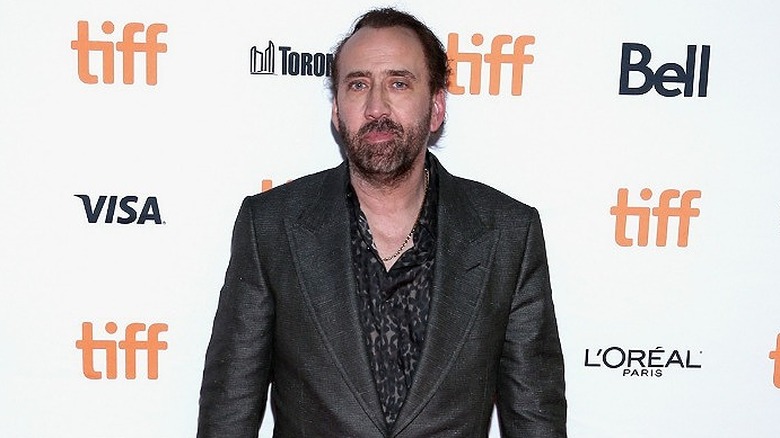 Phillip Faraone/Getty Images
The 1800s saw the population of American Bison decrease sharply — from over 60 million prior to the influx of European settlement and trade, to as little as a few hundred by the turn of the century (via Ozark Bisons). Although "Butcher's Crossing" looks through more than a straightforward environmentalist lens, the near-loss of the majestic species and all it's come to symbolize is ever present in the narrative. 
In one particularly gruesome shot, Cage's Miller slaughters a number of these animals in a furious and seemingly unnecessary attack. When the outlet asked the actor if, as an animal lover, he struggled with the scene, he admitted that he had. "It was disgusting," he said plainly. Nevertheless, as his immediate follow-up revealed, he felt it was something he could, and should, embrace: "I'm glad I could put it on camera," he said, adding, "because I'm not afraid to be ugly, and to show the darker side of our nature." 
Though Cage insisted that the film was not, in his words, "a message movie," he did say, "It maybe holds a mirror and is reflecting what we're capable of. It's still happening in different areas. Even with the trees, it's happening" (via The Hollywood Reporter). 
The film is a sharp departure from the well-known pet lover's surprise 2021 hit "Pig," wherein his character has an unassailable bond with the titular animal, but if Cage's thoughts on what to expect from "Butcher's Crossing" are any indication, it will have audiences thinking just as much about our relationship with, and responsibility to, our fellow species.