Jonathan Hillstrand's Deadliest Catch Return Caught Sig Hansen Completely Off Guard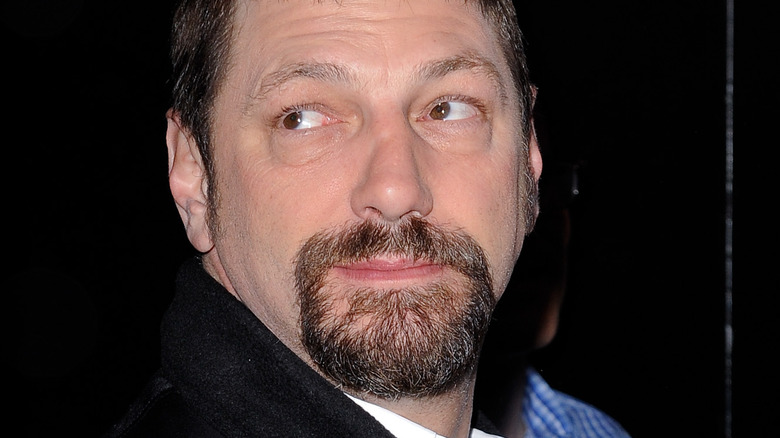 Ray Tamarra/Getty Images
In 2005, "Deadliest Catch" premiered and showed viewers that crab fishing is indeed a high-paying career path, and an incredibly dangerous one at that. Fishermen are out on treacherous seas for weeks at a time with constant harsh waters that don't rise above freezing cold temperatures, and since the crew doesn't return to land for quite some time, there's no hiding from the extreme levels of chaos.
While there certainly are terrifying moments on "Deadliest Catch," fans are interested in much more than that. As with any successful reality television series, there's just enough mayhem and drama to keep audiences invested, many of them for the show's entire almost twenty-year span. Many of the captains and crew members have been on the show for multiple seasons, if not all of them. This is true for captains Sig Hansen and Jonathan Hillstrand, who have both been on the show from Season 1 and Season 2, respectively (via IMDb).
Even before their time on the Discovery reality series, though, these two were fully immersed in the world of king crab fishing, and after a 37-year fishing career, Hillstrand announced his retirement after Season 13 of "Deadliest Catch." Retirement isn't for everyone, however, and it wasn't long before Hillstrand reappeared on the series, surprising viewers, crew, and his fellow captains, including Hansen.
Hansen likes to watch the show to catch up on what he's missed
Kathy Hutchins/Shutterstock
After a lengthy and successful crab fishing career, Jonathan Hillstrand retired from life at sea and from Discovery's "Deadliest Catch" after Season 13. However, he returned just a few years later for Season 16 of the show. This surprised "Deadliest Catch" captain Sig Hansen, who enjoys watching the show to catch up on anything he missed during the fishing season.
In an interview with Vegas Film Critic Jeffery K. Howard, Hansen said, "You know, there's a lot of ups and downs and — you know also, I didn't even realize that Johnathan Hillstrand, he's back, he's with Jake on the Saga, which I wasn't aware of. Scott Campbell Seabrooke, he's back on, what's the name of that boat, Seabrooke. And so, you know, a lot of interesting things happened, and a lot of surprises for me even, so you know that's why I like to watch the show honestly because I get to kind of catch up on what's going on around me."
When Hillstrand came back to the show, Discovery originally asked him to join the crew of Captain "Wild" Bill Wichrowski, but ultimately Hillstrand went to work on the Seabrooke with Captain Jake Anderson. In an interview with Stuff, Hillstrand mentions that it wasn't a difficult decision, "you couldn't give me enough money to go out with Wild Bill, so I went out with Jake Anderson." The interview goes on to discuss how Hillstrand adapted to being a second captain on Anderson's boat, something he'd never done in his entire career, and while there have been some nightmarish changes made on "Deadliest Catch," the partnership between Hillstrand and Anderson isn't one of them.