The Huge Bernadette Mystery The Big Bang Theory Fans Still Need To Solve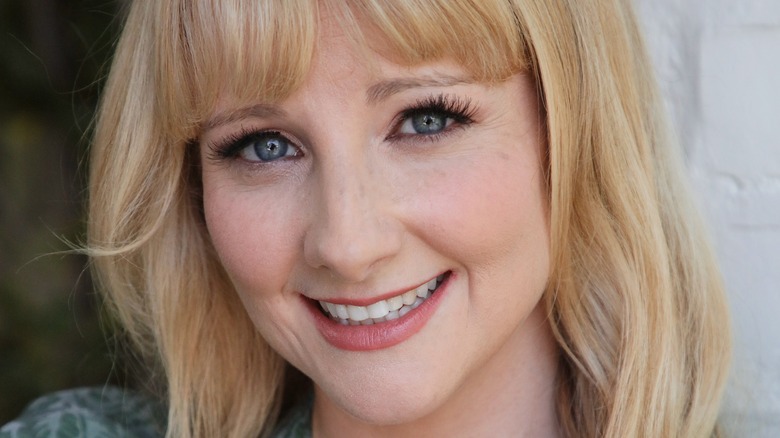 Robin L Marshall/Getty Images
Bernadette Rostenkowski (Melissa Rauch) is a fan favorite for a reason. On "The Big Bang Theory," she holds her own and often steals the show as Howard Wolowitz's (Simon Helberg) loud and loving girlfriend. With her chirpy piercing voice, she commands attention and gets it — from both the gang and viewers alike. Originally written to appear in just one episode (Season 3, Episode 5, in which she connects with Howard on the subject of overbearing mothers during a blind date), Bernadette continued with the show straight through to the finale (per Entertainment Weekly). And there's no mystery as to how her story turns out. As fans know, she's happily married to Howard with two kids by the end.
But there is one unresolved issue that's never fully explained by the time "The Big Bang Theory" is over. It concerns Bernadette and an unusual situation that crops up in the later years of the show.
Bernadette reveals an unusual talent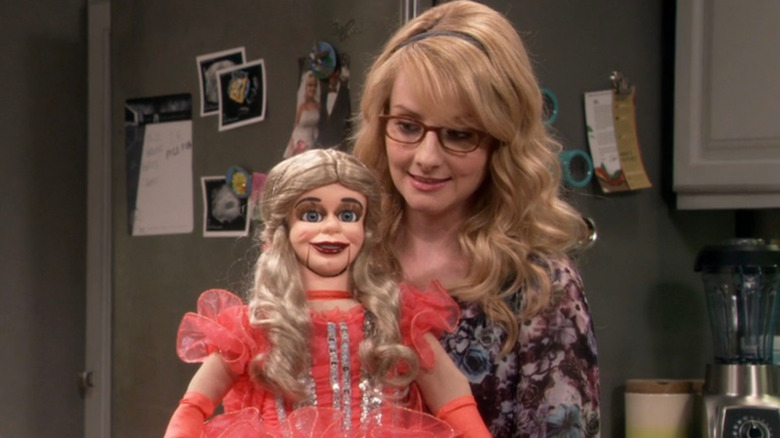 CBS
In Season 10, Episode 22, "The Cognition Regeneration," two main storylines take center stage. One focuses on Leonard (Johnny Galecki) and Penny (Kaley Cuoco) and their difficulties navigating interactions with Zack (Brian Thomas Smith), Penny's ex-boyfriend. The other involves Sheldon's (Jim Parsons) fear that his recent poor performance in a video game is a sign of aging that must be addressed. There's a lot going on, but Bernadette gets her moment, too, in a subplot with Howard.
It seems Bernadette has been making fun of Howard's hobbies, and he's decided to even the score. He visits her mother and returns home with Tammy Jo St. Cloud, a creepy ventriloquist dummy Bernadette recognizes immediately. "I never wanted to be a ventriloquist," Bernadette says defensively. "I was in beauty pageants, and I needed a talent besides spreading rumors that the other contestants were pregnant."
Despite her protests, however, she takes Tammy Jo and begins talking with her — or rather, tormenting Howard. "Look at him," Tammy Jo says, in a Southern drawl, her eyes shifting back and forth. "What reason he got to feel good?" As Tammy Jo speaks, Bernadette stands behind the dummy, moving her own mouth only slightly, in that tight-lipped way a ventriloquist would. And this is where the mystery begins. Is Melissa Rauch really throwing her voice for this performance? Or could something else be going on?
There are plenty of clues, but the mystery remains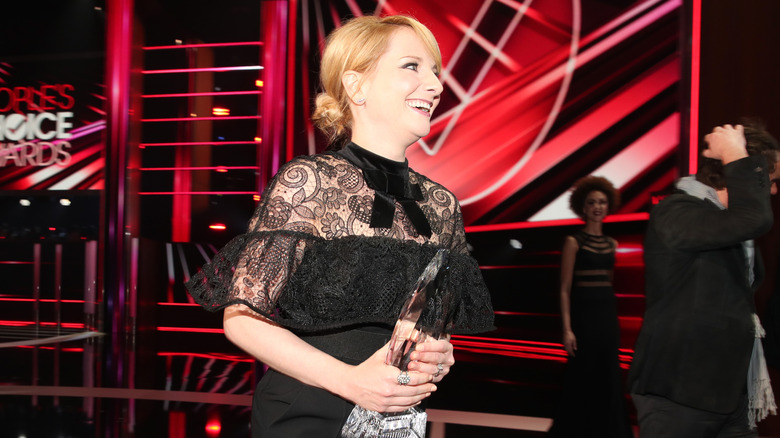 Christopher Polk/Getty Images
Melissa Rauch has spent years honing her many talents in the entertainment field. Long before "The Big Bang Theory," she was the little kid who memorized and recited other comics' stand-up routines. According to NJ.com, she spent her childhood in community theater shows and at theater camp. After high school, she studied acting in college and started performing stand-up (using her own material this time around). For 10 years, she passed out fliers on the street and basically begged people to come see her shows (via Roger Ebert). She also found a writing partner, wrote sketches, and eventually came up with a show called "The Miseducation of Jenna Bush," which attracted the attention she needed to land an agent and move to L.A. But in all that time, did she ever learn the skills needed to perform ventriloquism?
After "The Cognition Regeneration" aired, Rauch tweeted, "Just a coupla dummies from last night's @bigbangtheory episode," along with a picture from the show. Fans tweeted back, asking the big question, but Rauch didn't answer either way.
Considering the hard work she's put into her career, it's not difficult to imagine Rauch may have learned ventriloquism somewhere along the way. On Instagram, she offered another clue with a photo of the dummy she used to rehearse. Still, while she obviously held Tammy Jo in her "Big Bang Theory" scene, we can't confirm that she performed the voice of the dummy. This is one mystery that — at least for now — remains unsolved.