Maya Hawke Would Agree To A Stranger Things Spin-Off Under One Condition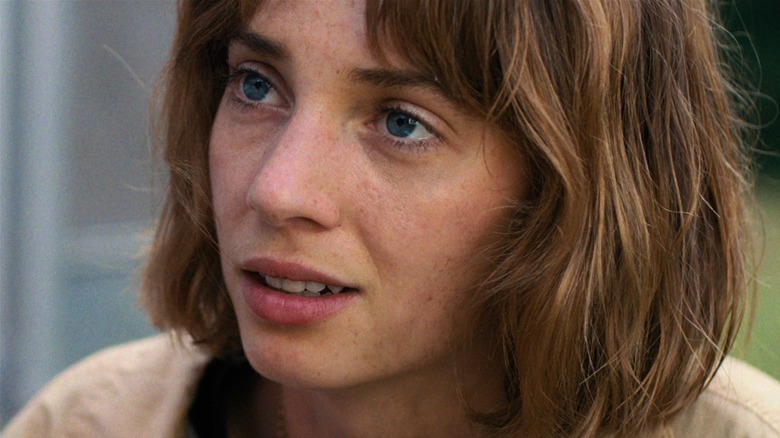 Netflix
"Stranger Things" is Netflix's dungeons and dragons property that's wrapped up in a layer of science fiction and dusted with 1980s nostalgia. Of the many, many, MANY characters that the series introduced audiences to, Robin Buckley (Maya Hawke) is perhaps one of the brightest features. She joined the cast of characters during the third season as a coworker and reluctant friend to Steve Harrington (Joe Keery) and became an instant fan favorite. Since then, both Hawke and her character have been catapulted into instant stardom. 
To Hawke's credit, she — so far — appears to be one of the precious few second generation celebrity performers (her parents are Uma Thurman, who she looks almost exactly like, and Ethan Hawke) who is handling that privilege with social grace. Now, as audiences eagerly await the fifth and final season of "Stranger Things" (don't stress, there's going to be a few movies, and probably some spinoffs, too), many of the cast members are answering the big questions. Here's what Maya Hawke would like to see in the future for her character, and the major stipulation she would require for her to agree to a spinoff. 
Maya Hawke will do a Stranger Things spinoff if Joe Keery is involved
In an interview with Rolling Stones, Maya Hawke confessed that she'd love for her "Stranger Things" character to die after a great, heroic gesture. She said, "I would love to die and get my hero's moment. I'd love to die with honor, as any actor would. But I love the way that the Duffer Brothers love their actors. The reason that they write so beautifully for me and for everyone else is because they fall in love with their actors and their characters, and they don't want to kill them. I think that's a beautiful quality that they have, and I wouldn't wish it away."
In response, the interviewer insisted that she had to survive because that could potentially lead to a spinoff about Robin Buckley. To this, Hawke replied, "normally, I wouldn't really be a proponent of a spinoff, but if I got to do it with Joe Keery, I would do anything. He's so funny and wonderful and smart, and he's got great boundaries. He's an excellent coworker, and I would do anything with him."
This aligns pretty well with the public opinion (as noted in articles like this one from Nerdist) that Steve Harrington and Robin Buckley's friendship is one of the best aspects of the Netflix series. It's engaging and hilarious, and something about it just works perfectly. It's refreshing to know that the performers can also sense this chemistry and enjoy the art it creates.