One Boat Dominated The Earnings Game On Deadliest Catch Season 18
Some jobs require people to work from the safety of a nice, enclosed office. Other jobs may require interacting with the public in a service-based industry, and then there are jobs that can earn people a spot on a reality television show as they brave deadly and frigid arctic waters. "Deadliest Catch" is a long-running, documentary-style reality TV series that follows several different fishing vessels in and around the Bering Sea and other frozen ports of call. Of course, when one is fishing and crabbing above the 60th parallel, it isn't as simple as just casting a line or net into the water and hoping for the best.
Considering that "Deadliest Catch" has been on for 18 seasons, there has been plenty of time for captains and their fishing vessels to come and go. Season 18 has seen some new faces, while also still putting long-running alumni like Sig Hansen front and center. So far this season, fans have seen injuries that require a helicopter rescue, a ship that requires immediate repair or it will capsize, an intercepted Russian trawler, and races against ice packs.
The name of the game is to always harvest the bounty of the sea, which tends to be pretty lucrative most of the time. So which fishing vessel in Season 18 proved to be the most successful — is it a veteran of the show or a fresh face?
The Patricia Lee earned way more than the next closest fishing vessel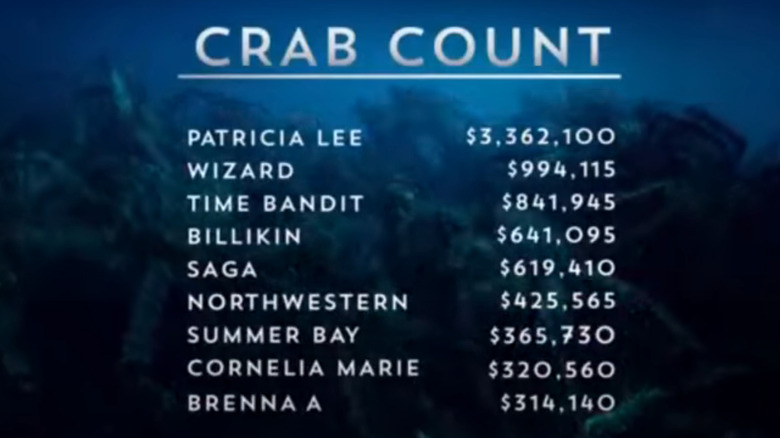 Discovery/YouTube
The episode "Graveyard of Gear" shows just how bad those freezing winds and choppy oceans can get. With giant waves slamming against fishing vessels, the crews must be ever vigilant to remain safe and secure, while also hunting elusive spots where crabs congregate. At one point in the episode, the crab count rankings are proudly displayed on the screen, and it definitely looks like one ship is leagues ahead of everybody else.
Which ship is the most profitable thus far on Season 18? None other than the F/V Patricia Lee, who is captained by "Deadliest Catch" newcomer Rip Carlton. The Patricia Lee is shown having earned around $3.36 million, while the next closest fishing vessel is the Wizard, who brought in $994,115. The least profitable boat in Season 18 is the Brenna A with just $314,140. 
Although Carlton is a new addition to "Deadliest Catch," he has been in the business for quite some time. According to his website, Carlton has been navigating the Bering Sea for over 40 years, and his boat, the Patricia Lee, is only one of five boats that are capable of catching golden king crabs. Considering this, it makes sense as to why Carlton has proven to be so effective in Season 18 of "Deadliest Catch," and hopefully, that means the Patricia Lee will become a fixture on "Deadliest Catch" if they continue to bring in numbers like that.