How Accurate Is Larry Bird's Portrayal In Winning Time?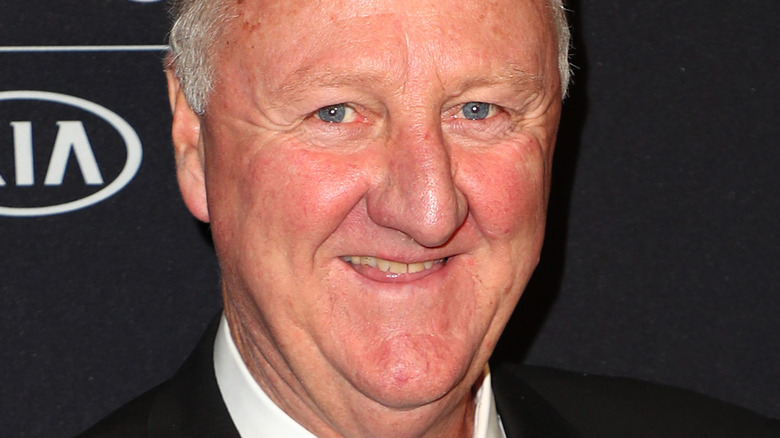 Joe Scarnici/Getty Images
HBO's "Winning Time," a look at the Los Angeles Lakers' star-studded teams of the late '70s and 1980s, exists somewhere in the netherworld between documentary and fiction. Most of the major events shown are pretty true to life, if not necessarily with the exact timing or level of drama that's depicted. Exactly how much of "Winning Time" is true will depend on who you ask, and while some legendary Laker figures like Jerry West (Jason Clarke) don't feel like they were painted accurately, it's generally kinder to those in purple and gold than it is to their NBA rivals.
Season 1 of "Winning Time" wraps up with the Lakers battling the Julius Erving (James Lesure)-led Philadelphia 76ers in the 1980 NBA Finals, but in Episode 7, the rivalry between Magic Johnson (Quincy Isaiah) and Larry Bird (Sean Patrick Small), which dominated league headlines for much of the '80s, takes center stage. 
In real life, Johnson's Michigan State Spartans had bested Bird's previously undefeated Indiana State Sycamores for the 1979 NCAA Championship, but Bird got his revenge the next year when he was voted the NBA's Rookie of the Year over Johnson. "Winning Time" Episode 7, "Invisible Man," shows what it says is the first NBA matchup between the two, along with some recreated press conference footage of the two players. But just how accurate is the show in its portrayal of the Boston Celtics legend?
Aside from some timeline shifting, Larry Bird is pretty accurately portrayed in Winning Time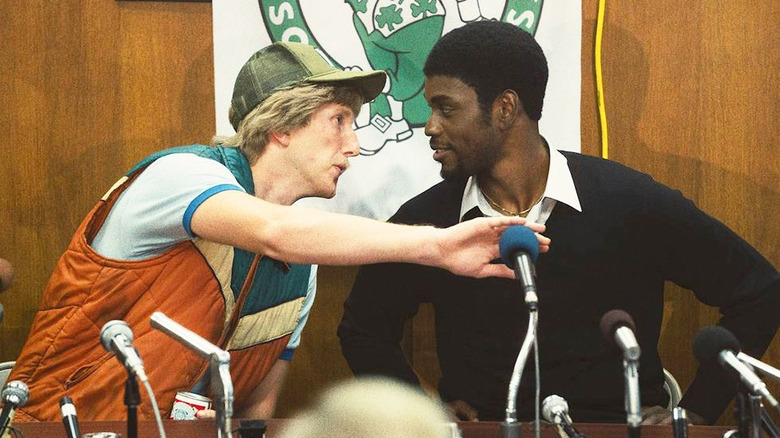 Warrick Page/HBO
Sean Patrick Small does a fine job of capturing Larry Bird's curt grouchiness — mostly with the press — and we should credit veteran Hollywood hair stylist Darlene Brumfield for nailing the Celtics star's late-'70s/early-'80s look as well. He's downright surly at a press conference scene whereas Johnson is charming and personable, but while "Winning Time" sets that scene as happening before an NBA matchup, it actually mirrors the press conference before the two met for the NCAA title, according to The Wrap. 
Bird, more worried about the game than coming across as likable to the media, gave grunted one-word answers to most questions. The French Lick, Indiana, native may not have cared much about wooing the national sports media, but he was a fierce competitor and put winning above most else. That's reflected pretty accurately in "Winning Time," but his rivalry with Johnson eventually became much friendlier and more respectful than it's shown in the series. This, as explained by NPR, was largely thanks to a Converse commercial the two superstars shot in the mid-'80s, a timeframe that has yet to be explored on "Winning Time."
Additionally, Bird got into plenty of scraps as a player, and that's also accurately portrayed on the show. Larry Legend earned his nickname with his success on the court, not his winning personality, and "Winning Time" does a good job highlighting that, though it remains to be seen if the series will showcase the other sides of Bird's character beyond his businesslike, almost abrasive tendencies when dealing with the media and on-court opponents.