How John Mulaney's First Week On SNL Changed His Relationship With Time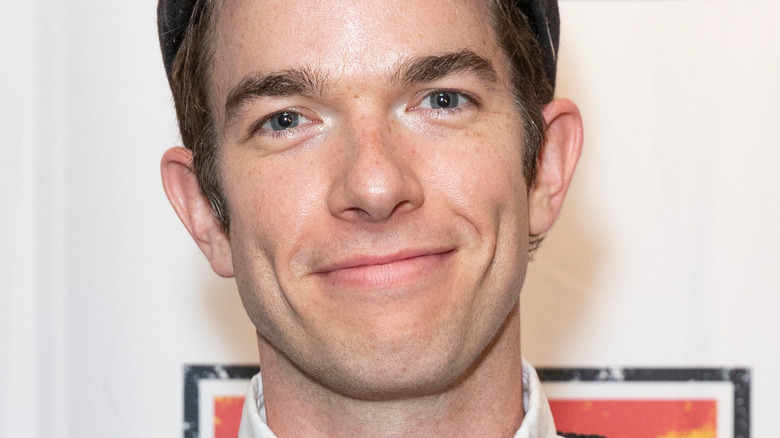 lev radin/Shutterstock
Before John Mulaney ever voiced a pubescent boy on "Big Mouth" or made several successful comedy specials for Comedy Central and Netflix, he was one of the best voices on the writing staff of "Saturday Night Live." Mulaney ended up working on the variety show's sketches for nearly half a decade, and this later inspired some of his own stand-up material. In his Netflix special "Kid Gorgeous," he called his time on the series "a very weird job" for a person in their twenties, as the younger Mulaney had to negotiate jokes with a larger-than-life celebrity like Mick Jagger.
Thanks to creating characters like Stefon and working on Justin Timberlake's monologue as host, Mulaney won an Emmy in 2011, though he's since joked in a 2018 Wired interview that this was a mistake on the voters' part. Following his departure from "SNL" in 2012, Mulaney has also gone on to host the show five times.
Mulaney's time on "Saturday Night Live" helped change the young writer's life and introduced him to one of the industry's most unique work environments. His first week in particular, however, was when he learned just how different "SNL" truly was.
Mulaney was now on a very different schedule
According to E! Online, making "Saturday Night Live" is a lot of work. The show involves a six-day work schedule, and if you're on the writing staff, that includes pitch meetings, finding sketches that will fit the guest host that week, and all-night script sessions.
John Mulaney revealed in an official show interview in 2020 that his first season actually started with the famous episode where Tina Fey first impersonated Sarah Palin. He remembers that after staying up all night working on a sketch with Bill Hader and Andy Samberg, he slept in late, and thought he'd miss the script read-through that afternoon. The writer booked a taxi from Brooklyn to Manhattan, but then he was stuck when a major bridge was raised. "I thought, 'My god, I'm going to be late,'" Mulaney said. 
Mulaney ended up sprinting to the rehearsal and got to the location right on time. However, he quickly found out that producer Lorne Michaels wasn't there. "Read-through probably won't start for another two hours," Mulaney was told upon arrival. That was the point when the comedian recognized that time worked differently for the crew on "SNL." If you were a show writer, that meant coming in later and working much later. But he'd end up staying on that schedule for four seasons before leaving the series to work on his own, very successful comedic projects (via NPR).