The Cobra Kai Star You Likely Didn't Know Played Tennis With James Bond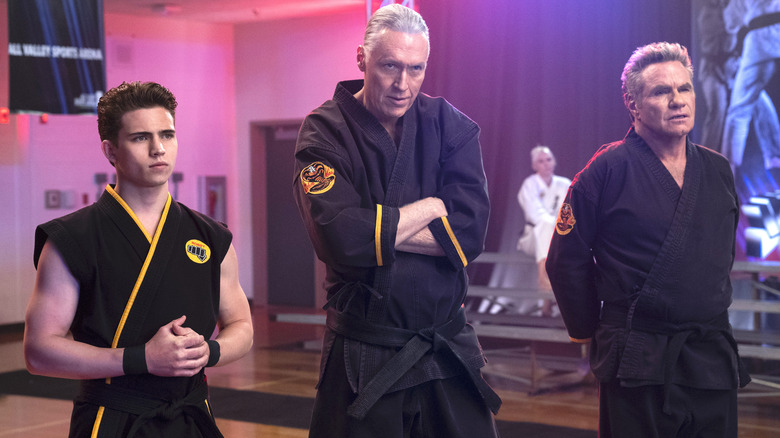 Curtis Bonds Baker/Netflix
Any actor who starred in the "Karate Kid" movies knows what it's like to be famous. That's especially true for the cast members of 1984's "The Karate Kid," which has become one of the most beloved movies of the 1980s in the years since its original release. Indeed, while Martin Kove has appeared in more than his fair share of notable TV shows and movies over the course of his career, he'll always be best known for his performance as John Kreese, the head sensei of the Cobra Kai dojo, in "The Karate Kid."
Kove not only played Kreese in the first "Karate Kid" film, but also in 1986's " The Karate Kid Part II" and 1989's "The Karate Kid Part III." More recently, Kove even reprised his role as Kreese when he joined the cast of "Cobra Kai," which counts "Karate Kid" actors Ralph Macchio and William Zabka among its stars. Since his debut in the "Karate Kid" sequel TV series, too, Kove's Kreese has become a prominent figure in "Cobra Kai."
All of which is to say that Kove has had plenty of experience dealing with fame throughout his career. However, even the most devoted "Karate Kid" and "Cobra Kai" fans may be surprised to learn which iconic movie star Kove once had the good fortune of crossing paths with on a tennis court.
Martin Kove was 'tennis buddies' with Sean Connery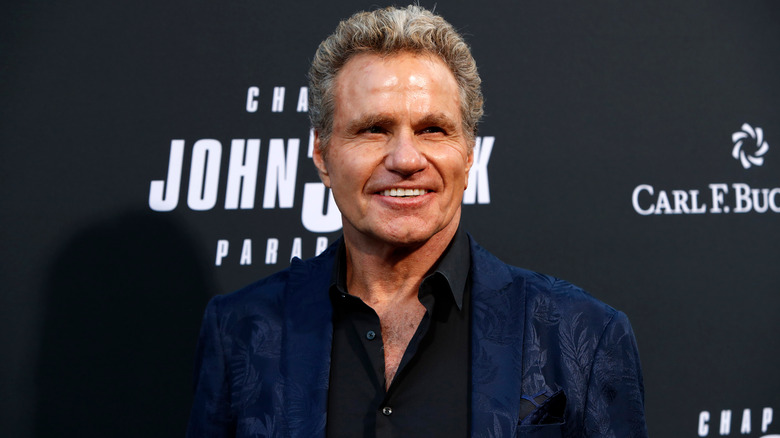 Kathy Hutchins/Shutterstock
During an appearance on "The Rich Eisen Show," Martin Kove confirmed that he used to be friends with none other than Sean Connery. When asked whether it's true or false that he and Connery used to be "tennis buddies," Kove said, "True." The "Cobra Kai" actor went on to describe how he first met Connery in the early 1970s when he was hired to be his stand-in during the making of the 1971 film, "The Anderson Tapes."
Years later, Kove ran into Connery on a tennis court and took the opportunity to ask the former James Bond actor if he remembered him or not. Connery apparently replied, "No, but do you want to hit the ball?" From there, Kove and Connery began to play tennis together, and according to the "Karate Kid" star, the two actors quickly became friends from that moment on.
In the same interview, Kove additionally revealed that it was Connery who gave him some important career advice when he was struggling to decide whether he should begin working with a classical repertory theatre company or enroll in a fifth year of college at the NYU Tisch School of the Arts. Apparently, it was some key advice from Connery that convinced Kove to leave school and start working professionally with a repertory company. 
In other words, it sounds like Connery wasn't just an acquaintance Kove could occasionally play tennis with, but also a friend he could look to when he needed advice.