Johnny Galecki Was On His Way Into A Very Different Career Before Landing The Big Bang Theory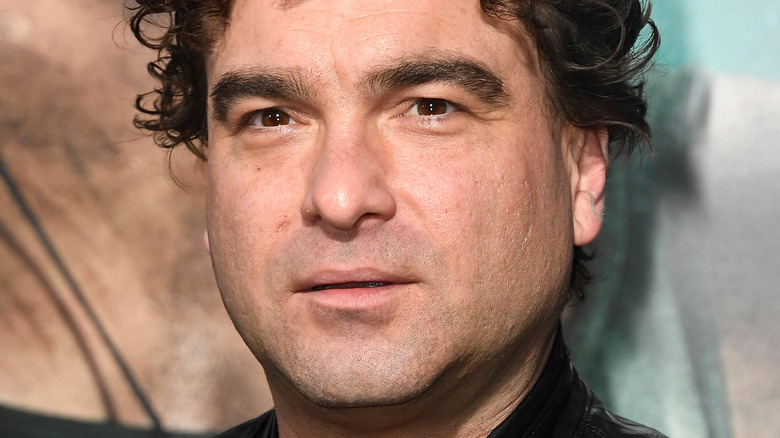 Frazer Harrison/Getty Images
When Johnny Galecki took the role of Leonard Hofstadter on "The Big Bang Theory," he led viewers on a journey of discovery. Through this show, we absorbed complex science. We observed nerds in their natural habitat. We learned that they can be really funny, as demonstrated by not only Leonard but also his cohort of like-minded buddies: Sheldon Cooper (Jim Parsons), Howard Wolowitz (Simon Helberg), and Raj Koothrappali (Kunal Nayyar).
While each character on the show adds flavor, it's Leonard who drew many of us in and captured our hearts. He's the straight man to Sheldon's antics and the lovelorn romantic pining after — and eventually marrying — Penny (Kaley Cuoco). There would be no show without him, and it's impossible to imagine anyone but Galecki in the role.
That's why it's so surprising to learn he almost didn't wind up there. In fact, Galecki was headed on another path entirely when the opportunity came up.
A familiar face on Roseanne
By the time fans got to know Johnny Galecki as Leonard, he'd been acting professionally for years. As a child, he told people he wanted to be either an actor or a witch when he grew up (via Behind the Brand). His parents didn't see it (the acting career, that is) and tried to encourage other interests. "But I was very, very stubborn about it," Galecki recalled. He then saw an 8-year-old Ricky Schroder in "The Champ" and realized this was a career he could start right away. And he did, getting into theater, landing an agent, and moving to Los Angeles.
Throughout the 1980s, he appeared in TV movies and feature films, including 1989's "National Lampoon's Christmas Vacation." Through the 1990s, he had roles in TV series including "American Dreamer" from 1990 to 1991, "Blossom" in 1991, and "Billy" in 1992. But when "The Big Bang Theory" premiered in 2007, anyone wondering why he looked so familiar probably remembered him best from "Roseanne." On that long-running sitcom, he played Darlene's (Sara Gilbert) boyfriend, David, from 1992 to 1997.
Despite all of his success, however, Galecki had actually quit acting by the time "The Big Bang Theory" was under development. "My career has not been seamless," he told Entertainment Tonight. "Immediately before 'Big Bang,' I was in Wisconsin studying plumbing."
A well-earned break didn't quite work out
When "Roseanne" ended, Johnny Galecki had to leave a show that had made a huge impression on him as a young actor. "It changed my life," he told Behind the Brand, noting that his castmates were his heroes. "That was the best classroom I'd ever been in, and I was really intimidated being on that stage."
Galecki held his own, grew as an actor, and became famous among fans. For a short time after "Roseanne," he continued to work. But then he decided to take some time off. He hit the road for about a year, and when he returned expecting to jump back in, he got an unwelcome surprise. "You grow cold fast in this business," he said on "Live with Kelly and Ryan." "I didn't have the opportunities I thought would still be waiting for me."
No longer a child actor, he was adrift in his 20s without a degree. That's when a friend suggested a new path for him, tapping into Galecki's passion for design and decorating. Galecki decided to open a design studio for bathrooms and spas and went to the Kohler plant in Wisconsin to learn about the plumbing involved.
While he was there, though, Galecki got a call about Kelly Ripa's show "Hope & Faith" in 2005, and happily, the role brought him back to Hollywood. By 2007, he was starring on "The Big Bang Theory" and likely never looked back on his design studio dreams.